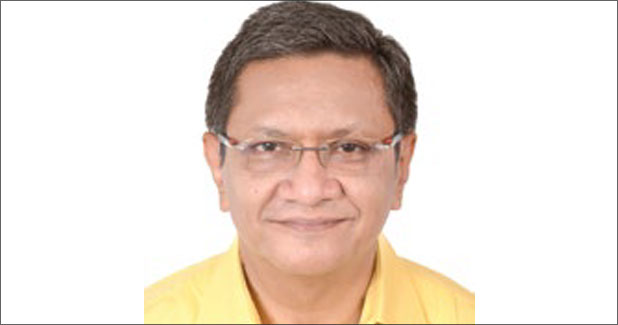 Liebherr has pioneered a total solution in a certain equipment range, to perform a wider scope of applications. Interacting with
EQUIPMENT INDIA, Pulok Gupta, Divisional Head - Construction & Port Equipment, Liebherr India,
speaks on the company's offerings in the earthmoving equipment segment.
What is the range of earthmoving equipment offered by Liebherr in the Indian market?
In the earthmoving equipment segment, we have a range of equipment - from wheel loaders to excavators, tunnelling excavators, bulldozers, and material handlers. Our wheel loaders are offered from 5 tonne payload and above capacity. We offer excavators in the Indian market starting from 50 tonne to 100 tonne for our earthmoving range and (have been) very successful in the limestone mining application for the cement industry. We manufacture both tracked and wheeled excavators.
Our wheeled excavators are known as material handlers and are being used for re-handling different types of cargo. They have been very successful because of their ease of mobility. A wide range of our material handlers are being used in most major and non-major ports in India for various applications, viz., barge unloading, wagon loading, stock piling, etc. These machines are also being used in the steel industry and scrap industry for handling various scrap types.
Tunnel excavators are another major range we offer wherein the excavator's boom has special features and can be used with various attachments to suit different needs. In the Delhi Metro project, our tunnel excavators were successfully used for the underground portion during its construction. And this has opened the doors for our construction industry to use such tunnelling excavators wherever drilling and blasting could pose a threat during the course of construction of tunnels.
What is the market segmentation of your equipment in terms of applications, equipment categories and performance parameters?
In wheel loaders, we are one among the few to offer Hydrostatic Drive Technology. We have been using this technology for decades and the USP of this technology is 'lowest cost per operation hours', which is value for money to our esteemed customers. This technology gives us the stamp of class, apart from our competitors, and proves to be a win-win situation for both our customer and us.
In light of increasing competition and prevalent or incoming government regulations, what are the significant changes in the customers' expectations? Could you share some illustrative examples?
Customers always ask for lowest cost and best quality, which is everywhere in the world and the Indian market is also known for these type of terms demanded by customers. However, the mindset of the Indian customer is changing, and they are also looking for similar conditions. Our job is to constantly educate our customers on the cost saving benefits of our machines based on the life cycle cost. The earlier myth of gauging an equipment by its initial capital cost is slowly on the wane as the customer is learning to find out the 'real cost' of the equipment over its entire life and arriving at a conclusion.
What is the role of technology in driving the future? What are the initiatives being taken by you in this space?
Technology has no limitations and can grow in leaps and bounds. However, in India, we often do not get a qualified operator to run such equipment or qualified technical staff at the customer's end to do adequate service for such advanced technologies. Our emphasis lies on training our staff who in turn will train the customer's staff to maintain sustainability. Once this is achieved, then longevity of equipment shall be realised by our customer, which in turn will result in lower life cycle cost and give rich dividends to our valued customers.
Since India is one of the most price-sensitive markets, what are your thoughts on technology adoption and adaptation at affordable costs, to retain your market leadership?
In a market like India, we have to keep the technology to the optimum required level which can be understood well by the operators and the service team of the customers, which can be achieved by regular training and updates from manufacturers like us.
Other factors like having a warehouse, or a service station close to the customer, can work great wonders to allay the fears of customers of providing reliable and trustworthy equipment from us.
What is your take on buyers choosing total solutions instead of mere equipment?
Customers now prefer vendors who can provide total solutions to their requirements. They also look for vendors who can provide an array of solutions from one supplier. We have pioneered in providing a total solution in certain range of equipment to perform a wider scope of applications. Our long boom excavators, for example, can perform material handling jobs, apart from the traditional jobs. Also with the help of various attachments, our machines can perform wider application jobs. This is one of our USPs to sell our machines. We do not stop there and go a step forward in providing annual maintenance contracts and full maintenance contracts which are customised, based on the machine usage. We realise the customer's core job is production and we have to provide them equipment and also care for them, as may be the demand. So we focus on multi-tasking!
What are the foreseeable stumbling blocks in the growth path of your business? What are the suggested pre-emptive steps to adequately mitigate those risks?
One of the major concerns is that the Indian market is still price sensitive. A good technology with reliable operation is always rather expensive in initial investment while paying off over the life cycle of the machine. We as manufacturers are doing our best to bring this across to our customers.
Delay in project execution due to various political and economical issues can affect the business cycle adversely.
A firm plan and a strong political will are some of the factors which can correct the present situation.
Could you share your company's vision for 2025 in terms of sustained market leadership and introducing innovative equipment range to stay ahead?
For most of the industry world over, the BRIC countries were the favourite destination for investment till recently. But now with most of these markets slowing down, the RoI (return on investment) has also shrunk from the expected figure as planned earlier. So, currently, we have no plans of any fresh investments for new facilities in India. We would very much like to wait and watch the current situation. Our immediate plan would be to consolidate our position in the Indian market not only in terms of numbers, but as the most reliable partner of our valued customers.
If India brings in new projects the way our government and other stakeholders are projecting, then definitely our group may think of investing in new facilities. As of now, we would like to do the best in terms of technology, quality and reliability to our customers and be the most cost sensitive.
Our aim is to increase our market share in the earthmoving equipment sector in India by reaching out to more and more customers, thereby increasing our penetration.
Is there any other information you wish to share to enable a better understanding of the business?
For Liebherr, the driving force is our customer's convenience, comfort, trust and (providing the) most economical solution.