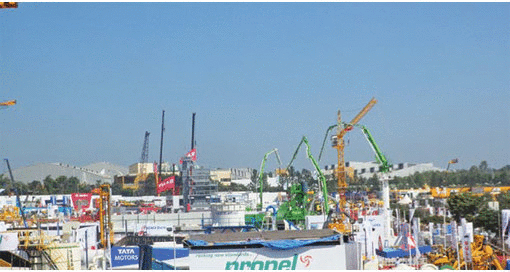 The revived optimism in the construction equipment industry is expected to take Excon 2017 towards the peak of success.
Excon 2017 is all set to open its floors for the five-day mega technology feast on December 12, 2017. This year marks the ninth edition of the Excon, which has a 17-year strong legacy being organised since 2000. The international construction equipment and technology trade fair is supported by the Indian Construction Equipment Manufacturers' Association (ICEMA) as sector partner for the event. With every passing year, the event seen an increase in growth, both in terms of quality and participation. Excon has come a long way from India's largest construction equipment business to South Asia's largest construction equipment event. This year has witnessed a 26 per cent growth in the number of exhibitors compared with the 2015 edition.
Strong industry growth
The construction market is set to grow from $3 billion in 2016 to $5 billion by 2020 on the global map. This growth momentum is also being reflected in India with a lot of infrastructure, construction and mining projects are underway while many are in the pipeline. The government is accelerating its support to the construction sector in the form of awarding various mega projects in roads, railway, ports, irrigation and other infrastructure projects. The CE market in India has recently revived on its hope for further growth in the wake of reduced GST rate to 18 per cent which was otherwise under the peak rate of 28 per cent. All these, coupled with the government's mega plans such as Bharat Mala, Smart Cities and a series of metro projects are going to elate the mood of the industry in the days ahead, which is likely to be visible at the Excon 2017.
Key takeaways
The Indian construction equipment companies will get a huge exposure to the latest technologies in equipment, components and spare parts and evaluate their own cost competitiveness. Through partnerships, the industry can look forward to handling projects without or with minimal imports. The new technologies and innovations as reflected in the equipment/products displayed at Excon 2017 would aid in robust infrastructure growth in the country with focus on cost, quality, reliability and global standards.
The expo will also witness various international buying delegation, conferences by ICEMA, CII and BAI, over 300 product launches with live demos of equipment, and business meetings.
Expectations galore
The organisers as well as the industry is expecting an all-time high participation from the cross-section of the industry from around the world. With a gross display area of 2,50,000 sq m, it is expected that the international exhibition may attract over 1,000 exhibitors, including about 300 companies from abroad, with country pavilions. The event is expected to attract over 40,000 business visitors.
Conferences & Seminars
Conference on Next Gen Infrastructure
Theme: Scalable and sustainable infrastructure building in an era of disruptive technology
Date: December 13, 2017
Focus: The conference would focus on the key infrastructure projects in the country, present trends and implementation status of the projects, role of construction equipment manufacturing companies for nation building and upcoming new technology.
Conference on Green Construction Trends & Technologies
Focus: Green Building Movements; Affordable Housing Technologies; Trends and Technologies; Case Studies
Date: December 14, 2017
Conference on Components for Construction Equipment
Theme: Smart Technologies for Smart Equipments
Date: December 14, 2017
Country Pavilions
China, Finland, Germany, Hong Kong, Italy, South Korea, Sweden, Taiwan, Turkey, UK, USA
Major Equipment Categories Displayed
Earthmoving equipment - Backhoe Loaders, Excavators, Front-end Loaders, Graders and Dozers
Vibratory Soil Compactors, Vibratory Tandem Rollers, Pneumatic Tyre Rollers
Paving Equipment for rigid and flexible pavements, track laying, road maintenance pavement and grouting work
Integrated Concrete and Bitumen Batching and Mixing Plants
Mobile and Stationary Crushing Equipment
Material Handling Equipment - Cranes, Forklifts, Hoists and Rough-Terrain transport systems etc.
Also there will be a major display of products in components, accessories and spare parts categories.