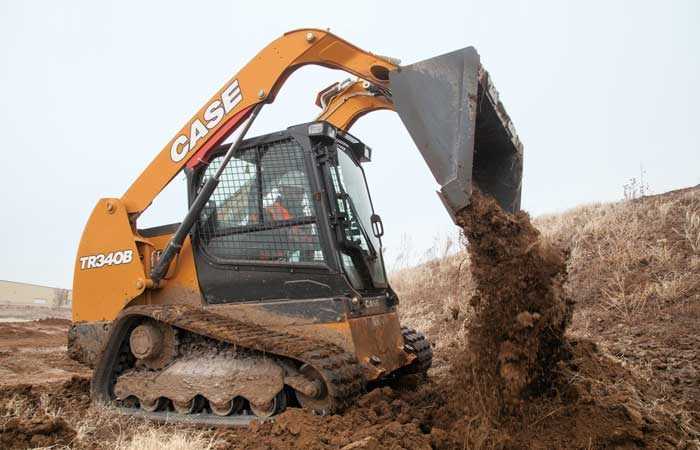 Roads form the backbone of a country's infrastructure. Economic growth has a direct correlation to the network of roads in the country. Conventional road construction equipment like graders and excavators are expensive and not ideal for rural road construction. These equipment are also meant for specific jobs, and the contractor has to have multiple equipment for one jobsite. Their utilisation would be less, thereby increasing the overall cost of operation. Besides, these machines are large in size and cannot be used in rural road construction sites. Skid-steer loaders and attachments are low investment solutions and a perfect fit given their compact size and versatility.
Skid-steer loaders have been recognised as an effective and conveniently used machine in construction and infrastructure development activities, especially in urban development. Skid-steer loader is a compact machine designed to operate in restricted areas. This highly versatile machine with a wide array of compatible attachments makes it suitable for a range of applications such as agriculture, industry, construction, demolition, material handling, and maintenance. Furthermore, its tight turning radius makes it especially suitable for use in confined areas with limited access.
With growing urbanisation and mechanisation of manual jobs, skid-steer loaders are getting more traction in the current market scenario. The market for skid-steer loaders has evolved in developed economies in Europe and the US. However, in India, the population of skid-steer loaders is very low compared to these developed markets. However, the skid-steer loader demand is slowly improving over the past few years.
Market leaders
Bobcat Skid-steer loaders can be used for multiple applications including material handling, grading and levelling, road cleaning, erection of road crash barriers, pavement repairs, brush cleaning in road sideways, and many other jobs. This versatility of Bobcat skid steer loader increases the utilisation of machines at road construction job sites and helps in covering a wide range of jobsite requirements with a single machine.
Bobcat skid steer loaders are the benchmark for the industry with a lot of unique features inbuilt into their design. On the current market of skid steer loaders in India, Hyunsoo (HS) Kim, Director Commercial, Doosan Bobcat India, had this to say, "We are the market leader in this product category. We expect the demand for skid-steer loader to grow at a steady pace at 10 per cent CAGR mainly driven by rapid urbanisation and mechanisation of certain labour-intensive work is expected to increase."
Most skid steer loaders are designed to work in diverse climates of high ambient of 48 degree Celsius or severe cold and high altitude areas, no matter what climatic conditions. Bobcat skid steer loaders can be used for multiple applications including material handling, grading and levelling, road cleaning, erection of road crash barriers, pavement repairs, brush cleaning in road sideways, and many other jobs. This versatility of Bobcat skid steer loader increases the utilisation of machines at road construction jobs sites and helps in covering wide range of jobsite requirements with a single machine.
Bobcat's strength is its wide range. Said Hyunsoo (HS) Kim, "We have two main categories based on the geometry of lift arm which is radial and vertical lift path. Also, the different models we offer are based on the engine power and the rated operating capacity. We have a total of around seven different models."
Built tough with more power and torque, CASE skid steer loaders boost productivity and increase operator comfort. The cabs feature increased headroom and lap-bar width, along with improved forward, side, rear, and overhead visibility. Ergonomically positioned controls, industry-first side lighting, and improved reliability and serviceability help you get more work done daily. To deliver CASE-specific performance and productivity to an ever-wider range of customers, CASE Construction Equipment has developed the skid steer loader SR130 with the radial boom.
JCB India is seeing continued growth in urban projects where SSLs find more applications. Said a spokesperson from JCB, "With a significant increase in the number of urban rejuvenation projects, we also see a considerable opportunity for further demand growth for skid-steer loaders. As the development of India's infrastructure gains momentum, the need for modern material handling equipment like skid-steer loaders is also expected to rise. The Swachh Bharat Mission is another segment where these machines are becoming vital in solid waste management. Municipal bodies are utilising its 6-in-1 shovel for waste handling or for general cleaning purposes as the machine can be converted into cleaning equipment with the sweeper collector attachment."
JCB India is positioning its two models of skid steer loaders—JCB 135 and 155—as a highly application-driven, material handling, productive machine, featuring high safety standards. The JCB Skid Steer Loader 155 is a compact wonder that is designed to work efficiently. This skid steer loader has the best-in-class fuel efficiency, lowest maintenance cost, and very high productivity among skid steers in India. This resourceful Loader also offers unmatched safety and operator comfort in any condition. This skid steer loader has IP 67/69 certified dust and waterproof electrical connectors. It is also designed to work efficiently for any kind of application and designed to give maximum returns with the lowest cost of maintenance.
Said a spokesperson from JCB, "Skid-steer loader is ideal equipment in the material handling applications where there is a restriction in terms of space or maneuverability. It can lift, place and handle material with high productivity. These machines are best suited in applications where space is a constraint or in situations where frequent changes of utility attachments are required to suit a wide range of applications. Thus, as modern infrastructure or best practices in other segments are introduced, skid-steer loaders are expected to find tremendous utility."
On the demand drivers, the JCB spokesperson adds, "Given its versatility and loading output, SSLs are being used in a wide range of applications such as agriculture, industry, construction, and maintenance. Its compact size provides enhanced mobility in projects such as multi-level parking. The smart innovative features of the machine and its versatile, safe, and efficient nature have always been the key demand driver for JCB skid-steer loaders. Moreover, the government's plans for infrastructure development and announcement of big-ticket projects also drive growth for this multi-utility product. The compactness and maneuverability make it the best-suited machine for solid waste management, construction, and industrial applications in a compact area."
Caterpillar announced its entry into the skid steer loader market in India with the launch of its Cat 216B3 model. Over the years, they introduced various models. Built for tough work, the Caterpillar skid steer loaders deliver reliability, durability, and efficient operation. Caterpillar skid steer loaders have multiple levels of security to ensure operator and machine safety. For instance, parking brakes are automatically engaged when the armrest is raised or the engine goes off as the operator seat is vacated or if it fails to sense a minimum weight of 22 kg. If the machine gets trapped in a congested area, the operator can come out of the machine without the need of breaking the rear glass; all he has to do is to pull one ring on the rear window and remove the beading of the glass to come out. CAT 216B is powered by CAT engines complying with BS III emission norms.
Manish Handa, Vice President and Business Head-Earthmoving and Road Construction Equipment Division, Action Construction Equipment, says, "The market for skid-steer loaders is still in a nascent stage and needs strong concept selling, moving ahead."
Handa adds, "We offer our skid-steer loader with reputed aggregates at very competitive and affordable prices to customers. Also, we offer various attachments with the machine, like backhoe, 6-in-1 bucket, ripper tooth, rock breaker, auger/stump planer, snow blower, sweeper collector, and pallet fork."
Conclusion
While lack of awareness among the users about the advantages of skid-steer loaders is a major challenge for skid-steer loaders consolidation in the market, winning over this challenge is the major opportunity. Kim adds, "The awareness of the end-user about the versatility and concept of a skid-steer loader is the key to success. And this is both our challenge as well as opportunity. The price for renting a skid-steer loader for a day is higher when compared to other machines. This is mainly because of low hour utilisation, which is again due to lower awareness. However, there are certain working conditions and applications where the skid-steer loader is the best machine for the job and cannot be replaced. In the construction segment, basement works, working between pillars are a few examples. Today, in the building construction segment there is awareness for SSL and we have a stable rental demand."
Going forward, the need for skid-steer loaders will definitely be on the rise due to the kind of demand going to be there in various construction, waste management, and urban infrastructure applications considering their compactness, multi-utility, and manoeuvrability. Once the primary challenges of awareness and dependence of imports are effectively addressed, this mini construction equipment will definitely become a major contributor to India's growth story.
CASE Product features

Productivity: With enhancements in engine power, torque, and auxiliary hydraulics, the CASE SR130 are perfect for construction and agricultural applications.
Operator comfort: The wide door, repositioned grab handles and a lower threshold provide easy access to the cab. The SR130 skid steer loader benefits from a cab with up to 25 per cent more internal width, providing greatly improved operator comfort
High visibility: CASE SR130 has a wider glazed surface for safer operations, the large glazed surface with ultra-narrow wire side screens, the lowered threshold, and thinner front pillars provide the best visibility in the market
Outstanding stability: SR130 rides on a 21 per cent longer wheelbase than the main competitor, delivering greater stability and comfort and allowing increased lifting capabilities, regardless of job site conditions.
Top ranking breakout force: CASE cylinder and chassis design provide maximised pushing power. The cylinder geometry optimises the skid-steer push power, while the bucket support baring directly on the chassis of the machine further adds to its pushing power.