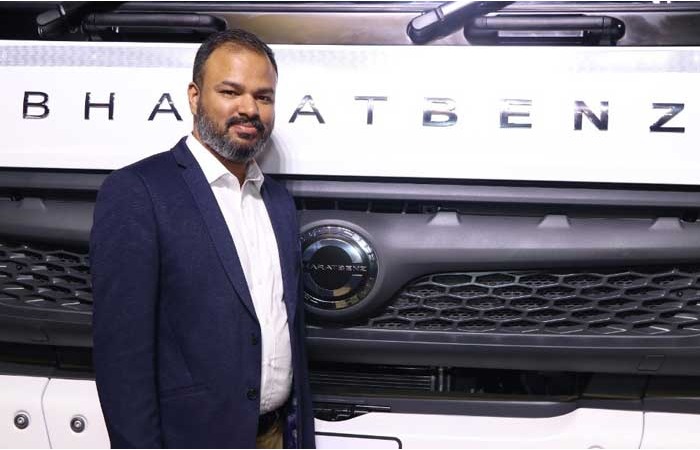 Rajaram Krishnamurthy, Vice President - Marketing & Sales and Customer Services, DICV,
shares his thoughts on the market scenario and the company's strategy going forward.
How do you see the current demand trend from construction and mining segments?
We see some positive outlook in construction and mining segments with the economic stimulus package provided by the government. This is helping to revive the demand in mining segments. By encouraging construction activities, affordable housing, de-regulating of the mining sector, and opening it for private participation, the tipper segment can witness a faster revival.
What is the production and sales scenario for your range of tippers?
We are witnessing a much faster recovery in volumes for BharatBenz than the market. DICV saw double-digit sales growth in August compared to 2019 and for Q3 as a whole, our unit sales were up by 5 per cent compared to last year (2,817 units vs 2,672 units). In Q4 2020, the demand for MHCV truck is expected to pick up and we believe BharatBenz, with its strong portfolio in the tipper segment, can benefit with various schemes announced to improve the construction sector. We already see some positive traction in these segments. We believe India will recover swifter than many other advanced economies in 2021 and beyond.
How challenging is the market after the impact of Covid pandemic? What are your key initiatives in these tough times to beat the challenges?
Even before the lockdown, we initiated a Crisis Management Team (CMT) consisting of representatives from across the organisation who hold virtual meetings with DICV's top executives on a daily basis. The CMT has initiated hundreds of health, safety and sanitisation measures over the last few months, ranging from mass cleaning of DICV's 400 acre Oragadam plant to renovations of facilities designed to ensure social distancing norms are followed. The CMT has also taken charge of tracking the health and safety of the company's over 4,000 employees, plus overseeing the company's extensive CSR contributions. Aside from this, we conducted an intensive education and communication campaign. All major stakeholder groups have been provided with tailored health and safety manuals, instructional videos and web-based trainings.
Secondly, the pandemic has provided DICV with an unprecedented chance to focus on new ways of connecting with stakeholders. Until now, manufacturing was thought to be a 100 per cent hands-on business. Now, we see that it is possible for us to digitalise more processes and tasks than we ever thought possible. We connect with our employees, suppliers, dealers, and customers virtually, regularly and comprehensively to manage our value chain.
The opportunity to explore new technologies and ways of thinking (such as work from home, virtual sales meetings, and events that involve participants from all across India) has shown us new ways to increase productivity and efficiency with impressive cost savings.
Do you think that the new emission norms and the Covid pandemic together made the progress tough for the industry?
One of our biggest win during this transition was to exhaust all of our BSIV stock before the April 1 deadline. We successfully transitioned to our complete BharatBenz portfolio of BSVI rather than worrying about high inventory levels. Despite Covid-19 restraints in India, DICV managed to bring its 1,000th BSVI-compliant BharatBenz HDT off the line at its Chennai plant in Q2 2020.This allowed us to focus on our new generation CVs offer 'ProfitTechnology+', a package of technologies and features ensuring industry-leading fuel efficiency, safety, comfort, and reliability.
What are the services offered in the used/refurbished products?
We recently launched the BharatBenz Exchange programme. Customers can now exchange their used commercial truck of any brand and purchase a brand-new truck from any BharatBenz dealership network across the country. BharatBenz Exchange will provide integrated service to ensure customers a comfortable experience of selling their vehicles. BharatBenz will also manage the end-to-end documentation process to ensure customer satisfaction.
Our experienced and trained used vehicles team at the dealership will manage the documentation and exchange process from end to end. We have a stringent 100-point evaluation checklist and will help refurbish the vehicles as necessary. In addition, we have various maintenance contract and warranty packages for the refurbished vehicles. We believe that this process will give buyers the peace of mind they need to purchase a used vehicle.
How do you look at the demand trend in the post-pandemic scenario?
We strongly believe the challenges we are seeing lately are short to medium-term and India offers a huge potential for growth as economic revival happens and CV market matures in its dynamics, efficiency, and business models. One reason we are so confident about this is India's size. There is a strong correlation between a country's population and the number of trucks sold. Compared to other economies like the US and Germany, India has far fewer trucks per person. So, there is clear room for the market to grow.