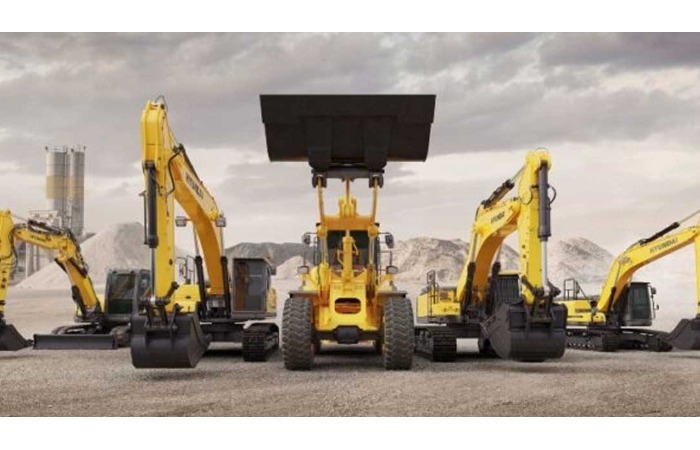 The infrastructure sector has witnessed a rapid growth within the country. With many ongoing projects, nation is for sure going to taste its development soon, but along with it many industries associated with infrastructure has evolved. One such industry is the construction equipment industry. The equipment is the motor implementing the constructional works. India is the 4th largest construction equipment producer, China being the leading one in this position.
There are different types of equipment used for smooth and quick construction of the projects. Here we list out the top best equipment companies producing that equipment, hence contributing in developing the nation.
1.
Ammann India for asphalt finishers
Asphalt finishers, sometimes known as asphalt pavers, are machines that disperse and apply asphalt over a variety of surfaces, including bridges and roadways. The majority of asphalt finishers are self-propelled and run on diesel, but others are pulled by the asphalt producer. Ammann is one of the oldest yet leading manufacturers of Asphalt Finishers. The company is known for supplying mixing plants, machines and various services to the construction industry. It is specialised in road building with proficiency in transportation infrastructure.
2.
JCB India for backhoe loaders
A backhoe loader is a heavy equipment vehicle that comprises of a tractor-like unit with a loader-style shovel/bucket on the front and a backhoe on the back. It is also known as a loader backhoe, digger in simpler terms, or commonly reduced to backhoe within the industry. Backhoe loaders are highly prevalent in urban engineering and minor construction projects, such as building a tiny house, restoring urban roadways, etc.
The JCB Backhoe Loader is a trusted product that is also classic because it symbolizes the industry. This machine's ground-breaking characteristics have kept JCB India as the market leader of the country. Backhoe loaders from JCB are extremely flexible to a variety of tasks and can be utilised in a variety of construction projects. In 1979, the company began as a joint venture and is currently a wholly owned subsidiary of J.C Bamford Excavators in the United Kingdom. It now manufactures a comprehensive range of world-class equipment not only for India, but also for global markets, thanks to five state-of-the-art plants in India.
3.
CASE India for compaction equipment
There are several equipments for carrying out compaction. The process of compaction involves implementation of physical or mechanical methods to enhance the soil density. It's a basic approach to improve the soil's solidity and supporting capability. Compaction is a type of compression that occurs when soil particles are altered without the use of water.
CASE is one of the ancient companies in the equipment industry. Since its inception, the company have grown and evolved to become one of the prominent firms providing the construction equipments. CASE's equipment is a progression of smooth solutions designed to answer customer problems with more efficient system. All the customer interaction commences and finishes with assistance from people who highlight a brand known for its excellent principles and 175 years of experience. CASE provides its customers with robust, ergonomic, and effective equipment, as well as supportive assistance, as their businesses become more complex. This allows them to focus the businesses.
4.
BEML for crawler dozers
A crawler dozer, also known as bulldozer is a mobile excavators machine with a blade at the front. The variety of models includes modest utility versions with 75 horsepower and an operating weight of less than 20,000 pounds to those with 900 horsepower and a weight of approximately 240,000 pounds. Large dozers are frequently used in operations that need huge amounts of material to be moved, such as mining, site building, and road construction. In earthwork applications, smaller machines are frequently utilised.
BEML, previously Bharat Earth Movers Limited was founded in May 1964 as a public sector undertaking in Bangalore to produce rail coaches and spare parts, as well as mining equipment. The company has substantially disinvested and now controls 54 percent of the total stock, with the remaining 46 percent held by the public, financial institutions, foreign institutional investors, banks, and employees. BEML Limited, a 'Schedule-A' company, is critical to India's main sectors of defence, rail, power, mining, and infrastructure. The company began with a modest turnover of Rs. 5 crore in 1965 and has grown to a turnover of more than Rs. 3,500 crore today, thanks to its varied business portfolio.
5.
Tata Hitachi Construction Machinery Company for crawler excavators, mini excavators
A crawler excavator is a heavy equipment earth-moving machine that can dig hole or trenches, lift piping and load trucks. These machines come in a variety of sizes, from the small that fits through a back-yard gate to those used in mining and weighing a quarter million pounds or more.
Tata Hitachi Construction Machinery Company is a joint venture of Tata Motors Ltd and Hitachi Construction Machinery of Japan. The company is based in India, and is known for producing wide range of excavators. Tata Hitachi has two manufacturing facilities, one in Dharwad, Karnataka, and the other in Kharagpur, West Bengal. Tata Hitachi's oldest facility in Jamshedpur, which opened in 1961, produces big class excavators. This factory houses robot and CNC machines, as well as facilities for material preparation, fabrication, machining, shot blasting, and painting, as well as assembly.
6.
Action Construction Equipment for mobile cranes
A mobile crane is a hydraulic-powered crane with a telescoping boom mounted on truck-type carriers or as self-propelled variants with a cable-controlled crane mounted on crawlers or rubber-tired carriers. It is made to be easy to carry to a project site and utilise with a variety of loads and goods with little or no installation.
Action Construction Equipment (ACE) is the leading manufacturer of construction equipment in India. It is the major producer of mobile cranes and tower cranes. Since its inception in 1995, the company has grown becoming the best in the industry. ACE has its plant in Faridabad, and this plant is capable of producing roughly 12000 equipments for constructions and 9000 tractors per year.
7.
Caterpillar India for motor graders, rigid dump trucks
Motor grader, also known as graders in lay man's term, is a piece of heavy machinery with a long blade that is used to grade a flat surface. Rigid Dump Trucks are used during the process of construction for loading heavy goods. The characteristic feature of rigid dump truck is its durability and quick mobility.
Caterpillar India is the leading equipment company thriving in the industry since 1930. The company has a well-developed research and development centres in India. It produces excellent products that are exported world-wide due to its quality and reliability.