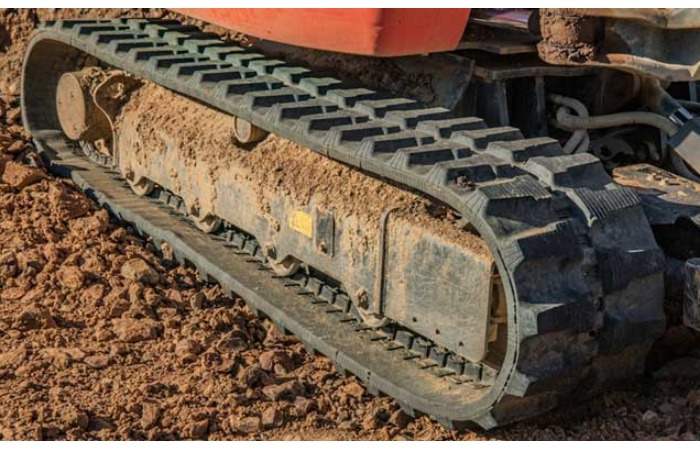 The undercarriage parts market in India is an essential segment of the construction equipment industry. It caters to the demand for replacement and aftermarket parts for various heavy machinery such as excavators, bulldozers, cranes, loaders, and more. Undercarriage parts include components like track chains, rollers, idlers, sprockets, and track shoes, among others.
India has witnessed significant growth in its construction and infrastructure sectors, which have driven the demand for undercarriage parts. The government's focus on infrastructure development projects like highways, railways, airports, and urban development has played a crucial role in boosting the construction equipment industry, including the undercarriage parts market.
Earthmoving equipment, such as mining excavators, construction excavators and dozers, are heavy equipment that serves the primary as well as secondary sectors of an economy. One of the vital parts of earthmoving equipment is undercarriage. Undercarriages consist of several components, including track shoes, final drive units, track rollers and other auxiliary components, to support the movement of earthmovers. Since the cost of new construction equipment is much higher than the cost of replacing existing components, operators tend to supplant earthmoving equipment undercarriage, bolstering the aftermarket trading of undercarriages.
The major undercarriage components include links, pins, bushings, sprockets, rollers, idlers, shoes and frames. The market for track-mounted equipment is growing in India which contributes to the growth of crawler parts and components. Equipment such as crawler excavators, piling rigs, dozers, cranes, trenchers, pavers, milling machines, etc. are the major markets for undercarriage parts.
The rising demand for this device in the mining and construction industry has led to manufacturers developing new and advanced products in the market. Technological advances have made undercarriage components more durable and efficient.
Demand drivers
The global construction industry is poised to offer lucrative opportunities for construction equipment such as crawler excavators, dozers, compact track loaders, and crawler cranes. As a result, the demand and sales of undercarriage components are expected to soar. The expanding commercial infrastructure sector is also projected to drive the demand for undercarriage components.
The emergence of hybrid and electric equipment, coupled with stricter emission regulations for conventional engine equipment, has led to increased costs for new equipment. With tighter project deadlines, there is a growing need for specialized construction machines like bulldozers, excavators, and crawlers to efficiently carry out specific tasks at a faster pace. It is estimated that the construction and industrial equipment market in the US will reach a value of approximately $36 billion by 2022.
Manufacturers are thus focusing on providing these services, which has led to a rapid increase in demand for such equipment. This, in turn, enables manufacturers to regularly maintain the machinery, particularly the undercarriage components that play a crucial role in equipment performance. Rental and leasing services provided by equipment manufacturers are expected to drive the growth of the undercarriage components market.
Major global manufacturers in the undercarriage components industry, including Caterpillar, Continental AG, DBA Group (Berco), Deere & Company, DIGBITS, Dozco, Gemmo Group, Hitachi Construction Machinery, Hoe Leong Corporation, Komatsu, MST, Renomag, ThyssenKrupp AG, Titan International, Topy Industries, Trident International, TVH Parts Holding NV, USCO SpA, Verhoeven, and others, are focusing on the launch of technologically advanced products to gain a competitive edge. These companies are adopting growth strategies such as acquisitions and collaborations with other market players to enhance production capacities, expand market penetration, and capture a larger market share.
During bauma CONEXPO in Noida, Volvo CE displayed its EC300DL Block Handler (BH) crawler excavator, which is custom-built for the quarry. It is armed with a heavy-duty lower frame and toughened undercarriage components and is powered by Volvo D7E engine. It is designed to deliver best-in-class productivity while ensuring lower operating costs and overall operator comfort and safety. "The EC300DL BH is just what every quarry contractor is looking for with faster returns on investment and a workhorse that can be relied upon for years," says Dimitrov Krishnan, Managing Director, Volvo CE India.
L&T Construction & Mining Machinery has introduced the Suraksha-10000 / MCP-4 Machine Care program, a unique and industry-leading initiative in collaboration with Komatsu. This program offers an extended power train warranty of four years/10,000 hours for Komatsu's PC210/PC210LC-10M0 and PC300/PC350LC-8M0 machines. In addition, the program includes a range of value-added services such as scheduled maintenance, energy-saving measures, training and guidance, preventive maintenance clinics, undercarriage inspection, and machine health reports. The aim of this program is to provide customers with true peace of mind.
The CASE CX220C excavator, launched in December 2020, is designed specifically for the most challenging applications. It features a powerful and reliable FPT Industrial engine, ensuring high productivity with low fuel consumption. The equipment's robust design, including a 33 per cent stronger heavy-duty arm, boom, and undercarriage structures, enhances durability in harsh mining terrains. Its user-friendly maintenance from ground level makes it a preferred choice for operators.
Furthermore, the undercarriage of earthmoving equipment represents a significant portion of the equipment's purchase price, and its maintenance is a long-term activity. Nearly half of the overall maintenance cost of equipment can be attributed to its undercarriage. During operations, undercarriages experience wear and tear due to rough terrains. Proper maintenance is vital for the equipment's optimal operation, creating an opportunity for aftermarket maintenance and repair activities. The demand for earthmoving equipment undercarriages correlates with the growth of end-use industries such as construction, agriculture, and mining. Therefore, substantial investments, government initiatives, and subsidies contribute to increased sales of earthmoving equipment undercarriages.
The increase in government investments in developed and developing countries for infrastructure development and repairs is expected to drive the growth of the undercarriage components market. The construction industry's Gross Value Added (GVA) in the UK reached a valuation of over $138 billion in 2021. The rise in government spending is anticipated to boost the demand for heavy machinery, thereby supporting the growth of undercarriage components.
The growth of the agriculture and construction sectors is set to drive the demand for heavy machinery, consequently increasing the demand for undercarriage components. The rapid construction of road infrastructure in developing economies has led to a surge in demand for construction machinery such as track loaders, bulldozers, and crawler dozers. The incorporation of machinery in the agriculture segment, increased usage of small heavy-duty machines in the industrial sector, and a rise in global construction activities drive the global heavy-duty machinery market. This, in turn, stimulates the demand for undercarriage components. However, the availability of numerous wheeled machines that do not require tracks and undercarriage components may inhibit the demand for such components.
Nevertheless, the substantial initial cost associated with construction equipment has spurred the trend of renting and leasing rather than purchasing new machinery. Mid and small-scale construction players face significant financial burdens when acquiring new construction equipment. To meet their infrastructure requirements while avoiding high costs, they are opting to rent equipment. This trend is likely to negatively impact the sales of new undercarriage components, as the demand for brand-new machines decreases, thus restraining the growth of the undercarriage components market.
The growing efforts to build dams, highways, railways, and roads as part of smart city development initiatives in mobility and energy sectors are driving increased investments by governments. This increased demand for construction equipment directly contributes to the growth of the undercarriage components market.
Opportunities and challenges
India's construction and infrastructure sectors are expanding rapidly, driven by government initiatives, urbanisation, and increased investment in infrastructure projects. This growth creates a significant demand for undercarriage parts as construction equipment and machinery require regular maintenance, repairs, and replacements. There is a considerable market for aftermarket undercarriage parts in India. Many equipment owners and operators prefer cost-effective alternatives to OEM parts.
By providing high-quality aftermarket undercarriage parts and related services, businesses can cater to this demand and establish a strong presence in the market. In a competitive market, there is a need for reliable and durable undercarriage parts. Businesses that can offer superior quality products that can withstand harsh operating conditions and provide extended service life have a competitive advantage.
While the undercarriage parts industry in India offers opportunities, it also faces certain challenges.
The market for undercarriage parts in India is often price-sensitive. Customers, especially in the aftermarket segment, tend to prioritise affordability. Competing on price can be challenging, particularly when faced with lower-cost alternatives from domestic and international suppliers. The undercarriage parts market in India has experienced issues with counterfeit and low-quality products. Counterfeit parts can be challenging to identify and can pose safety risks, affect performance, and damage the reputation of legitimate suppliers. Ensuring product authenticity and quality control becomes crucial in such an environment.
The unorganised sector, comprising small-scale and local manufacturers, presents competition for organised players in the undercarriage parts industry. These unorganised players often offer lower-priced alternatives, affecting market share and profitability. The distribution network in India's undercarriage parts industry can be complex. Ensuring efficient logistics, establishing a wide distribution reach, and managing multiple intermediaries can pose challenges for businesses. Building strong relationships with dealers and distributors becomes essential for effective market penetration.
With the rapid advancements in construction equipment technology, there is a need for undercarriage parts that are compatible with modern machinery. Keeping pace with the evolving technology landscape and investing in research and development to develop innovative and technologically advanced products can be demanding. Also, complying with industry regulations and quality standards can be demanding for undercarriage parts manufacturers. Adhering to safety standards, environmental regulations, and obtaining necessary certifications adds complexity and cost to the business operations.
Addressing these challenges requires careful market analysis, strategic planning, investment in quality control measures, effective distribution strategies, strong customer relationships, and continuous innovation. Collaborating with industry associations and seeking support from government initiatives can also assist in overcoming challenges in the undercarriage parts industry in India.
The collaboration between DOZCO, a renowned Indian manufacturer of mining and construction equipment, attachments, and components, and ITM, an international leader in manufacturing undercarriage components, is a significant milestone in the esteemed Prime Minister's Make in India initiative. NG Bangur, Director of DOZCO, expressed his belief that this collaboration will benefit customers who have been seeking quality and critical components. The joining of these two respected leaders in their respective fields is expected to bring immense advantages to the global market.
Maria Cecilia La Manna, CEO of ITM, highlighted the potential of this collaboration, stating that by leveraging ITM's expertise in undercarriage production and design, combined with DOZCO's market knowledge and service capability, customers will experience significant improvements in operational efficiency and quality of service. This partnership reinforces ITM's position as a global player and key undercarriage partner.
Road ahead
In spite of the positive trends, the market for undercarriage parts and components needs to gain pace in the coming years. Compared to global market, the segment in India is still moving at a slow pace. Upgraded maintenance practices and developing advanced components matching the growing requirements of the OEM market can put the segment on fast track. While the global market prefers for tracked equipment, in India the tracked machines are limited to a few equipment segments such as excavators and crawler cranes. However, going ahead, there is a great chance of compact equipment with crawler base to work in difficult to reach areas and urban development projects.