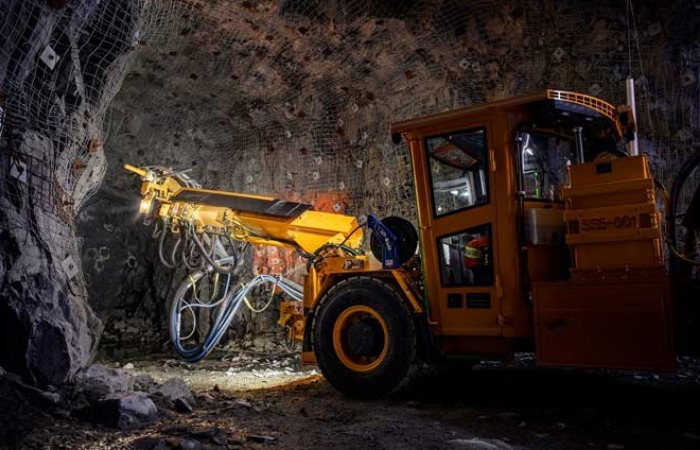 With the growing demand for increased output of coal, iron ore and other minerals, the demand for mining equipment and machinery is expected to grow manifold. Rapid economic growth witnessed in China and India in recent decades, has driven the global demand for base metals, steel and speciality metals. It is mainly due to their growth of infrastructure, the manufacturing sector and a large consumer base. This will lead to a spurt in the exploration activities of these metals, especially in precious metals, rare earth elements and lithium.
Says Rajesh Nath, Managing Director, VDMA India, "For the past few years, global economic uncertainty combined with political upheaval, has made the mining sector volatile where the demand for metals, natural resources and commodities has ebbed considerably. Then again, India has an estimated $200 billion of as-of-yet untouched mineral reserves. More than 80 mineral commodities are produced here and India ranks among the world?s leaders in iron, bauxite, zinc and coal."
Rajesh adds, "The Indian mining market holds large potential for German manufacturers because of the degree of mechanisation. During the last five years, the total import of mining equipment to India developed from Rs 0.12 billion to Rs 0.42 billion in 2010, and rose again to Rs 0.78 billion in 2012. Germany's share was a near constant one, fluctuating between 63 and 75 million. Hastening disinvestment of public sector units, ensuring coal supplies to the power sector and promoting competition in the mining sector would be some positive development in the mining sector."
Partha Mookherjee, Head – Mining Equipment Business, Larsen & Toubro, said, thinks that the mining sector in India is doing well for all the major minerals, namely, coal, limestone, iron ore etc. "This is on account of increased spend on infrastructure, which is creating a demand for all the basic minerals. India is blessed with a rich reserve of basic minerals like coal, limestone, iron ore etc. Hence, the increased demand for minerals is primarily met through domestic production. Thus, increase in demand for minerals has led to an increase in demand for mining equipment as well."
According to Nath, the Indian economy will see a turnaround in the coming quarters, because of various steps taken by the government to spur growth. He says, "German investors in India take a positive long-term view of the Indian market and continue to invest in their operations to tap growth opportunities. Maharashtra, with around 39 per cent share of German investments, remains the most attractive destination; Pune has lately become quite popular, too. Karnataka and Gujarat are other important destinations. Until the market conditions improve, the German companies presently in India are focussing on services and value addition; this includes maintaining existing machinery, streamlining operations and saving costs. They are increasing the local procurement and limiting imports to essential and critical parts only."
Mechanised mining has become very popular, as it is efficient and cost effective. This has come as encouragement to the mining equipment sector and several companies have introduced technologically advanced, large size and efficient mining equipment in India. Majority of the companies design and manufacture mining equipment in-house while some companies market mining equipment from international players. Apart from this, several Indian companies have also entered into collaborations and agreements with international companies to enable them to sell their products in India.
Nath further adds, "In mining equipment sector, the technology depends on the mining operations in the country. In India, opencast mining is more popular than underground mining. Hence, regarding the equipment required for opencast mining, like dumpers, dozers, shovels, draglines and excavators, the level of technology of the equipment manufactured is at par with international standards. German manufacturers and VDMA mining equipment do a lot to retain the leading position in mining technology, especially in underground mining, and also in safety technology." He further adds, "Many German companies are planning more investments in India. In the construction equipment and building machinery sector as well as the mining machinery sector, companies like Liebherr, Beumer, Wirtgen, Caterpillar, Putzmeister, Hess, BHS, to name a few, have invested substantially in the last few years."
Said Mookherjee, "Through our partnerships with global players like Komatsu and Scania, along with L&T's indigenously designed, developed and manufactured set of products, we are already offering a wide spectrum of products which cater to the Indian mining industry."
Komatsu, Scania and L&T strongly believe that digitalisation can bring in a major change on how an equipment is operated, utilised and maintained or how its performance can be monitored. We are using the latest tools and software in order to make the mines safer, environmentally friendly and productive.
Adds Mookherjee, "The mining reforms have brought the confidence back in the industry. With better clarity on policy continuation, customers are more confident to invest in good quality mining equipment. We are already witnessing a strong demand for Komatsu dump trucks, hydraulic excavators, dozers, wheel loaders, etc. from various sectors like coal, cement and iron ore."
In the prevailing situation, the mining sector is facing tremendous pressure to control production costs without compromising on the essence of environment-friendly operations. This has necessitated a perceptible towards modern mining equipment. Technology will continue to play a vital role in maintaining desired productivity levels and in supporting the concerns of environment-friendly mining. We are already witnessing to technology changing the way the mines operate today; today, there are large surface coal and iron ore mines in India which use state-of-the-art equipment. The underground base metal mines have chalked-out programmes for modernisation and are using high-end mining equipment and methods like drilling, rock bolting, mucking and hauling.
The domestic players in the mining equipment industry include both the public and private sector companies manufacturing underground and surface mining equipment. However, several of the foreign companies have also set up operations in India to take a share of the fast growing mining sector pie. The important international and local players in this sector include Hyundai, Hitachi, Daewoo, Komatsu, John Deere, Wrigten, Tega, Atlas Copco, Liebherr, Joy Mining Machinery, Terex, Bucyrus Erie, DBT, Volvo, Caterpillar, Sandvik, Telcon, Bomag, Kobelco, Poclain, Dozco, JCB, and Bitelli. Buoyed by the growth in the mining sector these companies are also expanding their capacities. For example Dozco and Telcon are planning/have already added capacities to their existing production plans to manufacture sophisticated mining equipment for the Indian mining industry.
Hemant Mathur, Assistant Vice President—Sales and Marketing, Tata Hitachi, is of the view that the new initiatives in commercial coal mining will lead to improvement in the efficiency of mining operations, for which the mining equipment manufacturers will increase the demand for technically and technologically advanced mining equipment coming into India." However, he sees some challenges in mining equipment sales due to liquidity issues. "The miners involved in the mining activities have limited liquidity for purchasing the equipment. The credit has become tough and there are not too many funding agencies/banks to finance the mining equipment. We see a strong demand of mining equipment, but this needs to be supported by banks to lend money and boost the sales," he points out.
Underground mining readies for IIoT revolution
Underground mining is traditionally a major segment where a lot of tunnelling jobs are happening. The basic tunnelling activity in underground metal mining involves development of ramp, development of levels and sub-levels, stock phases, crosscuts and other structures. In underground mining operation, tunnels are built to gain access to ore body; movement of equipment and manpower for production activities; and carry ventilation, electric cables and other necessary infrastructure underground. The tunnels vary in length, size, quantity, dip and are either permanent or temporary in nature based upon their application and geo-mining conditions.
Equipment used for underground tunnelling activities in mining and civil construction include boomers, drill jumbos, load haul dump, low profile dump truck, roof bolters and cable bolters. Says Anirban Sen, Underground Business Manager, Asia Pacific & India – Underground Division, Epiroc Mining India, "Epiroc has been a proven underground mining supplier. For more than 140 years, Epiroc has been a leading supplier of mining and rock excavation equipment. Today, in addition to offering a comprehensive range of products, we also help clients optimise underground mining projects. We can help with operator training, equipment optimisation, service plans, financing and more. Our portfolio includes machines for underground drilling, loaders and trucks, ventilation systems, rock reinforcements, raise boring and mechanical rock excavation equipment, tools for such excavations and other excavator attachments."
Komatsu offers a range of drill jumbos – single and double boom, bolters, LHD – 4 tonne to 22 tonne and LPDT for underground hard rock mining. In underground soft rock coal mines, bolter miners or road headers are commonly used for high-speed drivage, depending on required speed and length of trunk roadways and longwall gate roadways.
"For underground coal mining, continuous miner technology has proved to be flexible, productive and more suitable for Indian conditions. Longwall mining can give high production, but this has proved challenging in Indian conditions due to geological and other operative reasons. Typically for CM technology – continuous miner, shuttle cars/battery haulers, roof bolters and feeder breaker are used. Joy (Komatsu Mining Corp Group) is the global leader in supplying these equipment and also lifecycle management of these equipment," said Shib Bhowmik, Managing Director, Komatsu Mining Corp.
SANY mining machines are equipped with the latest technologies, which meet all the customer requirements. The company's hi-tech modern engine has fast digging speed with low energy loss. And its maximum operator comfort makes the SY500C-10HD efficient, economical and the perfect match for mining activities. The company has also developed EVI App to monitor the real time performance of the machine and fleet management by the customer. Along with this, we have also developed an internal service app which helps us to increase the uptime of machine when and where required.
Caterpillar Underground Mining delivers equipment, technologies and collaborative support to help underground mining operations work productively and safely while minimising costs. With a worldwide team dedicated to underground mining, Caterpillar works with mining companies and Cat® dealers to adapt equipment and services to help meet the challenges at each mine.
For underground hard rock mining, Caterpillar designs, manufactures and supports a range of underground loaders and trucks. The core design and engineering team is dedicated solely to hard rock mining vehicles, and the machines are manufactured in a state-of-the-art factory constructed, especially for building these trucks and loaders.
Arun Misra, CEO, Hindustan Zinc, says, "Hindustan Zinc has always been at the forefront of adopting innovative solutions and smart technologies for responsible mining. We recently adopted battery electric vehicles (BEVs) in underground mining. This is a first-of-its-kind initiative that has been taken up in India in the mining sector and we are proud to be the leaders in bringing sustainable solutions across operations. This technology will help us to drastically reduce carbon emissions, enabling the mine operations to become more environmentally friendly."
"6th Sense is our answer to our customers need for digitalisation to make their operations safer and more productive. Under this umbrella we have gathered a suite of solutions and a holistic step-by-step approach to make change happen. Implementing new technology can be challenging. That is why our 6th Sense approach is based on close OEM – customer collaboration and continuously addresses people and process changes. The steps to success are called insight, control and optimise. This model has proven many benefits for our customers and for ourselves such as speed and quality on deployment," said Sen of Epiroc.
Misra said, "Digital twins (digitised geological, engineering, and asset data) is another emerging technology that enables the creation of digital models of the physical environment, constructed using geological, engineering, and asset information. This can be continuously updated with data from sensors and location-aware mobile devices enabling robust real-time data-driven decision making. Additionally, for data collection, inspection, stock control, condition, and safety monitoring, new improved un-manned drones are also being used. LHD, LPDTs, jumbo, exploration drills, and production drills are some of the major HEMMs deployed in underground mining applications."
"We are confident that Mobilaris Onboard will cause a paradigm shift in the underground mining industry. It makes every miner aware of the whole real-time situation in the mine and enables a set of unique tools that will increase productivity by less traffic congestions and a safer work environment," says Hans Wahlquist, VP Business Development and Strategic Product Management at Mobilaris Mining & Civil Engineering.
JCB India has been consistently supporting the mining sector with state-of-art machines like JCB 380 (a 38 Tonne excavator), JCB 455ZX (a 5.5 Tonne payload machine), and JCB India's Excon'19 launches the ecoXpert backhoe loader; the NXT range of excavators (14T to 24.5T); the Quarry Master range of excavators (14T to 38T) category; side-engined telehandlers. Next, JCB is looking forward to consolidating its product range in India.
Future outlook
The coal and iron ore mining is expected to be intensified as the government has promised 'power for all' in the next couple of years and the construction of infrastructure is expected to boom once again since the government is trying to achieve an economic growth of 8 to 9 per cent in the next decade. The trend is moving towards more and more automation. As mining becomes intense, the demand for mechaniSation and highly productive, safe, efficient and cost effective machinery will increase.