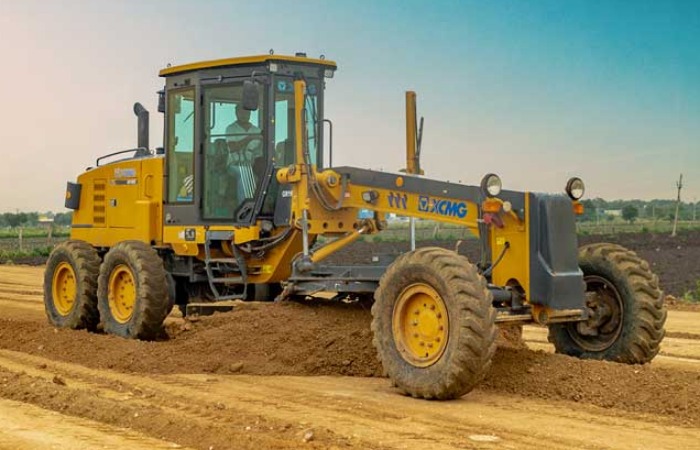 Indian motor grader market has been witnessing substantial growth during the past few years, an increase in government spending in infrastructure projects such as smart cities, housing for all and Pradhan Mantri Awas Yojana (urbanisation). Public-Private Partnership (PPP) in the infrastructure sector would primarily boost the motor grader industry in India. However, the spread of novel coronavirus might impact the growth of the construction and oil and gas sector in India, which would act as a hurdle in the growth of the India motor grader market in the first half of 2020.
A report from Off-Highway Research revealed "Sales of motor graders follow very closely the trends of expenditure on the construction of new roads and the maintenance of the road network so demand for machines will largely depend on the speed at which existing and future road projects are executed. The country's backlog of unfinished road building projects and the government's ambitious infrastructure development plans present tremendous opportunity for demand growth for motor graders."
According to 6Wresearch, India motor grader market is anticipated to register growth during 2020-2026F. The government of India has come up with the "Hydrocarbon Vision 2025" initiative to assure energy security by achieving self-reliance through increased indigenous production and investment in oil sector. The Indian government is promoting healthy competition among players and allowing 100 per cent foreign direct investment (FDI) in the oil and gas sector (ONGS). The Union government started a scheme "Kayakave Kailasa", intend to spend $20 billion on refinery expansion, by 2024 and to invest $9.97 billion for the expansion of gas pipelines network across the country. Such initiatives and projects would create abundant demand for motor grader equipment in the Indian market.
By application, motor grader equipment dominates the overall construction equipment market in India, as grader is used for a variety of construction jobs like road construction, leveling, material removal, and maintenance of roads. With the increasing connectivity of roads and expansion of highways across the country would create ample demand for motor grader equipment in India's market.
Demand drivers
So what are the current trends in the motor grader market in India and which sectors are driving the demand? According to
VG Sakthikumar, Managing Director, Schwing Stetter India
, "Investments in Infrastructure development has been high after the introduction of the NIP (National Infrastructure Pipeline), which has further facilitated the sanctioning of projects like high-speed railways, expansion of metro rail, connectivity projects like Bharatmala and Sagarmala. These projects have fuelled the construction equipment industry with a positive surge of demand. With the increased connectivity, we believe that the infrastructure growth rate would shoot up as the transporting costs will be brought down and new projects will be sanctioned to further the advantage of creating this large network for easy logistics. We are expecting orders for more than 10 per month in remaining part of the fiscal year and 150+ graders for FY24."
"We believe that the rural road construction sector has rich potential for motor graders, which is why we have given it high priority in product development and research. To cater to the already existing demands of the sector, we have introduced our motor grader GR 1003 which has been specifically designed for the needs of our customers from rural road development projects," said Sakthikumar.
Surat Mehta, Head of SDLG Business in India, said, "With sustained public investments in modern infrastructure planned over the next 25 years and an ever growing number of mega projects under the PPP (public private partnership) model gaining traction, demand for motor graders in India is better than ever. The key sectors driving this demand are road constructions – from super expressways to state highways, rural and village roads – public housing, mining and defence engineering projects, Greenfield airports and smart city infrastructure development."
He added, "Now that the Government is focussed on ensuring rural connectivity in every nook and corner of India under the Pradhan Mantri Gram Sadak Yojana (PMGSY) scheme, we find increasing use of motor graders in construction and upgrade of strategically important rural roads and village roads."
"Recent reports mention that the global graders market is estimated to grow at a CAGR of 2.7 per cent during the period 2022-2032 from of nearly $4.27 billion by 2022. Graders are commonly used machines at majority of construction sites. In India, investments in the national infrastructure development plan will drive further demand in the segment. Owing to Indian government's focus on last-mile connectivity and urbanisation, the market is further expected to boost in the coming years through various projects," said Alok Jha, Director - Sales and Marketing, India & SAARC, CASE Construction Equipment.
"Considering the current development pace in the country with various projects including Pradhan Mantri Gram Sadak Yojana, the need for the graders along with key equipment are high in demand and will sustain for the coming years. Additionally, next year being an election year, the Government will have a higher focus on the civic development in rural as well as urban India. The government is focusing on building 100 km of road every day for coming two years. For this development, the government has also allocated over Rs 1.80 crore," added Jha.
The demand for motor graders is directly proportional to the construction of roads and highways. Both central and state governments have been giving impetus to roads and highways since the early 2000s when golden quadrilateral and North-Southeast-West corridors construction was underway. Since then the demand for motor graders has expanded. The construction of roads and highways has further expanded to Bharatmala expressways economic corridors coastal roads strategic roads at the border, etc. and now the announcement of the NIP encompasses all of them.
During the past few years government spending on infrastructure and construction activities is on the rise globally especially in developing nations like India China. The compact design of the grader is highly suitable for small to medium road projects in villages and cities and also makes them the most preferred choice of contractors for road projects like PMGSY schemes, etc. in developing nations like India.
The Asia-Pacific region remains the largest market for motor graders market. This growth can be attributed to the factors such as increasing construction activities in the countries like China India which are the fastest developing nations in the world. The government in the region is spending heavily on developing world-class facilities which are driving the demand for motor graders.
Emerging tech
Gmmco and Caterpillar launched the new generation motor grader SEM 915 on January 2021.
V Chandrashekar, Managing Director & CEO, Gmmco
said "We have been selling SEM machines since 2011. We are successful with wheel loaders SEM 656D and SEM 636 dozer SEM 816 and the motor grader SEM 919. Now we are expanding our portfolio with the addition of SEM 915 motor grader" commenting on the growth of SEM products.
The SEM 915 motor grader is a high performance machine that you can count on. With state of the art safety features backed up with high efficiency, productivity and ease of serviceability, the SEM 915 motor grader will suit various applications with ease. The SEM 915 motor grader CEV stage IV helps get the job done efficiently and speedily whether you are looking for levelling performance, fine grading, spreading, earthmoving, clearing debris and brush, removing snow, finishing a slope or digging a ditch.
Prashant Harisingh Bisen, Senior VP – Construction of Gmmco, said, "We have also continuously expanded our service offerings to ensure that your SEM machines get the right care. The machines are bundled with extended warranty plans, value agreements and competitive finance schemes. We have over 100 offices, 60 warehouses and six workshops to support you. All this will make your ownership experience smooth" commenting on the convenience of owning SEM machines through Gmmco.
Many other big players in the region are spending heavily on research and development of environment-friendly and technologically advanced motor graders to reduce the pollution in the region and reduce human efforts and enhance productivity in minimum time. For instance Shandong Lingong Construction Machinery (SDLG) announced the addition of the latest product G9290 which is a heavy-duty motor grader. With a base operating weight of 22.9 tonne and a 14" wide blade as standard the impressive productivity of blade downforce and blade pull makes the SDLG G9290 the best in its size class.
Said Mehta, "Emerging technology trends are focussed on three key features – precision, energy efficiency and reliability – and SDLG motor graders score highly on all of these. Starting with environment-friendly CEV IV certified engine and electronically-controlled, fully-automatic transmission to cruise control system and best-in-class hydraulics, SDLG motor graders are built to deliver speed, productivity and versatility in operations with optimum fuel consumption. The ROPS/FOPS compliant air-conditioned cabins of both G9138 and G9190 models render the machines safe and easy to operate with high accuracy."
SDLG motor graders feature electronic engines and centralised controls facilitating total ease and convenience in operations. From keeping a close eye on operating hours and effective machine utilisation to continuously checking pressures, oil temperatures and other performance parameters, SDLG motor graders raise the bar of excellence when it comes to monitoring and control technologies.
He added, "Design changes in cabin space allowing wide visibility, deft manoeuvring alongside comfort for the operator is critical to ensure higher production. SDLG motor graders are ergonomically designed with key controls within easy reach of operators. Flexibility to accommodate different mould board sizes based on applications is also important. SDLG motor graders are designed to take in varied mould board sizes for multitasking operations."
The CASE New "C" series motor grader equipped with all latest industry feature i.e. variable horsepower improve fuel consumption best in the market, rear side mounted cabin provides unmatchable visibility even in crab grading operation, externally driven circle teeth are designed to provide a larger contact area to avoid components wear and for a greater leverage when turning the blade under load. This means there is no need for slip clutches or shear pins, which normally require repositioning or repair. Multi Radius Blade radius design consists of three different radiuses allowing a more efficient and continues cutting, mixing and rolling. The mixing effect is efficient on the spread-out material too. This improves road surface consistency and longevity.
Said Jha, "Motor graders, like most equipment in the sector are highly operator-centric machine and hence, it is important to ensure ease of use, safety as well as engine and cost-efficiency. It is important for the OEMs to work towards offering new-age technological advancements in the segment. Today's consumer needs ease of operation while using a machine, telematics that can help understands the usage and potential along with operator safety features."
He added, "At CASE, we constantly strive to provide advance technology in our machines to help increase productivity with low fuel consumption. Considering the current need of the operators and project managers, CASE graders are equipped with technology that allows for remote diagnosis and monitoring. The equipment is fitted with a one-of-a-kind trip meter on the operator's dashboard that continually monitors fuel consumption, hours of operation, and operating temperatures. Additionally, they are versatile in nature, making them highly productive as well as cost-effective machines."
CASE graders are powered by the motor that generate variable Horsepower at 220 rpm - 193HP /205 HP / 220 HP that makes it functional for any terrain and is ideal for mining applications. The graders are equipped with a powerful FPT engine, rugged A-frame and moldboard design, and industry-leading flip-up rear hood amongst other features. The unique multi radius blade as a part of moldboard precision technology consists of three different radii allowing for more efficient and continuous cutting, mixing and rolling applications that also spread out the material.
The intelligent hydraulic system with a load sensor allows operators to regulate the moldboard from the cabin itself, resulting in increased productivity and operator comfort. The advanced engine and hydraulics increase the machine's durability. Additionally, the machine is equipped with the electronic system monitoring to understand the operational history and reliability of the machine by analysing the reports.
XCMG motor graders are equipped with top technology, whether in terms of CRDi electronic Engine with the most reliable ZF transmission with Auto/manual gear shifting and variable piston to reduce the operating and owning costs of our customers. Said Sakthikumar, "These characteristics provide our customers peace of mind that XCMG machines are outfitted with the most recent technology, enabling reduced ownership and running costs. We are also going to introduce the High torque low RPM Variable horsepower Wechai 178Hp Engine with great torque synchronisation of automatic ZF electrical transmission it controls the fuel efficiency leading to high productivity. Our machines are already equipped with the 'NO-SPIN' technology and self-locking differentia for anti-skid performance."
He added, "There are three main categories in our product design of motor graders. The major difference in these product ranges is the different sizes of mould board available for our customers, such as, for rural applications we have 10 ft. mould boards, for national highway construction and similar applications we have launched medium range 12 ft. mold boards, and for large scale mining applications we have range of bigger mold boards from sizes 12 to 16 ft."
Mahindra & Mahindra introduced its BSIV compliant construction equipment with the launch of the new BSIV compliant Motor Grader - Mahindra RoadMaster G9075 and G9595 under the aegis of its Construction Equipment business. Said Jalaj Gupta, Business Head – Commercial Vehicles, Mahindra Construction Equipment, "With the advent of new emission norms for the construction equipment industry today we are pleased to launch our BSIV compliant range of the Mahindra RoadMaster motor graders. These tough and reliable products have been designed and developed in India after an in-depth understanding of the needs of the consumers which is the hallmark of Mahindra's product development process."
The entire MCE BSIV range will have a robust iMAXX telematics solution providing customers with diagnostic prognostic and predictive fleet management along with many other category-leading features. True to the company's belief of providing disruptive services we are reaffirming our assurance of superior performance higher uptime and lower operating and owning costs thereby higher profits.
Added Gupta "New BSIV RoadMaster range offers an optimised solution and precisely caters to the road contractor's grading needs for government flagship programmes such as smart cities Bharatmala, etc. as well as for major district roads state highways border roads and expansion of national highways. G9075 is powered with 74HP CRI Engine and increased torque up to 350 NM which is ideal for state highways rural roads district roads and other projects under PMGSY. This motor grader is coupled with a 3 m (10 ft) wide blade and is optimised to deliver zero compromise grading at a fractional 40 per cent cost as compared to conventional motor graders."
G9595 is powered with 95 HP CRi Engine and increased torque up to 400 NM which is ideal for National Highway and their expansion process rail corridor and industrial plot levelling. Keeping operator comfort in mind G9595 comes with an ergonomically designed air-conditioned cabin. It provides operator's fatigue-free operating experience helping them improve overall productivity.
RoadMaster range will augment the product portfolio of large contractors and will be an optimal solution for constructing medium roads state highways as well as national highways. They are also apt for applications such as embankment or earthwork for laying of railway tracks and levelling of large plots for industrial construction and ports.
Dheeraj Panda, Chief Operating Officer (Sales, Marketing & Customer Support), Sany India, said, "In line with these "green initiatives", Sany India has launched new truck cranes and motor graders adhering to the Bharat CEV Stage IV norms in the Indian market. In addition, our new machines are equipped with the multimode power output function, which consumes less power. We are also exploring/launching blended fuels like biodiesel-compliant engines. As electrification in heavy machines is gaining momentum, we are considering this electric solution under green initiatives."
L&T offers Komatsu motor grader models in the 150 hp-280 HP range for the Indian market. For roads and highways our latest generation model Komatsu GD535-5 incorporates advanced technology of dual-mode transmission with lock-up converter hydraulic blade tip control KOMTRAX technology and emissions engine compliant with current norms. This has enabled the contractors to introduce the state-of-the-art product for the construction of Indian roads which has ushered new benchmarks in grader performance.
Komatsu motor grader model GD535 is digitally compliant and incorporates the KOMTRAX technology for tracking location and health parameters. This latest technology enables the users to get the best out of the machine in terms of performance and productivity.
Ground levelling is essential for construction and motor graders play a vital role in increasing efficiency and reducing tedious labour. Saurabh Kulkarni, Mobile Automation Expert B&R Industrial Automation, said "Our modular X90 control and IO system bring all the functionality of advanced automation solutions to construction equipment providing precise and accurate slope and height control from the control area. Deployment of B&R control and software platform guarantees ease of machine operation higher efficiency and productivity. All products belonging to the X90 family can handle operating temperatures from -40 to +85 degrees Celcius and are resistant to vibration shock up to 50 g salt UV light and oil. These systems are coupled with condition monitoring functions allowing predictive maintenance functionality to motor graders. With condition monitoring OEMs can increase machine availability further reducing the considerable cost of outages and unplanned service calls in motor graders. In addition data recording and seamless connectivity to the cloud are more features being provided by our powerful X90 platform."
Said Kulkarni "Indian OEMs are moving from reactive maintenance to preventive maintenance. Condition-based predictive maintenance maximises machine availability and saves the considerable cost of outages and unplanned service calls. It helps machine operators monitor the equipment's health 247 and enables them to utilise the maximum life cycle of a device in the kit. Our mobile automation solution is already equipped with condition monitoring functions which help to detect problems in their early stages and reduce unplanned downtime. The data and further analytics help determine exactly which components require maintenance and when. Typical applications include continuous monitoring of machines rotating components such as hydraulic pump assembly's belts gears and motors. The mining and construction activities demand higher productivity competitive operational costs and tight completion schedules. Technological advancements are helping OEMs and contractors by assuring higher productivity better consistency and availability. This allows them added cash flow to take care of their financial liabilities make a better profit and avoid penalties."
Growing rental market
Speaking on the rental market
, Vishal Sharma, Business Partner, Reach International
, had this to say: "There is a huge demand for rental equipment throughout the CEQ category. It is the best time in the last decade for a rental company in terms of rates, timely payments, and higher utilisation rates. It is also a good time for a global player to enter the domestic market as well as for domestic players to expand their fleet size."
He added, " There are more advantages to getting a machine on hire than purchasing it. Whether it is a construction of a new factory, airport, or some site, or be it running a plant or warehouse, timely completion and delivery are the keys. To achieve that, it is a proven fact that rental companies have always outshined. Entrepreneurs like us have always believed in going the extra mile in satisfying their customers with the best service and high-quality equipment. Good quality updated equipment and timely services help in the completion of a project and achieving daily targets. A big advantage of getting equipment on rent is also saving on the capital expenditure."
Jha thinks otherwise. He said, "Rental market is badly affected with price increase of diesel, which plays important role in operational expenses however there is no major change in Motor grader hiring changes. Machines prices are also increased post latest emission norms implementation hence margin goes thin and grader industry also shrink a bit, so now customer is focusing more on cost effective products."
Finance: The need of the hour
Said Sharma, "Equipment financing banks and NBFCs are vital stakeholders of a rental organisation. The last two years have been a rollercoaster ride for all. With low demand and an uncertain future, financing companies have been a great support by offering MSME loans and other ECLGS programmes guided by RBI. Within a year, there has been a huge demand for machines which has again been supported by financing companies with funds and good rates. Be it LC, domestic credit, suppliers' credit, and more, banks and NBFCs have a product for all. The base is all set for the huge demand for equipment in near future and beyond that too."
"All the major financial companies have entered an MOU with the SCHWING – XCMG to cater to our customers through their easy acquire schemes and flexi payment terms. Our financial partners like Federal Bank also provide a dedicated relationship managers to guide in buying the SCHWING's latest and technologically advanced machines. These attributes of financial support make our machine a class asset for any customer who is looking for a top-notch construction equipment," said Sakthikumar.
Jha adds, "To address our consumers' issues related to finance, CASE India along with CNHi Capital offers various lucrative schemes for customers wishing to buy CASE equipment. Additionally, we have introduced a 48 hour loan approval policy to avail easy finance option for our customers."
The construction equipment market is expected to witness an upsurge in technology demand and see an incursion of increased digitisation and advanced automation concepts coupled with enhanced safety. While many large machine builders have already incorporated digital technologies, we expect the use of technologies to become more extensive among construction equipment manufacturers of all sizes in the coming years.
RoadMaster for rural roads construction
The major difference in Indian roads compared to those of the developed countries is that even today around 94 per cent of the roads In India are small and medium (rural and district) roads whereas these percentages in developed countries are usually less than 30 per cent. As India is a highly populated country there is already some form of road connectivity available in most parts and the further development of these roads will be more of a case of upgradation development than new construction.
The current motor graders available in India today except RoadMaster are in a price and operating cost range which makes them unaffordable for use by small contractors. RoadMaster motor graders on the other hand give the lowest cost per spreading and grading not only with conventional motor graders but also with manual laborers which possibly can be the most basic form of spreading and grading making it the most value for money spreading and grading option in India today viable for even the smaller road contractors.
The second biggest problem is in the size of the motor graders. Most of the rural roads are built passing small towns and villages where settlements usually come up adjoining the roads due to better transportation access. This further narrows the space available to travel and work for motor graders. Also since these rural roads connect several villages the traffic cannot be stopped while constructing the road as this is the only means of transport so the graders need to be compact enough to be able to let vehicles pass without having to get off the road. The smallest village roads in India are 3 meters wide with a shoulder of approximately 0.75m on either side giving a total width of around 4.5 meters. RoadMaster graders with an overall width of 2.1 mallows for a space of approximately 2.4 meters for another vehicle to pass while working on the road. This is not possible on bigger graders due to the higher width coming around 2.4 meters.
The third reason why imported graders will not be able to work in smaller rural roads is the complexity in design and scarcity of dealer outlets. As rural roads are mostly in interiors in case of breakdown it will firstly take a technician day to reach the site and inspect the issue and then a few more days to get the spare parts and get the machine up and running. Whereas due to the simple design of RoadMaster graders the breakdowns are less and even in case of some repair these are easy to identify and correct which can be accomplished locally with the help of a qualified service engineer. The spare parts being easily available as it is a Made in India machine also adds to the faster uptime for RoadMaster motor graders.
The fourth important aspect is the quality of finished graded material. Despite being a slightly smaller machine the quality of cambergrading with RoadMaster is comparable to that of any imported grader. As a result of this there is no difference in the end result in terms of quality of work.
The fifth important reason is that not only are RoadMaster motor graders designed for India but are also extensively tested in India in different applications and conditions before launch which has ensured its performance in the Indian conditions so that the customers can rest assured that RoadMaster will accomplish the tasks it is put up to.
The sixth important reason is that Mahindra is an Indian customer-centric brand that will be there for its customers no matter what. This cannot be said for the other international brands which can shut shop in India and go back leaving their customers stranded with the machine but without proper spare parts and service support.
Apart from these there are many other tangible and intangible benefits but these benefits are themselves sufficient enough to consider RoadMaster motor graders as a superior option for spreading and grading road material on small and medium roads.
The proof of this is in the RoadMaster motor graders sold in India in the last two years. Out of the over 600 graders sold many are being used in constructing rural roads helping build an Atmanirbhar Bharat.