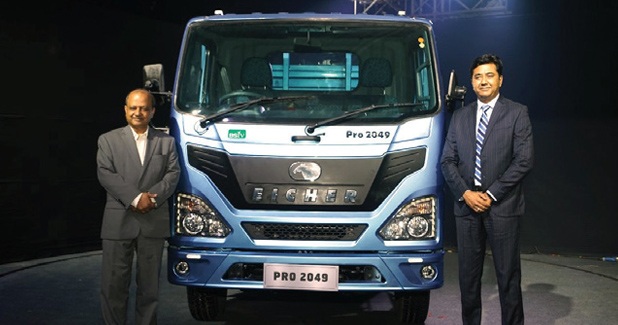 Eicher Trucks and Buses revealed India's first BS-VI compliant all-new range of Eicher Pro 2000 series of light-duty trucks. The entirely new range of ultra-modern trucks will expand the light-duty portfolio of Eicher, will address a wider range of applications and help enter new segments. The Pro 2000 series has been designed with segment-specific customer needs to deliver significantly higher profitability, loaded with industry-first features for enhanced reliability, safety, comfort and efficiency, according to the company. This all-new range of Eicher Pro 2000 series will come with two new engine platforms, built to deliver best-in-class fuel efficiency and a range of power options, compliant with BS-VI emission standards. This new range also has two new smart cabins developed for safe and comfortable driver operation in 1.8 m and 2.0 m configurations. These are equipped with new generation features such as touch-screen infotainment, Bluetooth and telematics connectivity. The first of its kind range will address the needs of the modern and smart businessman, not just in India but across the world.
The new global series sets new benchmarks for driver safety in the CV industry. The new ergonomically designed cabin offers a better turning radius, reduced NVH levels and a comfortable driving environment. The Pro 2000 series will be equipped with Eicher Live, an advanced telematics solution for the business owners to manage trips, fuel and uptime of the range of vehicles. The Pro 2000 series offers best-in-class payload and comfort, which makes this range ideal for the logistics and intra-city applications.
The two new variants - Eicher Pro 2049 and Eicher Pro 2095XP - will be powered with industry best features. The Eicher Pro 2049 has been designed to cater to the last mile distribution with a 1.8 m cabin. With a high legal payload of 2.7T, Dual mode M-Booster technology and larger loading space, the mini truck offers the lowest turnaround time to ensure faster delivery. The Eicher Pro 2095XP offers the highest payload of 7.2T in the category and comes with five cargo body options across 14.1, 17.6, 19, 20 and 21.5 ft. The vehicle is a smart choice for a fleet owner, with infotainment and Bluetooth connectivity, better cabin comfort, telematics and fuel coaching - offering a car-like cabin experience.
Speaking on the occasion, Vinod Aggarwal, Managing Director and CEO, VE Commercial Vehicles said, "It is a moment of immense pride for us to usher the automotive industry into its next evolution with BS-VI emission technology. We have always believed in investing rigorously in R&D to stay ahead in the industry by improving transportation efficiency and the Pro 2000 series is a testament to that mission. With a strong blend of technology and engineering innovations, we are yet again bringing in a new benchmark for the industry, offering our customers a radically differentiated experience in the CV space. We have a superior and long-standing expertise in manufacturing and exporting base engines for Euro VI requirements of the Volvo Group for the last six years. This extensive experience with Euro VI allows us the first mover advantage to deliver products engineered to cater to the new emission norms in the country. The select models that we unveiled today will be fuelled by our two new BS-VI engine platforms, equipped with all new state of the art cabin and industry first features."
The Pro 2000 series is a consolidation of the evolving needs and the business requirements of our new age customers. Ranging from technology, comfort, safety and mileage, this series is leader across all these parameters, thus making it 'Business Ka Badshah' in the CV industry. The Eicher Pro 2000 series will also be available in BS-IV range across all markets.
Allen introduces new walk-behind trowel
Allen Engineering Corporation, a leader in concrete finishing equipment, announced the launch of PRO430E Edger walk-behind trowel. This new trowel features a unique rotating edge ring that is perfect for trowelling along the edges of walls or around protruding pipe and conduit.
Allen is bringing the PRO430E back by popular demand. The PRO430E Edger fills out Allen's edger lineup. It fits right in between the 24" VP424 Edger and the 36" PRO436E. This in-between size allows the machine to easily fit through standard doorways while also maintaining a good power and weight combination.
The standard features of PRO430E include the following:

CH270 7 hp Kohler gasoline engine provides excellent power
The unique spinning edge ring allows finishing within 5/16" of walls or pipes
Choice of Fine Pitch or Rapid Pitch handles accommodates varying blade adjustment preferences
Two-year warranty assures contractors that this machine is contractor tough
Heavy-duty lifting hook for convenient placing on jobsite.
NEW HYDRAULIC OIL RANGE
ExxonMobilTM announced the launch of Mobil DTETM 20 Ultra Series - a technologically advanced series of hydraulic oils. The new series is designed for all types of hydraulic systems and components such as close clearance servo-valves and high accuracy numerically controlled (NC) machine tools. Designed to deliver up to 2x longer oil life and exceptional performance in the harshest conditions, the new series helps industries achieve unprecedented performance goals easily.
The Mobil DTE 20 Ultra Series would lower maintenance frequency thus minimising man-machine interaction, which makes the site safer for industrial workers. In addition, with two-time oil life, it would also support environmental care by reduction in hydraulic oil consumption. Providing improved deposit control of 89.2 per cent for longer oil life and precision operations, Mobil DTE 20 Ultra Series also delivers superior wear protection to extend component life. Extensive testing shows that it comes with better water handling and filter rating. According to Eaton 35VQ25 Test - an industrial test recognised for hydraulic fluid qualification, the oil provides >72 per cent better wear protection.
"Hydraulic systems operate under high-pressure and high-output environment. One of the major challenges faced by industries is that of performance, productivity and efficiency," said Shankar Karnik, General Manager, Industrial Lubricants, ExxonMobil Lubricants. "With Mobil DTE 20 Ultra Series, consumers now have a new technology developed to deliver trusted performance and extended component life, with reduced maintenance costs and system wear."
SANDVIK LAUNCHES NEXT GENERATION IMPACT CRUSHER
Continuing its ongoing product development, Sandvik announced the launch of its new QI442 track mobile impact crusher. This latest addition features the newly developed CI621 Prisec impactor, which comes with a host of innovations for improved efficiency and greater safety during maintenance, as well as being able to operate in either primary or secondary crushing modes.
Pioneering crushing technology
The new CI621 can be configured to work as either a primary or secondary machine, whilst the two hydraulically assisted curtains can be readily adjusted to produce a wide range of high quality product sizes.
The new CI621 includes further enhancements, primarily focused on increased safety during maintenance and serviceability. These include a new rotor position and locking device, new hammer locking wedges for quicker removal and fitting, and a new wedge removal tool to provide safer installation and removal. The rotor bearings have also been upgraded for easier assembly and clearance setting, in addition to an improved sealing system and greater range of adjustment in curtains. This allows greater usage of wear parts and maintains tighter settings in the secondary position.
Crushing and screening in one unit
One of the benefits incorporated into the QI442 is the optional modular hanging screen system. Recently launched on Sandvik mobile cone crushers, this system is interchangeable and offers the flexibility for the crusher to operate in open or closed circuit. The unique design enables set-up in less than 30 minutes and can be fitted without the use of additional lifting equipment. The patent pending hanging screen option delivers multi-functionality as a 1, 2 or 3-way split screener, as well as a highly productive and efficient impact crusher.
The double-deck hanging screen enables the machine to produce two screened products and re-circulate the oversize back into the feed conveyor. The oversize conveyor may be hydraulically rotated for material stockpiling (90¦) of up to three products on the floor, or removal (180¦). The tail section can be raised hydraulically to give improved ground clearance for transport when loading or unloading.
My Fleet telematics
The QI442 comes with Sandvik My Fleet remote monitoring system as standard. My Fleet has been developed to help customers know exactly how their equipment is being utilised. Through the collection and accurate monitoring of a wide array of parameters, this facilitates accurate production forecasting, ensuring that the most efficient use is obtained from equipment, thereby maximising return on investment.
Class leading features
The QI442 comes equipped a range of customer focused features designed to improve the return on investment and experience for the operator. A pre-screen is fitted to ensure maximum scalping capability and to prevent any undersize material passing through the impactor, maximising throughput and reducing wear costs. This also allows a specific sized product to be produced from the natural fines conveyor. The pre-screen also has a choice of grizzly or punch plate top deck and mesh bottom, providing the flexibility to suit any application and the underpan feeder drastically reduces spillage generally associated with impact crushers.
Key feature:

Pioneering crushing technology for high reduction ratios
One of the most flexible units on the market with the ability to operate in primary or secondary applications.
Many features as standard including overband magnet, pre-screen, underpan feeder, natural fines conveyor, ceramic blow bars and remote control.
Optional hanging screen available for recirculation or stockpiling to produce two products. This is completely detachable without the need of additional lifting equipment.
CAT C13 diesel emissions compliant engine with direct drive heavy-duty wet clutch for maximum power delivery and fuel efficiency.
Ease of operation with a user-friendly PLC control system and colour screen
My Fleet remote monitoring of key parameters to help optimise machine operation.