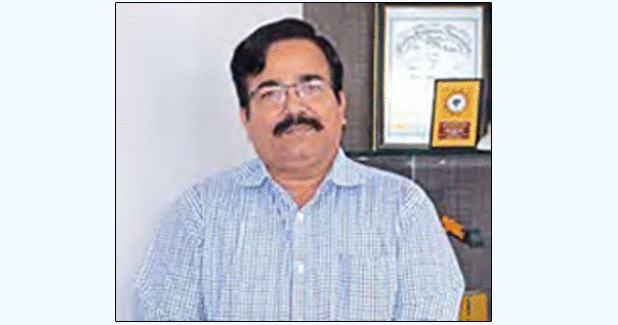 Subhash C Suthar,
Senior Vice President, Shree Cement Ltd.
We have already recommended LiuGong products to multiple clients and most of them have been converted into confirmed orders, says
Subhash C Suthar, Senior Vice President, Shree Cement Ltd
. Excerpts from the interview...
Could you brief us on the company?
Shree Cement is primarily an Indian cement manufacturer, founded in Beawar in Ajmer district of Rajasthan in 1979. It is now one of the biggest cement makers in North India. It also produces and sells power under the name Shree Power (captive power plant) and Shree Mega Power (independent power plant). Since 2006, Shree Cement has more than quadrupled its production capacity, both by expanding into new areas and increasing the capacities of the existing plants. The plants are located in Beawar, Ras, Khushkhera, Jobner (Jaipur) and Suratgarh in Rajasthan; Laksar (Roorkee) in Uttarakhand and Aurangabad in Bihar. As on date, we have the biggest capacity (of cements) in the world, i.e. 10 million tonne per annum at Ras in Pali district. We will be building a new facility at Bulandshahr and have acquired a facility from Jaypee in Panipat.
What kinds of construction and mining equipment are being deployed at your various plants?
We have mining and construction equipment of all shapes and sizes. These include excavators from 60 tonne up to 120 tonne, dumpers of 60 tonne range, and dozers of multiple brands. For plants, we majorly have wheel loaders across the plants and bulldozers. The majority of loaders are sold by LiuGong and are used for both operational and mining operations.
What is the application and the daily usage factor? Is it seasonal or the equipment is used throughout the year?
Since ours is a civil process, all of them are used for 24 hours a day, for 365 days a year.
How did you come to know about LiuGong?
The former Managing Director of LiuGong India approached us with the product attributes and we were impressed by his presentation. At that time (2007), they have just entered the Indian market. In the cement market, they had the ideal product line. So we have placed seven machines for a 3-tonne capacity on order after the first meeting and now we have 10 machines.
Ever since your first acquisition of a LiuGong equipment, how many repeat purchases have been done by you and why?
We did not exactly make any repeat purchase but simply switched over from three to five tonner machines. We switched over to a higher tonnage product (5 tonne) because of the augmentation of our plant size. Then we ordered for three loaders, two very recently. So we have 12 LiuGong loaders as on date.
Do you have any plans for equipment purchases? If yes, in which categories?
Not in this financial year as there is no immediate requirement. But for our future course of action, we definitely will buy 5-tonne loaders.
What are your key reasons for procuring LiuGong equipment? How you visualise LiuGong as a preferred brand? Would you be willing to recommend this company to other members of your business community?
We have already recommended LiuGong products to multiple clients and most of them have been converted into confirmed orders. Their machines are definitely a class apart and they have carved its niche by developing appropriate products for us. Earlier, we were dependent on a single brand. But now we have a company like LiuGong which is offering products which are easy to operate, and have hydraulic controls, comfortable, AC cabins. Their products are fuel efficient. Their service network is also better and spare parts are readily available. We have also recommended their motor graders to other clients.
In terms of investments by you in LiuGong equipment, what is your satisfaction level on a scale of 1 to 5 where 1 is the best and 5 is extremely poor?
I would say 1.5 as there is more scope for improvement.
What is your vision for the company?
We aspire to reach a 50 million tonne per annum capacity by 2020. We have already reached the halfway mark with new capacity additions.