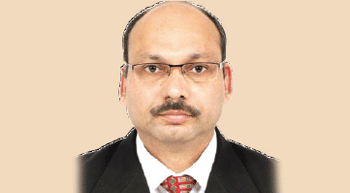 The introduction of GST would definitely ease doing business across the country and be instrumental in expediting growth in India, says
Amit Bansal, Sales and Marketing Director, India Region BCP Division, Caterpillar Inc.
Excerpts from the interview...
What were the objectives while launching the Cat 424 backhoe?
Caterpillar India announced the launch of its new Cat? 424B backhoe loader in Chennai earlier this year. Our goal is the same everywhere in the world it does business, including India - to help our customers be more successful in their business by using Caterpillar products and services. The major objective while launching the new backhoe loader was meeting customers? requirements in the changing business scenario. The new backhoe loader is a more fuel-efficient version of its predecessor.
What are the major design/sub- systems/features added into the new Cat 424 backhoe?
The Cat? 424B backhoe loader is recognised for its best-in-class performance, productivity, reliability and durability. Based on customer needs, we have designed two models to choose from depending on the job and application requirements. The hydraulic system of the new 424B has been completely redesigned to deliver reduced fuel burn. It offers outstanding fuel efficiency in its class and is more appropriate for the hiring segment. The other model, 424B HD, delivers superior productivity and will appeal to customers who want to complete the job in a shorter time period. The 424B HD has heavier axle and transmission, bigger hoe bucket and sturdier hammer-ready boom to meet more challenging tasks. Both the models have increased loader bucket capacity and also have the option to switch controls from ? +? to ? x? or vice versa.
Could you brief us on the features that lead to better productivity and fuel efficiency?
The 424B is equipped with proven engine, specifically designed for fuel available in the Indian market that delivers 76 hp at 2,200 rpm. It is also equipped with Cat power-shuttle transmission. The gear ratios are engineered to deliver higher rimpull in the first and second. This ensures better loading and dozing performance. Load sensing closed centre hydraulics produce flow and pressure for the implement system upon demand and the needed work functionsonly in amounts necessary to perform. This state-of-the-art system results in low fuel consumption. Load on the engine is always kept low, improving the fuel efficiency.
Brief us on the features that enhance ease of operation and maintenance. The spacious cab features easy and intuitive controls and excellent visibility. The cab provides a comfortable working environment for efficient all-day operation. Our electrical and hydraulic service centres, along with additional key serviceability features, help make servicing customer machines and in-field component exchange quick, easy, and efficient.
Is financing, especially for FTBs, still a challenge?
To enhance customer support, Caterpillar?s Financial Products Division and Tata Capital Financial Services (TCFSL), a wholly owned subsidiary of Tata Capital, recently joined hands to offer customers finance options for purchasing Caterpillar equipment at all their dealership stores. Through this model, Caterpillar customers are offered beneficial quotes and credit approval turnaround. This arrangement aims to tap eight dealer territories of Caterpillar India of dealers Gmmco and TIPL; and benefit from the extensive network and coverage of over 100 TCFSL branches located across the country.
How far the varying tax structure has a bearing on the costing of backhoe?
This is indeed a challenge that is facing the whole industry and business community. However, we understand that it is part and parcel of business.
The 424B is equipped with proven engine, specifically designed for fuel available in the Indian market that delivers 76 hp at 2,200 rpm. It is also equipped with Cat power-shuttle transmission.