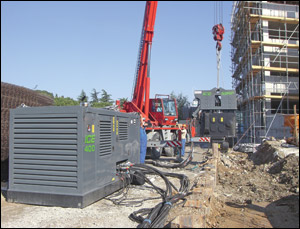 There is an overall economic slowdown in the market. However, we are confident that once the market conditions improve, there will be a tremendous demand again for foundation equipment as this is the equipment which is required for all major projects involving foundation work, says
Surajit Mukherjee, Managing Director, Suretech.
Excerpts from the interview.
What are the latest advancements for driven piles?
For driven piles, the pile dias are getting larger and deeper, i.e., we see a trend of driven piles increasing the dia for average of 1.2 m, going up to 2.5 m, and depths going from 15 to 30 m.
Have advances like resonance-free rigs and Still Workers found their way to the Indian market, especially for metro projects?
The latest foundation technology abroad is the use of Resonance free vibratory hammers and Still Workers for pushing in sheet piles. The advantage of resonance free vibratory hammers is that these do not pass bad or harmful vibrations to the surroundings and so can work in city centres and congested areas. The Still Worker is used in metro projects abroad for pushing in sheet piles silently as well as without vibrations, and so is ideal for operations in city centres and congested areas. Unfortunately, this equipment has not yet been used in India for metro projects. What are the major advantages of hydraulic hammers compared to diesel hammers? Diesel hammers are scarcely being used in India and Indian customers have already shifted from diesel hammers to hydraulic impact hammers. The major advantages of hydraulic hammers over diesel hammers are:
90-95 per cent efficiency of hydraulic hammers as compared to diesel hammers which is only 50 per cent efficient, i.e., a five tonne hydraulic hammer is equivalent to 10T diesel hammer in productivity.
The total energy of a hydraulic hammer is transferred to the pile, whereas in a diesel hammer, 50 per cent of the energy is lost.
Fuel consumption is much lower in a hydraulic hammer as compared to a diesel hammer.
A hydraulic hammer is environmentally friendly whereas the diesel hammer pollutes the environment.
Tell us about the advancements in micropile technology.
We have recently taken up the dealership of Beretta micro piling and anchoring drilling rigs. Thousands of rigs are currently operating in sites all over the world where the Beretta brand shows its performance, its quality in the various applications used, in geotechnics, diagnostics, anchoring, and geothermal investigations, thereby gaining a reputation among its users.
What are the advances in the sound mitigation systems in driven piles?
There have been major advances in the sound mitigation systems in driven piles. For e.g., IHC hydro-hammers have the feature to equip the hammer with a bellow (noise reduction package). This consists of an enclosure at the point of impact and bellow sections around the pile. Noise levels can be reduced to less than 80 dB(A) at 7 m.
How do you acquire the skill and knowledge required in the field?
We at Suretech regularly send our sales and service team for training to the respective principals at their office abroad. We provide a training school for vibratory hammers and pile breakers to our operators who are then placed on the payroll of customers.