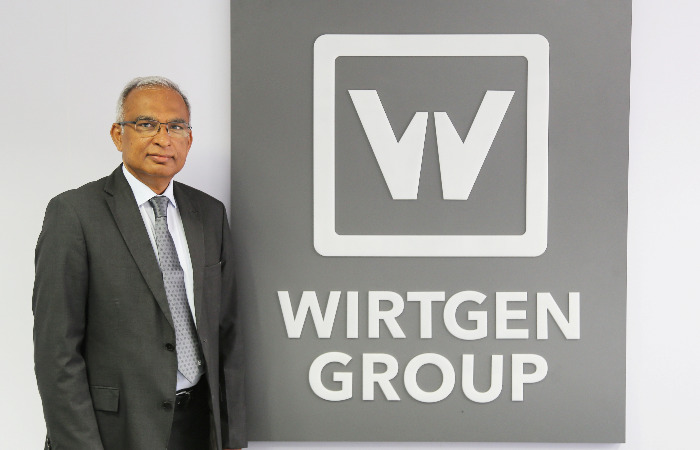 With the government's forward looking initiatives in coal mining and construction sectors, equipment companies like Wirtgen Group are bullish on the growth in the coming years. Ramesh Palagiri, Managing Director & CEO, Wirtgen India, speaks on the enormous opportunities in India's infrastructure space and how the company is gearing up for the future.
Excerpts:

Construction industry trend: The construction industry had phenomenal growth for four years till 2018 where the industry volumes doubled from 50,000 to close 100,000 units and then 2019 for the new government came back lot of expectations of further growth and consolidation. However, we found that the construction equipment volumes drop by 20 per cent and they were beginning to pick up in January and February this year. But then from mid-March, the COVID-19 crisis has almost stopped the demand. Today we have a challenge on supply side and also more on the demand side.
I think we are in a temporary slowdown now. It may take 18 months to recover, but the next 3-5 years after that, I expect phenomenal growth, perhaps similar to what we had in 2014 and 2018. I feel the government has to invest in infrastructure. They have to get going the NIP mission. While there are issues short-term, there are a lot of prospects for India in the long term.
Commercial coal mining: I am more hopeful today compared with the earlier announcements. There are a lot of things happening on paper on the coal sector with regard to privatisation, auction, etc, for at least the past 8-10 years. But the reality on the ground is the digging has not yet started. But I think the government seems to be more serious now and hopefully things should pick up now which would increase demand for machinery. But it will take at least 9-12 months before this translates into business for us. If things start moving now, perhaps by early next year, that will provide demand for the industry.
Export market: We are the largest exporters of the Kleemann screens and these are exported to all over the world including Tier-IV markets like the US, Europe and Australia. We have more than 500 screens operating world over and the feedback is quite positive. So it's clear that we can produce world-class quality in India and we are competitive.
Under John Deere umbrella: It has been now almost three years since we became part of the John Deere group. However, John Deere had made it clear that Wirtgen Group would operate as a separate entity under the genre of John Deere umbrella and I can say that we have been operating that way for the last three years. From India standpoint, it is beneficial for us because John Deere is more focused on doing more manufacturing in India and China. In fact, we are making a massive investment in China for local manufacturing and we have done similar thing here. We have just inaugurated our paint shop a couple of months back. We have bought around 15 acres of land adjacent to our existing plant. This because we have plans to manufacture more products in India going forward and John Deere would like to produce products where there is demand and where it is more competitive to produce. We have already demonstrated that we can produce world-class products in India.
Silver Jubilee and beyond: As part of the Silver Jubilee celebrations, we had planned a grand technology day in the Pune plant this year, like the one we typically do in Germany. But in the current situation, now postponed to January next year. We are now focusing more on customer engagements. We are also planning to do more training as there is a shortage of trained operators now. We are going to reactivate training school to give new operators to our customers.
I think the next 25 years will be much better than the first 25 years going forward because looking at the infrastructure needs of India, what we need to do in the next 10-15 years is phenomenal work. We have the technologies at least in the sectors where we operate. We are the innovation leaders.
We have a strong base in India with the direct sales and service model and manufacturing facility. I think we are rightly placed to encash this opportunity. We will continue to innovate and get more products to India and also expand our facility in Pune.