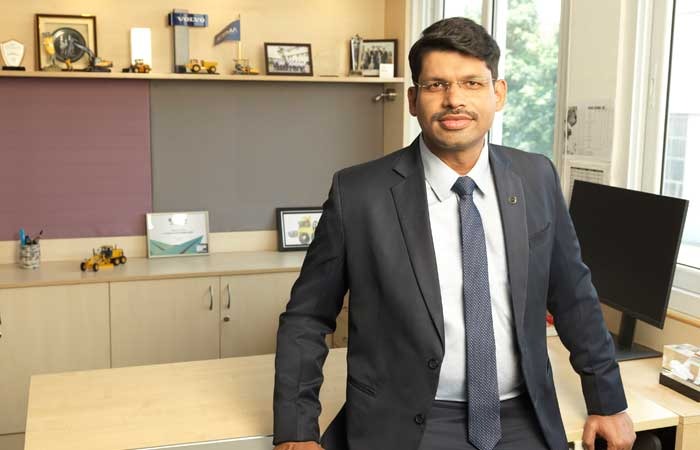 Bauma CONEXPO is returning after a gap of almost four years. What has been the past experience at the event?
Bauma CONEXPO is a must-attend event for anyone associated with construction equipment or infrastructure development. The last edition in 2018 was a great event with participation by leading industry experts, hundreds of exhibitors from many countries, and thousands of enthusiastic customers and prospects. We expect this edition, returning after a gap of four years, to be even more spectacular – both in scope and range.
What are key products on display during Bauma CONEXPO? Explain in detail.
For bauma CONEXPO, Volvo CE India will focus on construction equipment for road and retail segments. On display will be the Volvo EC210D crawler excavator with quick coupler plus HB22 breaker. Versatility and complete ease of operation are hallmarks of this product.
Also, on display would be EC300DBH, custom-built for the quarry. It is armed with a heavy-duty lower frame and toughened undercarriage components and is powered by a Volvo D7E engine. The EC300DL BH is designed to deliver best-in-class productivity while ensuring lower operating costs and overall operator comfort and safety.
Our exhibit of Road Machine Products will include the Volvo P7320D Track Paver is most recent paver range to be launched in India. The unit offers a winning combination of power, production capacity and precision for excellent paving quality with perfectly smooth mats. With a Volvo fixed screed, this Paver is proven to be effective when paving up to 700 tons per hour at 9 meters width. This level of throughput makes it versatile enough for a range of applications, including city roads, highways, and waste storage areas.
Not to forget, we have an exciting launch awaiting everyone, and it gives me great pleasure to invite all to our stall O.C10 on the afternoon of January 31, for the surprise reveal.
With the Indian government now fast-tracking infrastructure projects, the CE sector is expected to get increasingly busy. How do you look at the market for your products in India?
There has never been a better time for the Indian CE industry than now. Thanks to the Government of India's unwavering focus on Atmanirbhar Bharat and Make in India, a slew of all-new infrastructure development projects have taken shape across the country and across sectors – from road building, port development, railway network expansion, airport upgradation and waterways modernization to Nal se Jal Scheme, National Infrastructure Pipeline, PM Awas Yojana and Gati Shakti Master Plans and more – assuring robust annual growth for Indian CE Industry in the foreseeable future.
Volvo CE India is well poised to tap into this enormous unfolding opportunity with a full range of products that promise customers the best of both worlds – long life and high uptimes resulting in greater productivity along with low fuel consumption and low-maintenance ensuring reduced daily operating costs. Every Volvo Construction Equipment is designed, engineered and built to be supremely sturdy, reliable, and fuel-efficient, which translates to faster and better returns on investment for customers across every segment.
What are the various challenges faced in the sector you are in?
The growth of the Indian construction equipment industry has been adversely impacted by supply chain disruptions, input cost inflation, and critical electronic components shortages. Combined with limited avenues for customers to purchase equipment, it has placed domestic construction equipment players under twin pressures – in terms of pricing equipment and their ready availability.
Please share more information on the investment made in the Indian market in terms of the manufacturing facility, etc.
Volvo CE India is heavily invested in its state-of-the-art manufacturing facility at Peenya in Bangalore. We make multiple excavators, compactors and paver models here. Going forward, we intend to locally produce several more of our worldwide bestsellers from this facility and cater to growing needs in both domestic and export markets.
How was the year 2022 in terms of performance? What is your company's plan for 2023?
Despite challenges faced by the industry post-pandemic, Volvo CE India has performed well over the last two years – both in value and volume. We are steadily growing our market share across various segments. Going forward, we expect 2023 to be a 'peak year' for the industry in the near term with many key infrastructure projects across the country slated for completion just before the 2024 General Elections. Volvo CE India is well poised to register rapid growth in the coming year as well.