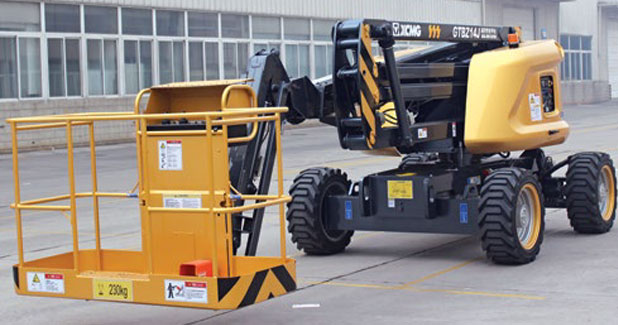 Aerial work platform (AWP) comes from the product line of firefighting machinery of XCMG. With a small boundary dimension, wide working range, strong obstacle climbing ability, simple safe and reliable operation, AWP can be widely used in the construction, repair and maintenance of plant, firefighting industry, warehouses, airports, municipal engineering and in other facilities. It has electric low-meter crank arm and electric shear fork which is helpful in the aspect of safety in construction of any type. Crank-arm and straight-arm products are mainly driven by diesel. Currently, the work altitude of these AWPs range from 4 m to 56 m.
AWP can be widely used as it is safe and efficient. Under the laws of the western developed countries, any work higher than 3 m will have to use an aerial work platform for its industrial safety aspects. Domestically, it is undergoing a stage of steady growth. 14 m articulated boom aerial work platform aims at meeting customer demand and has an intelligent and perfect control system, adopts humanised operating space and lubrication-free design that is easy to use and maintain, provides comprehensive safety protection and is with abundant configuration options. It adopts advanced motion optimisation control program, provides a better stationary motion and operating comfort. With the floating steering axle technology, it can achieve balance adjustment. The positioning is accurate, safe and reliable because of its isochoric leveling technology.
Features
Challenge of narrow space:
'ú' type boom design and zero tail swing can guarantee rotation within a limited space without re-positioning, which improves the operational efficiency. It is suitable for any operation in a narrow space.
Complex road condition: This product uses the latest floating steering axle technology and can configure the off-road chassis flexibly, four-wheel drive with perfusion tyres and road adaptability makes this product stand apart.
Simple and efficient operation:
Intuitive control panel and ergonomic operation interface reduces operator's training time and enhances operational efficiency.
Flexibility & efficiency: 'ú' type double-link jib has characteristics of compact structure and flexible extension, which can achieve vertical lifting and horizontal extension and has very strong obstacle climbing ability. The 180o rotatable platform provides bigger operation range. Narrow type rotary table with compact structure can achieve 'Zero tail wagging'.
Advance performance:
Full range operation, visual and friendly control panel that gives ease in operation. Electro-hydraulic proportional system control is accurate and efficient. Protective measures such as chassis incline protection, platform overload alarming, emergency landing, safety speed limit, flexible start up technology are provided.
Super pavement adaptability:
Four-wheel drive, off-the-highway wide tyre and new car axle floating technology, strong driving power and road adaptability, resulting a maximum climbing grade of 45 per cent, which is of the highest level in the industry.