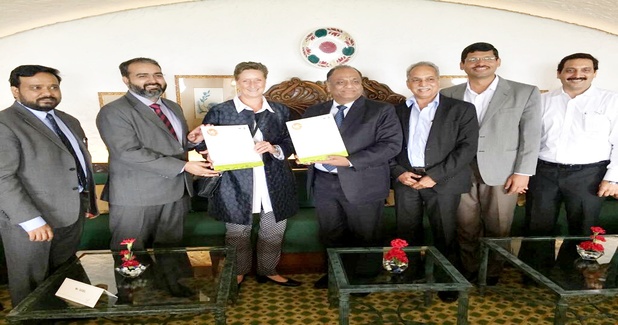 bauma CONEXPO INDIA and the Indian Construction Equipment Manufacturers? Association (iCEMA) will cooperate closely in future. A cooperation agreement was signed in Delhi by Bhupinder Singh, CEO, bC Expo India, and Arvind K Garg, President, iCEMA.

By signing the agreement, iCEMA has now become an official ?Partner Association? of bauma CONEXPO INDIA. The partnership will run until 2020. Singh regards the cooperation as a positive signal from the construction machinery industry in India. ?We are delighted to have iCEMA as a partner for bauma CONEXPO INDIA. Together, we can continue to expand and strengthen the trade fair as one of the most important platforms for industry stakeholders as well as government in India.?

The construction machinery market in India is experiencing a positive trend, primarily on account of the increase in road construction and infrastructure development. Garg regards the partnership as a logical step to promote the transfer of know-how and the development of the infrastructure in India. ?Cooperation with bauma CONEXPO INDIA provides iCEMA with a forum at a global level. This will enable us to examine and recognise trends and solutions for the Indian market from all over the world, for the benefit of our customers. The synergies between two strong partners are therefore being combined ? for the benefit of exhibitors and visitors at the trade fair.?

In its capacity as the largest association for the construction machinery sector in India, iCEMA acts as a strong link between the industry and government?s decision makers, and campaigns for growth and development in the industry. iCEMA also helps give shape to the government?s initiatives like skilling in the construction equipment industry through IESC. In the last few years, bauma CONEXPO INDIA has become an indispensable meeting point for the construction machinery industry in India. By signing the cooperation agreement, the two partners are pursuing the joint objective of promoting topics in the industry through close collaboration and therefore reacting to the needs and demands of the exhibitors and visitors at an early stage.