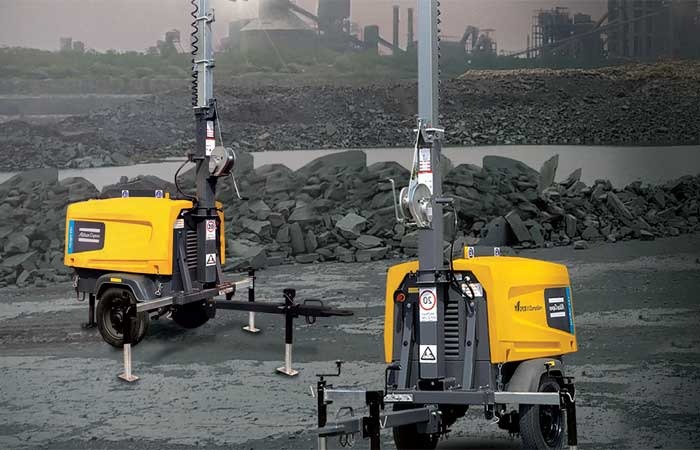 Construction projects are on the rise and soon you will be faced with the prospect of buying or renting construction equipment. With labour costs continuing to rise and slow economic growth in major economies like India, renting equipment instead of buying new machinery is a good way for construction firms, builders, and subcontractors to reduce overhead costs. Construction equipment rental has become a more attractive option for business owners and individuals looking to complete projects.
Renting construction equipment offers a number of advantages for businesses including the service and maintenance costs are eliminated and rental equipment features the latest technology. Renting equipment becoming more popular because it is reliable and well maintained by the providers.
According to a current analysis by Emergen Research, the construction equipment rental market is projected to reach a value of $135.7 billion by 2027. The growth of this market is attributable to the availability of numerous rental options a firm can have to fill the void during outages and give required flexible options that support logistics and finance. Firms reduce their cost by availing of rental equipment over the long term for numerous projects.
Indian market on the rise
"In India, the government's increased focus on infrastructure building like metro projects, highways, bullet train projects, rural roads will boost the equipment rental industry," says Satin Sachdeva, Founder and Secretary General, Construction Equipment Rental Association (CERA), and MD and CEO, Equipment Planet.
According to Mordor Market intelligence report, the construction equipment rental market was valued at $103 billion in 2020, and it is expected to reach $137 billion by 2026 and is anticipated to register a CAGR of 4.78 per cent during the forecast period (2021-2026).It is therefore, the rental companies have started diversifying and modernising themselves into various other categories of equipment like access platforms and many unconventional types of equipment.
Says Jalaj Gupta, Business Head, Commercial Vehicles Business Unit, Mahindra Construction Equipment, "The advantage of machine rentals is that you can adopt an Asset Light Model for your business. You needn't block capital to purchase construction machines, hence you minimise the project cost significantly. You also enjoy a lower maintenance cost, and you help improve uptime. You can focus solely on core construction activities and on completing the project sooner, and not on shelling out huge sums of money. The industry is ever-growing as per the infrastructure growth trend of India. Big contractors are now shifting slowly towards renting equipment from organised sector then actual management of buying and maintaining it."
HS Bhattacharjya, CEO, Quippo, said that the Indian construction equipment rental industry is very small as compared to other parts of the world, but its growth prospects are immensely bright. He adds, "The earthmoving segment, in particular, has been driving the overall construction equipment industry in the country, with the strong demand emanating from the government-backed infrastructure projects. Equipment renting has been introduced almost over a decade ago in this country and the rising emphasis on infrastructure development has led to steady growth in the demand for equipment rentals. The equipmentrental market comprises around seven to eight organised players with some OEMs also providing their equipment on rental and a number of small players from unorganized sectors. The predominance of unorganised players has made the market erratic w.r.t rental rates, payments, and terms of the contract."
Tony van Herbruggen, General Manager, Power Technique, Atlas Copco India, thinks that rental as a market in the construction equipment segment is still largely nascent and still developing and is currently present only in some pockets and some applications. However, as the construction equipment matures and as advanced technology improves the lifespan of equipment, we foresee rental as a choice gaining momentum.
Adds Sachdeva, "As construction companies and contractors now understand the benefits of renting, rental penetration is steadily increasing. Deliberations over renting vs buying equipment have been taking place for quite some time now. It shows that the rental industry is steadily growing and has a good future ahead. This is evident from the fact that the rental market was less than 10 percent at the time CERA was formed in 2017 but in four years it has grown to over 25 percent."
"Second, uncertain market, rising construction costs, the rising cost of purchasing, maintaining, and operating construction equipment, finding ways to save money, and concentrating on the core business of construction have offset the trend for renting equipment. Renting has therefore become a profitable option for construction companies as it provides them the ability to cut costs and run a more financially stable construction business. Construction companies
and contractors in the segments of building roads, highways, bridges, metro, buildings, and specialised, high valued and heavy machines have contributed to the growing trend," he adds.
Comments Gupta, "While you can choose to buy any of the world-class machines that Mahindra has to offer, renting machines from Hello Machine would be a prudent choice for your business. About 70 per cent of equipment involved in construction activities is on a hire basis. But there's a big difference between renting from the unorganised sector and from Hello Machine. The difference is reliability. After all, Hello Machine is a service offered by the globally trusted Mahindra Group. The following services offered by us elicit why Hello Machine is a reliable choice for your business. Hence the penetration is organised rental business in India is liable to pick."
Buying v/s renting Said Sachdeva, "An uncertain market, rising construction costs, the rising cost of purchasing, maintaining and operating construction equipment, finding ways to save money, and concentrating on the core business of construction have offset the trend for renting equipment. Renting also saves construction companies the cost of hiring an operator, the cost of transporting the machines between job sites, and of maintaining and repairing them – all of which tasks are performed by the rental companies as part of their customer service and after-sales offerings. Rental companies also give onsite support to the end-users of their machines at remote locations, with a quick on-time response to prevent machine downtime. Last, rental companies often upgrade their fleet with new, more advanced features, and provide upgraded machines to their customers based on the projects' requirements."
"Deliberations over renting versus buying equipment have been taking place for quite some time now. Many rental companies have started modernising and diversifying into other equipment categories like AWPs and other unconventional equipment segments so that they can cater to a larger category of end-users," adds Sachdeva.
Says Gupta, "Our machines come with pathbreaking digital support. You can keep track of the machine's health, performance, fuel status, and real-time location with our iMAXX Telematics app. We offer well-trained operators and maintenance services as part of our package. To ensure the smooth completion of your projects. We also offer additional services like regular maintenance and backup machines in the event of a breakdown – assuring 24x7 uptime. Safety is a big priority for us at Hello Machine. By offering trained operators, the chances of on-site accidents are minimised. We also provide medical insurance to all our operators and crew members, thus offering complete peace of mind. As you can see from the benefits listed above, we've developed an entire ecosystem for your business to thrive. It's no wonder that we've helped with the completion of over a hundred prestigious projects in a short span of time."
Demand drivers
Technology is revolutionising every aspect of infrastructure. Worldwide, technology is improving the efficiency of project construction and delivery. Changes and advancements in construction technology around the world have led to demand for newer technologies in construction equipment. The Indian equipment rental industry should enhance its capacity accordingly, as new technologies, especially telematics and artificial intelligence, are going to transform the equipment industry, and maintaining a fleet of such technologically advanced equipment will become necessary. Artificial Intelligence will make tracking and monitoring of equipment quite easy and reduce the cost of operations.
"New technology means lesser breakdowns, faster work, and timely completion of projects. It will help in specialisation and pave the way for the construction equipment rental industry to diversify into unconventional sectors like municipal works, mining, concrete segments, etc. It will also create the need for skilled operators and machine crew to handle the new equipment. New and emerging technologies are facilitating the transition to low-carbon, climate-resilient assets; and creating the need for more sustainable business models," says Sachdeva.
CERA is creating awareness among equipment rental companies for managing equipment rental business in the modern milieu and adopting IoT, Artificial Intelligence including telematics, and other technology. "It is also working vehemently to transform the rental industry according to modern needs where technology is key. But every change needs a bigger push. Here, it will be needed in the form of policy and an increase in rental rates," adds Sachdeva.
Quippo is the pioneer in equipment rental and equipment banking in India and has successfully retained itself as the market leader for over a decade. Said Bhattacharjya, "The company initiated the business as a pure rental company with few machines and yards. However today, the company has the deepest geographical reach through 35 plus yards across India, managing 1,000 plus assets and more than 600 technically-skilled manpower. Over the period of time, the company has transitioned from a Pure Rental Company to a Holistic Equipment Service provider.The service basket includes services like Equipment Rental, Operating Lease, Fleet Management, Used Equipment Purchase & Sale, Valuation & Auctioning and Equipment Banking."
"Advanced technology and better productivity solutions will be the demand drivers, going forward.
More and more customers are moving towards the high-pressure band for greater productivity. Customers are seeking results with a higher penetration rate and reduction in fuel consumption," adds Herbruggen.
Looking into the requirements for infrastructure, most of the manufacturing units are either investing in expansion or companies like Atlas Copco are turning to more efficient methods of production thereby enabling increased manufacturing capacity within the existing resources. In fact, Atlas Copco has a greenfield state-of-the-art factory, which has the latest manufacturing technology, which is ensuring a higher manufacturing capacity.
"It is a very positive scenario for infrastructure segment with extra investment lined in for all areas of core infrastructure such as roads, metro rail, expressway, airports and expansion on existing highways.
At Atlas Copco, we have products to match this positive environment. We offer a range of portable air compressors for quarrying applications, which is a segment of paramount importance, looking at the amount of aggregate which is required for infrastructure projects," says Herbruggen.
He went on to add, "With time-bound projects and the need for 24x7 action to ensure on-time completion, technology which ensures reliable light on-site, brings in the required support for meeting the infrastructure project deadlines. Atlas Copco's newest addition to its portfolio, the HiLight V5+ LED light tower, illuminates an area of approximately 5,000 sqm with an average brightness of 20 lux. This LED light tower is the 1st CPCB II compliant light tower in India for the entire light tower, which ensures sites are brighter, safer, and more productive.Undoubtedly, the road segment is where power equipment such as portable air compressors and light towers are most in-demand when we focus on infrastructure specifically. With an upgraded portfolio and technologically advanced equipment, Atlas Copco portable air compressors and light towers will continue to touch lives and improve infrastructure needs of people in India."
Says Gupta, "With BSIV introduction the entire Earth Masterrange of backhoe loaders is enhanced both in terms of productivity and features. Powered with a reliable 74 HP CRi Mahindra Engine, it now has 13 per cent higher torque compared to BSIII leading to improved machine loader efficiency. With an improved hydraulic system, which has a higher flow handling capacity, other improvements lead to an overall production capacities improvement of 10 per cent. With quintennial and unique features such as Banana Boom, joystick lever, robust design, and bigger buckets, EarthMaster range is well suited for all types of backhoe applications be it mining, trenching, crushers, building construction, or any other work in the construction industry. It would be available in two variants – SX and VX.
New BSIV RoadMaster range offers an optimised solution and precisely caters to the road contractor's grading needs for government flagship programs such as smart city, Bharatmala, major district roads, state highways, border roads, and expansion of national highways."
Mahindra Construction Equipment has been a pioneer in providing telematics solutions to its customers in the construction equipment industry. "Continuing the legacy, we are pleased to introduce iMAXX Telematics Technology – a prognostic, diagnostic, and predictive fleet management system in our entire range of EarthMaster and RoadMaster. You can think of it as your personal assistant that updates you with vital information about your equipment and your business. iMAXX is already tried and tested solutions in our trucks business and has benefitted the customers in many ways. With effective machine monitoring it also alerts on the preventive maintenance triggers to avoid any major breakdown," said Gupta.
Equipment financing
"As the construction segment requires large capital expenditure, financing accounts for approximately 80 to 85 per cent of the total equipment purchased. Most financing is procured through loans while leasing is the second most common mode of financing. Traditionally, India has been an outright equipment purchase market for project requirements. However, this is changing as there is a shift towards renting," said Sachdeva.
Said Gupta, "We have a big rural customer base for our products and our aim is to bring prosperity among this section. Most of them are new in the business or recently started. These are known as the FTU (first-time user) or FTB (first-time buyers) customer profiles. Since they are new owners of the machine, they require time to understand the financial dynamics of the business. We always try to support these customers, who are struggling for funding and down payment. These customers are focused and ambitious to grow more. Acquiring ease in fund flows has been an area of concern for the construction equipment demand in this market. With BSIV the cost attached to the new machines is challenging the financing potential to the small contractors. However, the equipment financing and NBFCs supported the sector by far."
He added, "Like many other OEMs, we are also working on increased collaborations with major banks or NBFCs in India. With the inflated cost of the machine, we are working towards increased tenure and higher funding to genuine customers through our tie-ups. Many finance companies offer a variety of options for financing construction equipment. These options should be understood properly and then the right finance should opt. The higher costs have also brought a considerable boost in the demand for rental equipment and used-equipment buybacks as well as exchanges."
Going forward
Said Herbruggen, "The construction sector has been impacted by the onset of the COVID-19 pandemic. As the projects resume, it is important to navigate the recovery phase well. The project implementation cost may go up and will experience a likely delay of a few months. Priority should be given to the clearance of pending projects and completion of projects nearing completion, which could act as a quick win for reviving the economy. The construction sector in India is very important as it contributes to around 60 per cent of the total investments; it will come back strongly to support the economic revival.
He added, "India is a growing economy, and the construction and infrastructure segment today requires more innovation in all areas of core infrastructure such as roads, metro rail, expressways, airports, and expansion on existing highways. We have the products to match with our upgraded portfolio and technologically-advanced portable air compressors, handheld pneumatic and hydraulic tools, and light towers which will continue to support key applications in infrastructure, mining, and construction projects.With time-bound projects and the need for 24x7 action to ensure on-time completion, technology that ensures reliable light on-site, brings in the required support for meeting the infrastructure project deadlines."
"We now plan to scale up our fleet to over 1,000 machines to include tippers, transit mixers, backhoe loaders, motor graders, and gensets. Our current project base includes roads, bridges, airports, tunnels, irrigation, water supply, and more. So, there you have it. Renting machines from Hello Machine make both financial and logistical sense. To know more or to rent a machine, reach out to us on 9970102760," said Gupta.
Concluded Sachdeva, "Due to the government's focus on infrastructure, the rental industry scenario in 2023 will be growth-oriented. There will be good demand for equipment on rent due to various projects in construction and mining."