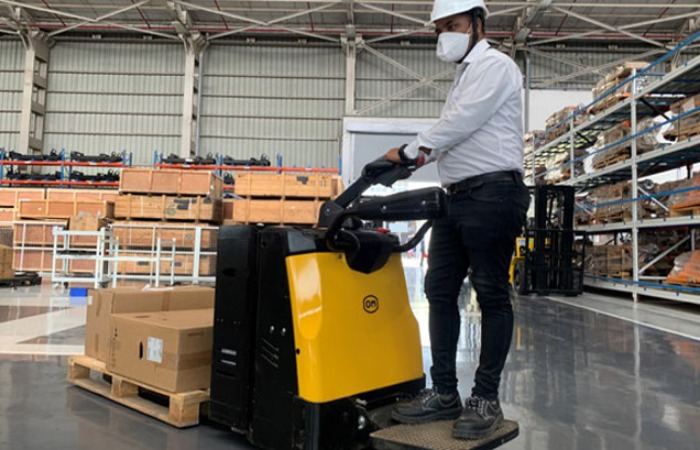 In spite of the current slowdown in the material handling equipment market due to the COVID-19 pandemic, the market is expected to bounce back soon with new practices of safer handling in warehousing operations.
The growing organised retail market and the post-GST realignment in logistics operations are propelling the growth of warehousing operations in India for the past few years. This has driven the demand for material handling equipment such as pallet trucks, forklifts, lift trucks, etc with a spurt in the number of warehousing facilities. Larger warehouses and logistics operations will require advanced storage and handling solutions, in turn, boost the demand for material handling equipment.
Demand drivers
The expansions happening in the warehousing infrastructure across the major logistics hubs in the country has changed the prospects of warehousing and material handling equipment in the country. The emergence of organised global retail giants in the country has brought in more handling solutions and advanced automated handling methods into the country. At the same time, in the essential services segments such as pharmaceuticals, more battery-operated and environment-friendly handling equipment are being introduced.
Also, growth in industrial production and setting up of more manufacturing facilities has also lead to the introduction of more handling solutions. According to Sunil K Gupta, President, KION India, palletisation of goods has been focused upon by major medium and large organisations. He adds, "Big brands have invested in large warehouse spaces to meet the demand which we forecasted for this year in retail. However, the small industries have started identifying the benefits and started to use smaller equipment."
"With the warehouses grew larger and taller, there emerged the requirement for bigger equipment such as large capacity reach trucks, order pickers, VNA trucks, etc," says Manojit Acharya, Managing Director, Jungheinrich Lift Truck India.
Technology trends
Development of new warehouses and modernisation of existing warehouses have seen the transformation of products and technologies in handling equipment. Also, handling of products such as pharmaceutical products will require environment-friendly equipment like battery-operated fork lifts and lift trucks. Gupta says, "As much we move towards large capacity warehouses, automated and smart warehouses become vital for efficient operations. With the environment awareness as well as compliances and government push towards green and clean energy, future smart warehouses are likely to be based on non-pollutant energy-efficient material handling equipment. Battery-operated electric forklifts and warehousing equipment will be the base of automated/smart warehouses and pull the demand of battery-operated material handling equipment."
© 2020 EQUIPMENT INDIA - ALL RIGHTS RESERVED

+91-22-24193000
|

Subscriber@ASAPPinfoGlobal.com