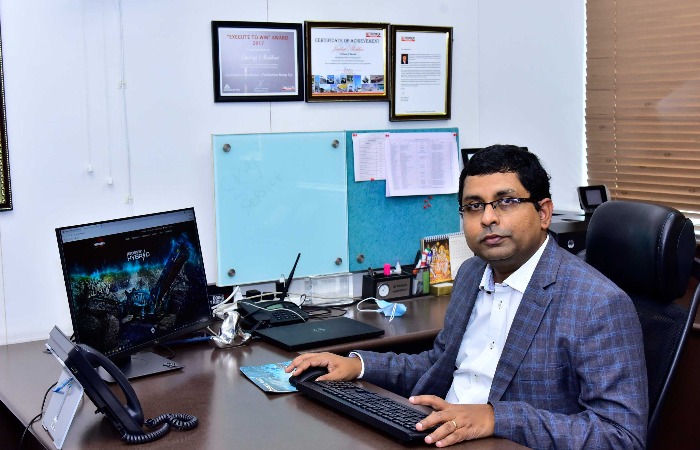 bauma CONEXPO is returning after a gap of almost four years. What has been the past experience at the event? What are the key products on display during bauma CONEXPO? Explain in detail.
We are thrilled to participate in bauma CONEXPO India and as always, the brands we are exhibiting at this year's Bauma will be a true representation of all the variations of machinery and products that we at Terex MP have to offer across the board. From cranes to compact crushers, hybrid range to modular crushers and sustainable sand-washing solutions,
the variety that will be on show is something that I am very proud of. We are eager to reconnect with existing customers and partners, as well as meet new potential ones, and showcase our latest innovations.
With the Indian government now fast-tracking infrastructure projects, the CE sector is expected to get increasingly busy. How do you look at the market for your products in India?
Terex is one of the market leaders in crushing, screening, washing and conveying solutions for aggregates used in various infrastructure projects across India. For the last 20 years, we have had a solid market presence with tracked mobile crushing and screening equipment catering to the mining and highway sector, including National Highways Authority of India (NHAI) projects, while our wide range of aggregate washing equipment supports many urban development and irrigation projects. We are now focusing on sustainable infrastructure development, with our aggregate washing product range producing manufactured sand and our recycling systems being used to process Municipal Solid Waste (MSW) and Construction and Demolition (C&D) waste.
Terex continues to strengthen its foothold in India's construction equipment market by bringing in new technologies, expanding its product portfolio, and entering new construction territories. With the recent launch of its technologically advanced and internationally proven FRANNA brand of pick-and-carry mobile cranes, Terex is now making its presence in the large mobile crane segment dominated by well-established local players.
We will also be launching a smaller range of crushing machines such as jaw crushers and impact crushers under our EvoQuip brand, in the 60 to 80 tonne/hour capacity, which can be transported on a small truck or trailer. These machines are being developed to cater to projects in the North-East and Himalayan regions as well C&D crushing very close to cities. Our aim is to offer an entire range of machines in various capacities from small, and mid to high, which will be made in India to cater to the road and mining sectors.
What are the various challenges faced in the sector you are in?
The major challenge in this industry is the lack of skilled and trained personnel to operate crushing and screening equipment. Terex India has been working closely with its customers to ensure the availability of skilled manpower who are adept at operating more technological, intelligent equipment in a safe and efficient manner. A dedicated training centre
at the Terex Hosur facility provides advanced training to crusher operators and plant supervisors. This is accredited as a training partner of the Infrastructure Equipment Skill Council (IESC), under Skill India and NSDC programme of the Government of India.
Majority of our equipment functions on diesel which releases high carbon emissions, leading to the imposition of stricter carbon regulations. This is posing a major challenge as it restricts the industry growth. Yet, with the recent initiatives of the Government to improve the infrastructural facilities and favourable economic conditions, the impact of these factors can be largely mitigated.
Please share more information on the investment made in the Indian market in terms of the manufacturing facility, etc.
Our manufacturing hub in Hosur, Tamil Nadu, which is spread over 45 acres of land, produces nearly 80 different machine models in India. We also export nearly 30 percent of our machinery to Europe, Asia, the Middle East, and Africa. Our facility is currently undergoing a phase of expansion and we will be adding another 15 acres over the next few quarters.