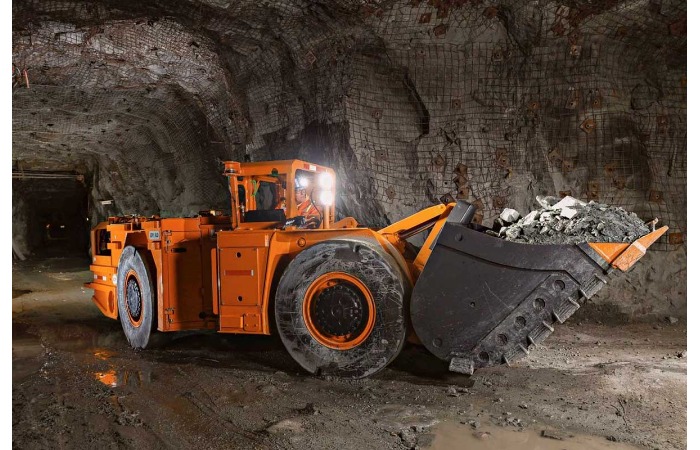 The global underground mining equipment market reached a value of $26.9 billion in 2021. Looking forward, IMARC Group expects the market to reach $33.1 billion by 2027, exhibiting at a CAGR of 3.5 per cent during 2022-2027.
Underground mining equipment refers to the equipment such as conveyor belts, loaders, trucks, etc. to perform underground operations in excavating minerals, metals, etc. The significant factors responsible for the growth of the underground mining equipment market are the increasing demand of coal by the power sector and the growing demand of metals by the manufacturing sector. Underground mining equipment market is expected to witness significant growth, owing to the accelerated demand from developing economies such as India, Malaysia, Vietnam, Brazil and others. In order to excavate these minerals, metals and other natural resources, mining equipment is highly demanded in these regions. Thus, this is a significant factor in the growth of the underground mining equipment market. The manufacturers are introducing technological advancements such as GPS sensing, Internet of Things (IoT), and 3D imagery in underground mining equipment. For instance, in 2020, Sandvik AB launched 'Intelligent Automine system', for unmanned truck transport, reducing equipment damage and focusing on higher efficiency in underground mining operations.
Strong growth
Catalysed by stable economic growth across both developed and developing regions, increasing levels of disposable incomes and a rise in the middle-class population, there has been a strong growth in the demand of various minerals such as iron, gold, copper, coal, lead, aluminum, silver, etc. This has catalysed a rising demand for underground mining equipment. Moreover, the substantial rise in the consumption of energy in the form of coal and nuclear fuels as a result of increasing urbanisation and industrialisation is also creating a positive impact on the demand of underground mining equipment. Additionally, underground mining causes minimum harm to the environment as compared to surface mining. With explosions being made underground, no toxic gases are released in the surroundings. Other factors that are currently driving this market include - lack of manual labour and its rising costs, increasing focus on improving the yield and productivity, enhanced use of high-quality equipment in mining, etc.
Asia Pacific is in the best position to lead the market, owing to the growth of construction and mining industries across India, China and other countries. Underground mining equipment are gaining maximum importance ascribed to the rise in demand for infrastructural development across countries such as India, Malaysia and others. Moreover, factors including heavy investments in construction activities and increasing usage of coal for electricity generation are also fuelling the market growth.
Europe is anticipated to witness substantial growth, owing to the strong presence of key manufacturers including Atlas Copco, Volvo, Sandvik and others.
Says Rajesh Nath, Managing Director, VDMA India, "For the past few years, global economic uncertainty combined with political upheaval, has made the mining sector volatile where the demand for metals, natural resources and commodities has ebbed considerably. Then again, India has an estimated $200 billion of as-of-yet untouched mineral reserves. More than 80 mineral commodities are produced here and India ranks among the world's leaders in iron, bauxite, zinc and coal."
Rajesh adds, "The Indian mining market holds large potential for German manufacturers because of the degree of mechanisation. During the last five years, the total import of mining equipment to India developed from Rs 0.12 billion to Rs 0.42 billion in 2010, and rose again to Rs 0.78 billion in 2012. Germany's share was a near constant one, fluctuating between 63 and 75 million. Hastening disinvestment of public sector units, ensuring coal supplies to the power sector and promoting competition in the mining sector would be some positive development in the mining sector."
According to Nath, the Indian economy will see a turnaround in the coming quarters, because of various steps taken by the government to spur growth. He says, "German investors in India take a positive long-term view of the Indian market and continue to invest in their operations to tap growth opportunities. Maharashtra, with around 39 per cent share of German investments, remains the most attractive destination; Pune has lately become quite popular, too. Karnataka and Gujarat are other important destinations. Until the market conditions improve, the German companies presently in India are focussing on services and value addition; this includes maintaining existing machinery, streamlining operations and saving costs. They are increasing the local procurement and limiting imports to essential and critical parts only."
Mechanised mining has become very popular, as it is efficient and cost effective. This has come as encouragement to the mining equipment sector and several companies have introduced technologically advanced, large size and efficient mining equipment in India. Majority of the companies design and manufacture mining equipment in-house while some companies market mining equipment from international players. Apart from this, several Indian companies have also entered into collaborations and agreements with international companies to enable them to sell their products in India.
Nath further adds, "In mining equipment sector, the technology depends on the mining operations in the country. In India, opencast mining is more popular than underground mining. Hence, regarding the equipment required for opencast mining, like dumpers, dozers, shovels, draglines and excavators, the level of technology of the equipment manufactured is at par with international standards. German manufacturers and VDMA mining equipment do a lot to retain the leading position in mining technology, especially in underground mining, and also in safety technology." He further adds, "Many German companies are planning more investments in India. In the construction equipment and building machinery sector as well as the mining machinery sector, companies like Liebherr, Beumer, Wirtgen, Caterpillar, Putzmeister, Hess, BHS, to name a few, have invested substantially in the last few years."
Underground mining readies for IIoT revolution
Underground mining is traditionally a major segment where a lot of tunnelling jobs are happening. The basic tunnelling activity in underground metal mining involves development of ramp, development of levels and sub-levels, stock phases, crosscuts and other structures. In underground mining operation, tunnels are built to gain access to ore body; movement of equipment and manpower for production activities; and carry ventilation, electric cables and other necessary infrastructure underground. The tunnels vary in length, size, quantity, dip and are either permanent or temporary in nature based upon their application and geo-mining conditions.
Komatsu offers a range of drill jumbos – single and double boom, bolters, LHD – 4 tonne to 22 tonne and LPDT for underground hard rock mining. In underground soft rock coal mines, bolter miners or road headers are commonly used for high-speed drivage, depending on required speed and length of trunk roadways and longwall gate roadways.
"For underground coal mining, continuous miner technology has proved to be flexible, productive and more suitable for Indian conditions. Longwall mining can give high production, but this has proved challenging in Indian conditions due to geological and other operative reasons. Typically for CM technology – continuous miner, shuttle cars/battery haulers, roof bolters and feeder breaker are used. Joy (Komatsu Mining Corp Group) is the global leader in supplying these equipment and also lifecycle management of these equipment," said Shib Bhowmik, Managing Director, Komatsu Mining Corp.
SANY mining machines are equipped with the latest technologies, which meet all the customer requirements. The company's hi-tech modern engine has fast digging speed with low energy loss. And its maximum operator comfort makes the SY500C-10HD efficient, economical and the perfect match for mining activities. The company has also developed EVI App to monitor the real time performance of the machine and fleet management by the customer. Along with this, we have also developed an internal service app which helps us to increase the uptime of machine when and where required.
Caterpillar Underground Mining delivers equipment, technologies and collaborative support to help underground mining operations work productively and safely while minimising costs. With a worldwide team dedicated to underground mining, Caterpillar works with mining companies and Cat® dealers to adapt equipment and services to help meet the challenges at each mine.
For underground hard rock mining, Caterpillar designs, manufactures and supports a range of underground loaders and trucks. The core design and engineering team is dedicated solely to hard rock mining vehicles, and the machines are manufactured in a state-of-the-art factory constructed, especially for building these trucks and loaders.
With telematics technology, managers can see the performance of men and machines on a real- time or close to real-time basis and take informed data-driven, proactive decisions.
Puzzolana crushers are equipped with the PLC automation system, which enables real-time monitoring and, in turn, maximised productivity and reduced downtime by identifying bottlenecks and tracking equipment performance. Automation has enabled plants to produce high-quality material with greater consistency and productivity by tracking maintenance needs and thereby reducing downtime.
Sandvik's crushing equipment is equipped with state-of-the-art automation enabling trouble-free operations and auto-timed setting of equipment parameters.
A few of Epiroc's customers in India are using the IBH Mark II (Make in India) drill with basic telematics and automation as well as the imported surface and underground drills with Certiq. Overall, however, the use of automation is limited in the country. In underground coal mining, the use of automation and remote-controlled equipment is still very limited with progress made so far being only to meet the requirement of the statutory regulatory body, the Directorate General of Mines Safety (DGMS).
Government backing
In recent times, Government policies are seen to support underground mining activities as well as maintaining sustainability. These are seen as opportunities in the underground mining equipment market. For instance, Mineral Laws (Amendment) Ordinance 2020, India, allows coal mining by any company present in sectors other than steel and power, and does away with the captive end-use criteria. This will create efficiency and reduce imports of coal and support the local coal market in India. In the United States, executive government orders support mining such as for critical minerals development or in the form of regulatory changes. This has said to aid the underground mining equipment industry. Key players investing in environmentally friendly technology for underground mining equipment is another opportunity seen in the underground mining equipment market. In a 2018 article published by Science Direct, China introduced latest equipment and technology for unmanned mining which includes a wireless communication system for down the hole drills.