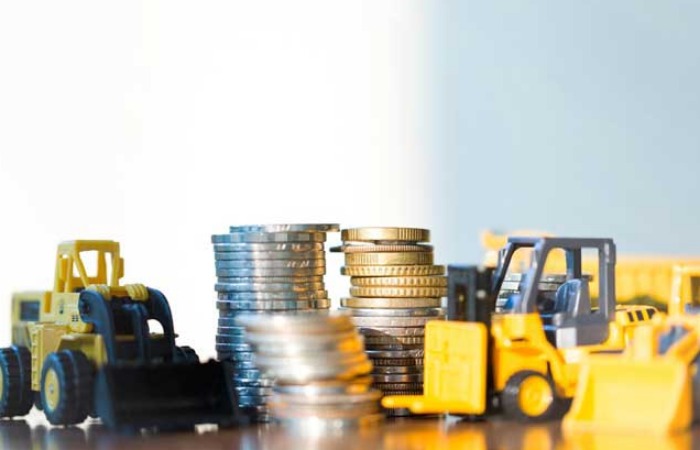 The construction equipment (CE) finance industry plays a crucial role in supporting the acquisition and use of equipment in the construction sector. It involves the provision of financial products and serviÎs to construction companies, contractors, and equipment dealers for the purchase, lease, or rental of CE. The industry offers various financing options tailored to the specific needs of construction businesses. These options include loans, leases, equipment rental agreements, and lines of credit. Each option has its own benefits and considerations in terms of upfront costs, ownership, flexibility, and tax implications.
The Indian CE industry plays a vital role in fostering India's infrastructure development and economic growth, boasting a market size of $6.5 billion. This industry serves as a primary provider of essential heavy machinery utilised in various infrastructure sectors, such as roads, highways, railways, ports and waterways, aviation, real estate, and urban infrastructure. By supplying modern and efficient equipment, the CE industry continues to support the government's ambitious plans of constructing world-class infrastructure projects within specified timeframes and cost-effective parameters. However, the accessibility and availability of sufficient capital to finance both infrastructure and CE have emerged as pressing concerns that require immediate attention. Given that CE accounts for approximately 15 to 20 percent of infrastructure project costs, with over 90 percent of equipment purchased on financing, addressing this issue has become crucial.
Many equipment manufacturers have financing programmes or partnerships with financing institutions. These programmes can simplify the financing process for customers, offering bundled equipment and financing solutions. They may provide competitive rates, special promotions, or extended warranty options.
Growing industry
Dimitrov Krishnan, President ICEMA and Managing Director, Volvo CE India, said, "With India's economic growth hinging critically on infrastructure and related growth of the CE sector, it is imperative to ensure a robust financing ecosystem in the country to meet the growing requirements of both infrastructure and the CE industry in terms of enhanced access to long term finance."
Touching upon the role of ICEMA, he added, "In view of the significance of the Indian CE industry in facilitating and catalysing economic growth, ICEMA continuously engages with stakeholders, including policymakers and banks and financial institutions, to engender consensus on critical issues, devise innovative solutions and create an enabling financing environment for our industry."
On the subject of financing avenues and options for infrastructure projects and the CE industry in the coming times, Ashok Sharma, Chief General Manager, State Bank of India (SBI), explained, "There is no shortage of funds in the Indian banking sector. We are capable of long-term financing of infrastructure projects on competitive terms as compared to both the private sector and foreign investors."
OEMs tie-up with banks
Recently, Federal Bank has tied up with JCB India to finance the prospective buyers of heavy CE and boost its loan portfolio. The arrangement will boost financing options for JCB customers in India.
With the government's focus on infrastructure development continuing to remain strong, there will be various opportunities to create synergies between the teams from JCB India and Federal Bank, Deepak Shetty, CEO and Managing Director of JCB India, said. He added, "Importantly, it will give greater financing options to our customers while purchasing JCB machines both in urban and rural India," he added.
Shyam Srinivasan, Managing Director and CEO of Federal Bank, said "This partnership would prove to be hugely beneficial to a segment of customers who are looking for easy finance options to take their business forward. We are confident this association will help remove barriers between Bharat and Atmanirbhar Bharat."
With an aim to make equipment financing an easy, efficient, and simple process, Sany Bharat has signed an MoU with Union Bank of India. As per the agreement, the network of Union Bank will extend equipment finance to customers of Sany Bharat across the country and in turn the Bank's portfolio under equipment finance is likely to strengthen and get a wider reach.
While both the parties have agreed to pool their resources and capabilities for mutual benefits, buyers of Sany equipment can now avail a loan of up to 90 per cent of the equipment cost. The flexible payment options offered by the bank will facilitate Sany customers to manage cash flow and help in loan repayment. The widespread presence of Union Bank is expected to facilitate Sany's customer's pan India and thereby fortify infrastructure growth which is significant towards creating a Naya Bharat.
Dheeraj Panda, COO (Sales, Marketing and Customer Support), Sany Heavy Industry India, said, "By enhancing their focus on the MSME sector, union bank of India has eased the financial burden for our existing and potential customers. By joining hands with Union Bank of India, interest rates will no longer prevent our buyers from becoming a proud owners of Sany equipment."
Schwing Stetter too signed an MoU with Karnataka Bank to provide loans at competitive interest rates for buying CE. Mahabaleshwara MS, ex-Managing Director and Chief Executive Officer, Karnataka Bank, said: "In keeping with our focus on credit expansion, the bank is at the forefront of funding MSMEs (micro, small and medium enterprises). We are delighted to have signed an agreement with SCHWING Stetter, who share similar principles of excellence, integrity, and long-term development. Our bank offers numerous financing solutions for the acquisition of equipment, with competitive rates of interest and quick loan approvals through digital platforms."
"With huge investments in infrastructure, we hope our association with Karnataka Bank will help the bank's customers easily acquire machines built with the best technology, in a state-of-the-art manufacturing facility with futuristic and digitalised solutions for the construction industry," said VG Sakthikumar, Managing Director of Schwing Stetter India.
Even, IndusInd Bank entered into a $100 million long-term loan agreement with JBIC to facilitate Indian entities interested in buying Japanese CE. The finance is being done through a special agreement signed with Japan Bank for International Cooperation (JBIC) by the lender's branch in the Gift City. The lender has entered into a $100 million long-term loan agreement with JBIC and the funds thus raised will be used by IndusInd Bank to foster the growth of Japanese CE companies in India through need-based credit facilities
Japan's Mizuho Bank, Shizuoka Bank, Singapore, and Joyo Bank of Japan will also co-finance in this facility. IndusInd Bank will provide credit facilities to companies that comprise the supply chain of the Japanese original equipment manufacturers (OEMs) in India. The programme will cover the component suppliers and dealers of the selected Japanese OEMs and the final buyers of the construction machinery manufactured by those companies, it specified.
Rising rental market
Equipment rental is a cost-effective alternative to purchasing, and it provides access to a wide range of machinery and equipment needed for their operations. Over the last decade, the rental industry landscape has seen many dynamic shifts, both in terms of technology as well as innovation. While the construction and mining industry would use more diesel engine-driven equipment traditionally, electric machines have now started taking the spotlight and we have designed products with sustainability in mind.
Conclusively, India has nearly $2300 million worth of CE sold every year, out of which 7 to 8 per cent is sold to rental companies. The current scenario allows focus on regional areas for construction, giving the rental business an organised way of working and is expected to grow year on year in days to come in India.
Said Satin Sachdeva, Founder & Secretary General, Construction Equipment Rental Association (CERA), "The demand for infrastructure development has been a major driver of the growth of the equipment rental market. Companies in the construction and engineering industries are turning to equipment rental services for their cost-effectiveness, access to the latest equipment, reduced maintenance costs, and increased productivity, it is likely that the demand for equipment rental services will continue to grow in the coming years. In the past five to six years, rental penetration has grown multi-fold and is now close to over 40 per cent which was merely five to ten per cent six years back. We have played a vital role in increasing penetration with the right awareness and advocacy."
Mukesh Sharma, Country Manager, Atlas Copco Specialty Rental, said "Atlas Copco Specialty Rental has also played an instrumental role in bringing a mind shift for clients. Earlier, the rental would be limited to leasing out machines and equipment. We have invested heavily in technology and manpower to turn this supply-demand transaction into a solution-based approach."
Sameer Malhotra, CEO, Shriram Automall, thinks that the requirement of heavy capital for starting a rental business of CE pushes the owners to look for used CE. He added, "However, the sales of new machines will also see a boom thanks to the Government's efforts towards infrastructure development. Speaking about new construction machines, a fleet of diesel machines would require lower initial capital than electric construction machines. The availability of equipment running on alternate fuels will help rental businesses to diversify their fleet and reduce net carbon emissions. The CE market is expanding annually and so is the used CE market. At present, for every sale of a new construction machine, a used construction machine is sold depicting the size of the pre-owned market. The pre-owned market is expected to grow steadily in the future because used CE provides far greater value when compared to new equipment. Hence, rental business owners of CE are more likely to buy used diesel machines instead of new ones."
Challenges
The CE industry's access to finance is frequently hampered by the fact that lending processes in the country are often stringent, tedious, and time-consuming. CE, especially heavy machinery, involves significant capital investment. Acquiring these expensive assets requires substantial financial resources, which can be challenging for small and medium-sized businesses or new entrants in the industry.
Lenders often require collateral for CE loans, which can pose challenges for companies, especially those with limited assets to offer as security. This requirement may further limit access to financing options, particularly for small businesses.
Road ahead
Addressing these challenges requires collaboration between financial institutions, industry stakeholders, and government entities. Encouraging policies that promote access to affordable financing, supporting innovation in financial products, and providing assistance to small businesses can help overcome these hurdles and facilitate CE financing.
The CE financing industry and CE OEMs, who have, in the past, collaborated to enhance access to finance with several disruptive innovations, are now gearing up to go the digitalisation route to bring about the much-needed paradigm shift in the industry's financing ecosystem.