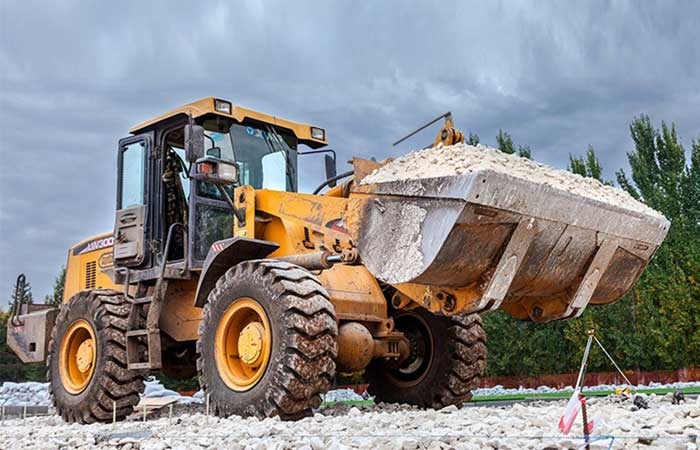 For a construction site to function without a loader may be impossible. Add to this the fact that the awareness to use the right tool for the right job is growing. The future of loaders looks bright despite the recent slowdown. The influx of new technology is ensuring that they are ever versatile and profitable to operate.
Wheel Loader is an absolute loading equipment that delivers enormous utilities to its owner at the job site. This is primarily owing to the wide range of loading functions it can undertake for variegated loading applications based on the user industry requirements. Added to the loading usefulness, the machine comes with long lifecycle and low operating costs.
The market for wheel loaders is seeing fresh traction due to the buoyancy in road construction activities. Fresh off take of coal due to a surge in thermal power production is adding to the demand. Users want wheel loaders that deliver higher productivity and lesser operating costs, along with enhanced servicing of their machines across their work cycle. During FY 2020-21, the construction equipment industry has seen 9 per cent YoY growth in overall equipment sales and wheel loaders sales has increased around 14 per cent on YoY basis mostly driven by increase in domestic sales.
With the proposed thrust of the government on the growth of infrastructure and reviving mining operations in our country, new opportunities are knocking at the doors of the wheel loader market. Providing modern technologies at competitive prices and reliable after-market services will be the key to success for wheel loader OEMs. Wheel loaders find its applications in various segments, including mining, quarry, road, power plant, steel plant, cement plant, sea port, airport, Municipal Corporation and industrial activities.
According to industry estimates, demand for the 3-tonne class is up by 30 per cent, while the 5-tonne class has grown by 60 per cent as compared to 2020. However, the 3-tonne continues to dominate the market with an 80 per cent share, while the 5-tonne has a 15 per cent market share.
According to MV Rajasekhar, Chairman and Managing Director, BEML Limited, "The wheel loader market is dominated by 120-150 HP range equipment, which accounts to 62 per cent of total wheel loader equipment sales in India. This machine finds applications in mining, construction, ports and industry. With the growing demand from various segments, the wheel loaders are being introduced into the market with advanced technologies that guarantees higher productivity, efficiency and safety."
He adds, "In terms of capacity, the demand for higher capacity wheel loaders over 300 HP range is very meagre; around 1 per cent, medium range wheel loader over 150 to 300 HP range is around 31 per cent, 120 to 150 HP range wheel loader is very high; around 62 per cent and up to 120 HP is around 6 per cent."
Said Sandeep Mathur, Brand Leader- India & SAARC, CASE Construction Equipment, "The construction equipment market has started to revive post the pandemic with increased demand of such machines and rising number of construction projects across the country. The sales volume of loaders in India has increased from 2,097 units in 2015 to 3,200 units in 2020. On a global level as well, the market size for loaders was valued at $16.80 billion in 2019 and is anticipated to grow at a compound annual growth rate (CAGR) of 3.4 per cent from 2020 to 2027."
Speaking on the demand and application trends for wheel loaders in mining, construction, warehousing, industrial, etc., Vivek Hajela, General Manager and Head - Construction Equipment Business, Larsen & Toubro, said, "Handling of coal and aggregates in the mines, ports and industrial applications have been the mainstay for driving the demand for wheel loaders. Infrastructure development has led to faster growth in general construction and material handling. It constitutes almost 50 per cent of the sales volume, followed by coal handling - both at pitheads, railway sidings and at ports. The segment constitutes about 22 per cent of the demand, while approximately 10-12 per cent comes from other minerals. The demand for wheel loaders in the industrial warehousing and raw material handling is also increasing and presently about 10 per cent machines go to these segments."
Multiple range of wheel loaders
Says Hajela, "As part of the Make in India mission, L&T has fully conceptualised, designed, developed and manufactured wheel loaders in-house, with more than 90 per cent components sourced domestically. We are presently offering two models of wheel loaders in India. The L&T 9020 is targeted at the value segment of the market and popular in general construction, raw material handling and the hiring segment. We have a premium model, L&T 9020 SX for the customers who are looking at higher productivity, more forces, lesser cycle time and better operator comfort. This model is very popular among large blue metal quarry owners, mining contractors and coal loading contractors on account of higher productivity and high tonnage, handled per litre of fuel consumed."
He adds, "These machines are powered by fuel-efficient Hino series Ashok Leyland engines providing excellent fuel economy. The machine is equipped with features like limited slip differential axles and centre point articulation to provide excellent fuel economy. We are planning to introduce the next-generation machines, compliant with BSIV emission standards, with electronic fuel injection engines in the next financial year, which will further enhance fuel economy."
According to Volvo, advanced features of its wheel loaders make it high on productivity at low cost per ton. Volvo wheel loaders are equipped with features comprising, fuel efficient Volvo V-ACT diesel engine with High Torque at lower rpm. The engine is matched to the Volvo Fully Automatic Power Shift transmission for smooth shifting of the gears.
Other features include, load sensing variable displacement axial piston pump for maximum loader performance. Load sensing optimizes engine power utilisation and fuel efficiency. Volvo's wheel loaders are fitted with its own patented torque parallel linkage. This, according to the company, provides the wheel loaders with benefits involving, increased breakout torque from forward tilt to full roll back unlike the "Z" bar which loses torque at the same point. Further, with TP linkage Break out force loss is significantly lower than the "Z" Bar in its entire working range. Besides, this the linkage leads to better roll back and load retention – additional 10 per cent as compared to Z bar linkage. Volvo wheel loaders are equipped with MATRIS (Machine Tracking Information System) to measure machine performance parameters.
Said Mathur of CASE, "Among loaders we have the CASE 770EX OL equipped with cutting-edge features and offers a great performance for different types of construction and mining activities. Customised for the Indian market, the CASE 770EX OL is powered by a 3.9-liter 4-cylinder FPT Industrial S8000 engine with a mechanical injection system. This delivers powerful performance and fast responses coupled with 8 per cent higher productivity and fuel savings of up to 10 per cent versus comparable products in the market. CASE 770 EX OL equipped with +10 per cent bigger size loader bucket that allows more load lift per bucket. The power shuttle transmission provides four forward and reverse speeds. The hydraulically shifted clutches allow the operator to change direction and travel speed on the go, while the control valves deliver smooth speed and direction shifts, resulting in smooth and precise operation. The new single-piece engine."
Not to be left behind, Caterpillar offers wide range of wheel loaders with different loading capacities. According to Caterpillar, wheel loaders and integrated tool carriers for different loading applications offered by it is most extensive. There are more than twenty different models of wheel loaders provided by Caterpillar. The smallest wheel loader is 904 B with a 52 horse power engine having 0.6 cubic metre bucket capacity for general application. While the biggest in its class is 994F with an engine of 1463 hp, posing a bucket capacity of 36 cubic metre.
Caterpillar's wheel loaders are classified into four segments. This consists of Cat, compact, small, medium and large capacity wheel loaders. The compact wheel loaders has bucket capacity range from 6 cu?m-1.4 cu?m. Prominent technical features of Cat's wheel loaders includes, strong breakout forces, fast cycle times and aggressive performance packaged in one compact machine. Better reach, proper visibility and low effort joystick control for easy material placement.
Opportunities galore
Says Hajela, "Government of India has announced Rs 100 trillion National Infrastructure Pipeline project, 20 per cent of which is allocated to road sector, which would remain one of the key drivers. We expect new opportunities to open up once private players get into coal mining. The government wants to exploit the coal reserves and is creating framework to encourage private operators in coal mining in addition to Coal India. As all these mines would be new Greenfield projects, it would provide further impetus to the demand. Urbanisation and urban infrastructure development would also provide significant opportunities for wheel loaders in terms of increasing demand from general construction activities once COVID-19 gets out of the way."
The new wheel loaders placement initiative through newer and revamped products is well expected to raise productive and ensure optimisation of machines, acquired by the owners at higher capital expenditure. However, higher optimisation of the machines will have to be delivered by the manufacturers through the right product support.