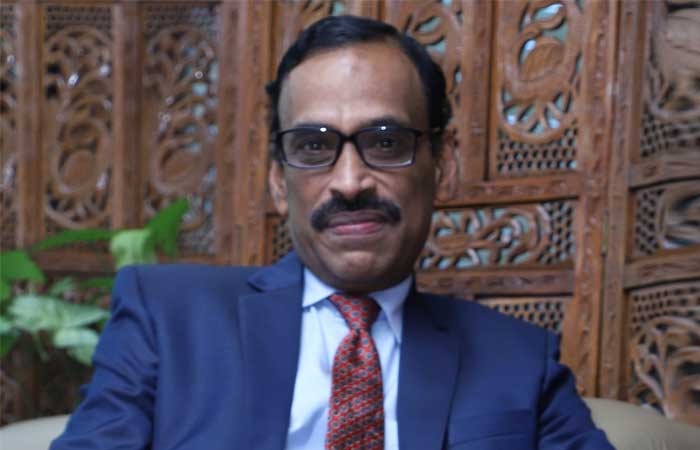 Established in May 1964 as a public sector undertaking for manufacturing rail coaches and spare parts and mining equipment, BEML (formerly Bharat Earth Movers) has partially disinvested and presently Government of India owns 54 per cent of total equity and rest 46 per cent is held by public, financial institutions, foreign institutional investors, banks and employees. The company operates under three major business verticals viz., mining and construction, defence and rail and metro. Three verticals are serviced by nine manufacturing units located at Bengaluru, Kolar Gold Fields (KGF), Mysore, Palakkad and Subsidiary - Vignyan Industries, in Chikmagalur District.
MV Rajasekhar, CMD (I/C) & Director (Mining & Construction) BEML, speaks on demand diversity in the construction equipment sector.
What is the present size and growth rate of construction and infrastructure equipment market in India? How has the equipment market evolved the last couple of years?
The Indian construction and infrastructure equipment market is broadly segmented into earthmoving, material handling, concrete mixing, and road construction equipment. With regards to earthmoving equipment market, the sales as of end March 2020 was around 60,000 units, and during the current financial year as of end January 2021, is 51,000 units.
Earthmoving segment is expected to continue its dominance in the near future with the market dominated by backhoe loaders, followed by crawler excavators. During starting of FY 2019-20, the construction equipment business was picking up compared to FY 2018-19, but due to Covid-19 impact during last quarter of FY2019-20, it could not cross 2018-19 volumes.
During the current financial year 2020-21, even after losing first quarter due to impact of Covid-19, the business has picked up, and we are hopeful it may reach FY2019-20 volumes.
How is your company contributing to the sector?
BEML has three business verticals viz. mining and construction, defence and aerospace and rail and metro, which serves the core sectors of the Indian economy. With respect to mining and construction equipment business, BEML's wide-spread marketing network caters to coal, iron and steel, limestone and cement, aluminium, power (thermal and hydro), irrigation (dam and canals), construction, road and highways and other infrastructure projects. In the construction and infrastructure equipment segment, BEML offers the following equipment:
| | |
| --- | --- |
| Equipment | Capacity |
| Backhoe loaders | 76 HP |
| Crawler excavators | 7.5 T,20 T, 22.8 T, 30.8 T |
| Bulldozers | 117 HP, 165 HP, 180 HP, 230 HP |
| Wheel loaders | 133 HP, 225 HP |
| Motor graders | 125 HP, 160 HP, 170 HP |
In addition to above, in the mining segment, BEML manufactures the following equipment: 
| | |
| --- | --- |
| Equipment | Capacity |
| Crawler excavators | 70 T, 95 T, 98 T, 175 T |
| Bulldozers | 324 HP, 416 HP, 850 HP |
| Wheel loaders | 300 HP |
| Motor graders | 280 HP |
| Dump truck | 35 T, 60 T, 100 T, 150 T, 190 T |
What are the new products and solutions offered?
Keeping in view of the market demand, BEML with its continuous efforts towards improvisation of existing products and development of new products, has introduced the following new products to the construction and infrastructure equipment market:
(a)    Front-end loader model "BL30-1": Powered by 225 HP diesel engine. Fitted with power shift transmission of 4F-3R speed with different size bucket from 2.0 cum to 3.4 cum.
(b)   100 HP dozer model "BD50 HST": BEML has taken up the project, to design and develop a heliportable 100 HP dozer with hydrostatic transmission (HST) and power angle tilt blade (PAT) to meet the requirement of the Indian Armed Forces. It is the first time in the country that a heliportable dozer has been manufactured thereby obviating import of such equipment. The dozer has the latest technology, operator safety and comfort and improved serviceability.
(c)    21 T class hydraulic excavator model "BE210LC": This high performance and rugged excavator designed for maximum utilisation, best-in-class fuel efficient and ergonomically designed cabin, which adds to maximum work performance. Its operating mass is 21,000 kg with a bucket capacity of 0.96 cum. This excavator is best suited for various construction and infrastructure excavation activities and has standard mode for normal working conditions and 'H' mode for heavy-duty applications.
Apart from the above, as per the requirement of Indian mining industry, BEML has developed the following high-capacity equipment :
BH150E electric dump truck with payload of 136 MT
BH205E electric dump truck with payload of 186 MT
BE1800E electric hydraulic excavator (180 tonne class electric hydraulic excavator)
 BD475 bulldozer (850 HP class bulldozer)
BE1800D hydraulic excavator (180 tonne class diesel hydraulic excavator)
Which factors are driving the demand for the equipment industry?
Population proliferation, rapid urbanisation, and increasing government spending on infrastructure projects have increased impetus for various infrastructure developments. Some of the factors driving the demand for equipment are:
a.       Growing real estate sector
b.      Accelerated public-private partnership projects in India
c.       Increased mining activities
d.      Relaxed FDI norms to boost construction deals
e.       Government initiatives focused on infrastructure development are further boosting demand for construction equipment in India.
How are infrastructure projects driving the demand for equipment?
Substantial infrastructure investments in highways, railways, airports, ports, and power will drive higher demand for construction equipment. Apart from this, the Indian Government is also planning to build 100 smart cities. This will result in an increased requirement of road construction equipment and earth-moving construction equipment, which in turn will lead to growth in the construction equipment market.
How do you look at the demand diversity in the equipment sector?
Demand for construction equipment is expected to grow and accelerate the completion of the current projects as well as to fulfil the rising demands for newer segments like commercial projects, mining, housing, agriculture which previously had low access and are now adopting standard machinery.
There is huge demand for projects like airport, railways, roads, sanitation facilities, urban and rural housing, office spaces and numerous others – all indicating the need for an improved infrastructure. This signifies the demand and growth of the construction equipment industry in India.
Rising demand for better infrastructure, modernised methods of agriculture, and growing complexity of mining/manufacturing methods will boost demand for technologically advanced equipment in these industries.
What has been the impact of Covid-19 on the construction and infrastructure equipment industry?
The construction and infrastructure equipment industry is going through challenging times due to outbreak of Covid-19 pandemic. Initially due to lockdowns;
l  There was delay in supply of equipment and spares to customers; as the transport system was impacted.
l  Impact on the supply chain had constraint on production.
l  Impact on imported input items due to global spread of Covid-19 pandemic and logistic issues.
l  Due to cash flow restriction/Insufficient funds; there was decline in construction equipment market.
l  Shortage of labour force at project sites; projects were delayed and impacted the construction equipment market.
However, with the Government's initiatives the impact was minimised. The construction equipment market has shown upward trend in the recent past and likely to grow continuously in coming years.
With the government focusing the vision of 'Atmanirbhar Bharat' how it would catapult growth for equipment market.
While many of the large size machines are being imported today to meet the requirements of mining operations, going forward, we will have to think in lines of reducing imports by manufacturing more mining machinery locally.
The Government's vision of 'Atmanirbhar Bharat' would promote self-reliance in production and less dependence on imports as a result saving a lot of forex. This will definitely boost the volume of equipment business of indigenous manufacturers, related MSMEs, major aggregates manufacturers and automation control sectors.
With the government initiatives, we believe to obtain adequate support from policy front to ease the burden on the manufacturers to set up and expand manufacturing capabilities in the country, and to have enough market to sell the machines in the country and also open for export opportunities..
Could you explain the roadmap to the success for the equipment industry?
India has witnessed rapid urbanisation over the past two decades, which has put tremendous strain on urban infrastructure. In the near future in India, the bulk of construction growth is likely to come from growth in transportation infrastructure (roads, rail, airports, ports), urban infrastructure (mass rail transit systems, water supply and sanitation, urban housing) and rural infrastructure (rural roads, irrigation, rural housing). These three important sectors would be driving construction equipment demand. With significant infrastructure growth expected in India, we expect construction equipment stock to exhibit robust growth in the near future.
What is your outlook on the Indian construction and Infrastructure equipment market to 2025?
The total capital expenditure in infrastructure sectors in India during fiscals 2020 to 2025 is projected at Rs 111 lakh crore. Plans to increase steel production in India to 300 million tonnes by 2030-31 as per National Steel Policy, 2017.
Coal India, the major producer of coal in India, plans to achieve one billion tonne of coal target by 2023-24. To reduce the imports of coal by increasing the domestic coal production; Government of India has started commercial coal mining auctions.
The Government of India vision to become $5 trillion economy by 2024-25. With above Government of India plans and vision, we expect there will be continuous growth for latest technology mining and construction equipment till 2025.
The infrastructure and construction sectors are highly responsible for propelling India's overall development and with intense the focus from Government for initiating policies that would ensure time-bound creation of world-class infrastructure in the country. Also, the government initiatives focused on infrastructure development would further boost the demand for construction equipment in the coming years.