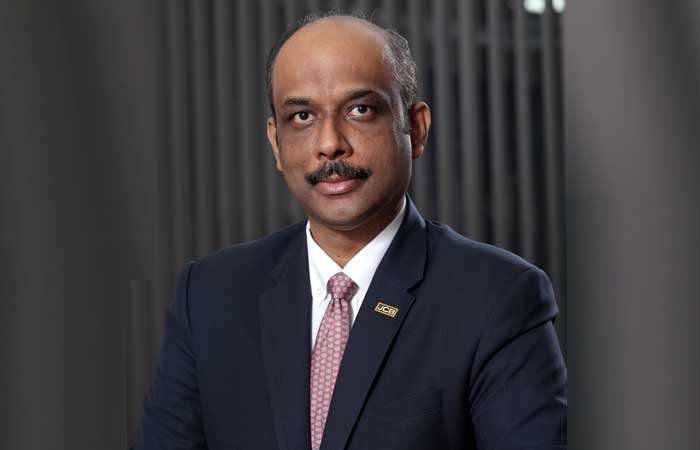 In our exclusive,
Deepak Shetty, Deputy CEO & Managing Director, JCB India Limited,
tells us how the construction equipment industry in general and JCB in particular have been emerging through the year of the pandemic.
How has the year 2020 been for the earthmoving equipment market?
Construction equipment is an important part of the Infrastructure growth story of India. These machines are used in infrastructure projects and at almost every construction site. COVID-19 has had an unprecedented effect on several industries. All infrastructure development projects had temporarily come to a standstill in the months of April and May due to the unforeseen pandemic. It had a deep impact on the construction equipment market and its demand during the time.
However, the months of June to December have seen Green Shoots and all indicators are pointing towards a V-Shaped recovery in the coming months. Resultantly, the demand for construction equipment has also improved. These construction equipment machines are now being used in the Infrastructure development in Rural and Urban India in different applications.
New projects are being announced by the government despite the pandemic. It is a welcome step and this will certainly help in further improving the sentiment for the industry. We are hopeful of closing the year on a healthy number.
After the slowdown this year, what will be the key growth drivers for earthmoving equipment in 2021?
Infrastructure projects have now restarted which is leading to green shoots in the construction equipment industry. A strong focus, along with a sustained spend on infrastructure development would result in multiple long-term benefits.
Roads and highways will continue to play a key role in bringing forth recovery in the Construction industry. The Government reforms in the sector are a step in the right direction as it is expected to give a strong push to highway construction. The Government has a plan for INR 111 lakh crore in the National Infrastructure Pipeline. This proposed plan must continue as the growth of the infrastructure sector will create demand with a multiplier effect and will also contribute to the spike in urban demand.
At a national level, Railways, Irrigation and large projects like Sagarmala and Bharatmala should also be given the impetus. This will strengthen logistics and develop requisite infrastructure enhancing capacity at ports, improving operational efficiency and connectivity. All of this would require the use of smart construction equipment.
Going further, two key sectors are set to emerge in the coming years – first being Infrastructure development in Rural India and the other will be the creation of world-class healthcare infrastructure across the country.
Rural India, is set to emerge as a strong growth driver, especially with the recent push by the Government through programmes such as PMGSY. Schools, colleges, industries will need to be created and segments like municipal waste, village roads, rural infra are set to grow.
From a healthcare infrastructure perspective, we need to revolutionise the sector with world-class on ground healthcare facilities built across the country. Hospitals, Institutes, research facilities etc. will need to be scaled up, all of which would again require the use of smart construction equipment.
Thus, with the revival of consumer sentiment in urban areas and the increasing demand from rural regions, we are hopeful of a brighter future. Additionally, the focus on creating 100 new airports, Smart cities and Metro projects will certainly open up newer opportunities. Infrastructure creation also opens up opportunities for allied industries like raw material, quarrying, equipment manufacturing etc. thereby creating jobs and livelihoods.
What is your view on the following factors in earthmoving equipment industry and how are you working around each of these?
Production, Demand and Sales: Due to Covid-19, we had to calibrate our production to match the lower demand during the period of the lockdown. However, as the markets gradually reopened, we have resumed operations at all our manufacturing facilities in India.
The Construction Equipment Industry has been witnessing Green Shoots June/July onwards. We are encouraged by this gradual revival and are hopeful that as more infrastructure projects start and resume work, we could see more growth and recovery. With sustained focus and investments in the sector, the next year looks positive.
The quarter ending December 2020 has been encouraging for us and the Industry. We feel that all indicators are currently pointing towards a V-shaped recovery. However, we must note that we are not out of the pandemic as of yet. Any disruption to the business by way of a lockdown can be detrimental.
At JCB, we are adapting to the new normal and are encouraged by this phase of revival, During the last quarter of the year 2020, we launched the industry's first dual-fuel CNG Backhoe Loader in India. It was launched by the Honourable Minister for Road Transport & Highways and Micro, Small and Medium Enterprises, Shri Nitin Gadkari.
We also remained committed to the India growth story and inaugurated our largest Parts Centre in Bhaproda, Haryana. This facility will cater to the parts requirement of our dealers and customers in Northern India and also for exports. We believe, the Government's impetus on the construction of roads and highways has always played a pivotal role in the growth of the sector and that must continue. Infrastructure creation opens up opportunities for allied industries like raw material, quarrying, equipment manufacturing etc. while also creating jobs and livelihoods.
Make in India and Exports: The 'Make in India' programme was launched six years ago with a focus on making India a 'Manufacturing Hub for the World'. Today, it has dovetailed into Vocal for Local and the ambition to become 'Atma Nirbhar', or Self Reliant. India will need to be competitive and strong-willed to be able to compete with global players in all aspects of the value chain including demand and supply. The shift to Local Manufacturing has already begun.
To cater to the vision of making India 'Atma Nirbhar' (self-reliant) and to compete with global standards, the industry has realised the criticality of investing in building world-class infrastructure in the country. Industry is focusing on greater adoption of technologies like Telematics, IoT, Big data, VR and Data Analytics along with Machine Learning.
JCB is an embodiment the Hon'ble Prime Ministers vision of 'Make in India' and Atmanirbhar Bharat. Our machines have been contributing to the building of world-class infrastructure in the country for over 40 years.
We today have five state of the art factories in Delhi-NCR, Pune and Jaipur – all of which operate on the principle of 'One Global Quality'. Our Jaipur factory is also a significantly gender diverse facility, with over 30% of the workforce on the shop floor being women. Our sixth factory at Vadodara which will focus on exports is currently underway.
Innovation has been the corner stone of JCB's operations around the world. In India we have a full design and innovation centre at Pune which is our largest outside of the UK. This facility develops exciting and new technologies of the future for Global and Domestic projects. We thus, Innovate, Design, Manufacture, Sell and Export from India. We have exported our 'Made in India' products to over 110 countries from India.
JCB has always believed in Localisation. Our flagship product, the JCB backhoe loader is indigenised to almost 97 per cent (by value). This has been possible due to sustained efforts over the years. The same 'Made in India' machine is exported to countries around the world. And we are further committed to increasing the localisation levels across all our product lines and are working relentlessly to reduce imports.
Product Price & Support: Customers all over the world look for a value proposition. Especially in products such as earthmoving and construction equipment where customers will retain the product for a fairly large amount of time. While the price is certainly an important parameter but it is often not the only decision making factor when it comes to finalising a product. We need to look at the entire life cycle of the machine and the support required during that period.
Product support is where JCB has invested a significantly so that our customers can ensure equipment uptime and should have the convenience and peace of mind of ensuring that their machines are well looked after.
This leads to higher productivity and greater returns on their investment. Machine downtime can severely hamper the profitability of a site and also of the equipment involved. Thus, with over 700 parts outlets and 60 plus dealers, we have ensured that there is a tremendous focus that customers get world-class product support at their work sites.
Profitability at the worksite can only be achieved if the equipment performs at optimal levels at all times. To achieve this there is a combination of the product, its design and the support. At JCB we have tried to align all these three important parameters in favour of the customer. Our Machines are built to One Global Quality and are exported to over 110 countries.
Complying with New Emission Norms: JCB India is committed to carrying out socially and environmentally responsible operations across the country. Sustainability is at the core of our business. We are in full support of the upcoming fuel emission norms and are well-prepared to welcome this change, which will lead to better technology and sustainability in the long run.
We believe the new standards will enable the percolation of world-class technology and advancement in the products/component thus, getting us at par with other advanced markets such as USA and Europe. It will also contribute in the enhancement of the overall value chain of the product in terms of development, research and upgraded technology in the supply chain.
To ensure seamless transition from BS (CEV) III to BS (CEV) 1V Emission Standards for wheeled construction equipment, JCB has investing in technology, service support network, skilling and training of people.
Projects where equipment were used: Rural India is fast becoming a strong growth driver for us. Our advanced Telematics technology, Livelink has been very helpful in ascertaining the activity areas nationally, JCB machines have already been deployed in projects on Railways, Irrigation and large projects like Sagarmala and Bharatmala. We have also supplied machines to the Defence forces.
Our equipment continues to find great use at almost every road construction site, in both urban and rural India. We expect to witness activity soon with the emergence of Infrastructure development in Rural India and the creation of world-class Healthcare Infrastructure.
Additionally, the Government's focus on creating 100 new airports, Smart cities and Metro projects will certainly open up newer opportunities for our machines.
JCB India manufactures over 60 different products in eight different categories which include Backhoe Loaders, Excavators, Compactors, Telehandlers, Wheeled Loaders, Skid Steer Loader, Mini Excavators and Generators. Our innovative and intelligent range of machines exhibit a blend of technology and digital innovation and are designed to cater to the varied infrastructural demands.
Are there still challenges in supply chain areas and getting financing support for buying new machines? From a manufacturing standpoint, the supply chains which were disrupted by the national lockdown and the subsequent intermittent lockdowns, have now re-booted.
Having said that, it is still early to predict anything and everything depends on how the pandemic plays out. For instance, the situation can get extremely challenging if multiple cities where our suppliers, dealers and, customers are located go into a lockdown once again, as the movement of our products will be restricted.
Our supply chain is spread across India and any disruption in one part of the country can affect operations and have a cascading effect on manufacturing volumes due to which it can affect sales.
Furthermore, there are still some liquidity related challenges that the industry is facing. Transmission of loans needs to be strengthened further – NBFCs (Non-Banking Financial Corporations) and banks should not become risk-averse about funding.
Release of payments to major infrastructure companies is a positive move, and will certainly help all stakeholders. There is also an opportunity for a dedicated Infra Fund which can be useful for funding infrastructure projects. Rising input costs, particularly steel, off- late needs to be looked at.
What are the Digital Innovations in your machines?
Customers today want utility and efficiency of the equipment without compromising on safety. Newer concepts like Telematics, IoT, Big Data Analytics along with Machine Learning can play a major role in meeting customer demands and increasing the efficiency of the sector.
JCB India has been innovating continuously to create smarter machines that efficiently fulfil this demand. Our vision is to ensure that our customers get technologically advanced and innovative 'Made-in-India' products, thereby also contributing to making India a global manufacturing hub. Through this indigenous manufacturing of globally competitive products, we are also ensuring our support to the Government's Atma Nirbhar Bharat programme.
Enhanced fuel efficiency and smart machine management can be experienced in these machines through LiveLink - an advanced telematics technology that benefits operators in better fleet management through remote monitoring. It helps users increase productivity, control costs and ensure asset safety. Till date, approximately 1,60,000 LiveLink enabled JCB machines have been sold. These machines can be monitored for – security, operations and service (SOS) on mobile devices.
Machines can be geo-fenced, time-fenced and can be located anywhere. Customers get to know about the machine's health, fuel level, battery conditions, etc. – almost all critical parameters of the machine on their mobile device. It also gives out service reminders and the history of the machine.
We have pioneered the integration of digital technology in our 'Intelli' series of Construction Equipment. This has improved productivity, reliability and efficiency of our machines to ultimately benefit our customers with ease of operation and cost profitability. JCB has also pioneered the integration of digital technology with its digital initiatives for customer support, which are an industry first, in its kind. The JCB genuine parts application enables customers to order parts of JCB products on their mobile.
Further, an internal tool – Smart Serve has been developed to help dealerships support engineers to improve efficiency and productivity, thereby improving profitability.
JCB India also provides the widest after-sales service to its customers through 700 outlets and over 60 dealers. Since these machines work in far-flung areas, well-connected product support must be offered to customers to minimise the downtime and maximise productivity.
What is your future outlook for the earthmoving equipment industry?
Despite pandemic, we remain positive and hopeful for the future. As the thrust on infrastructure creation continues to be a priority for the government, we are optimistic of a strong recovery. Rural India, where we have a significant presence, is also set to emerge as the new growth driver for us in the coming days. With over 700 outlets in India, JCB India is staying as close to our customers as possible.
In the new normal world, there is going to be a significant scope of digitisation and automation. Technology and innovation will become the key drivers of growth. Greater focus on adoption of technologies will be given as these can increase the efficiency of the machines.
Hence, as we go ahead, a strong focus will be laid on manufacturing innovative products which exhibit a seamless blend of technology and digital innovation in terms of design, performance, efficiency and safety. The utilisation of smart technologies and their unmatched benefits like enhanced productivity, safety, security and versatility to customers and end-users, will play an important role.
JCB India has already been adopting significant integration of digital technologies in products, processes, factories, etc. in the form of Telematics, IoT, Big Data and Machine Learning. We use technology to connect with our teams, our dealer engineers and over 1,60,000 JCB machines across the country through our advanced Telematics technology-JCB LiveLink.
We will ensure that our customers get technologically advanced and innovative 'Made-in-India' products, thereby contributing to making India a global manufacturing hub. JCB's made in India machines are exported to over 110 countries. Through this indigenous manufacturing of globally competitive products, we are also ensuring our support to the Hon'ble Prime Minister's vision for becoming 'Atma Nirbhar'. Our pioneering efforts in integrating our businesses with digital technology, both in Products and Product Support, gives our customers better value.v