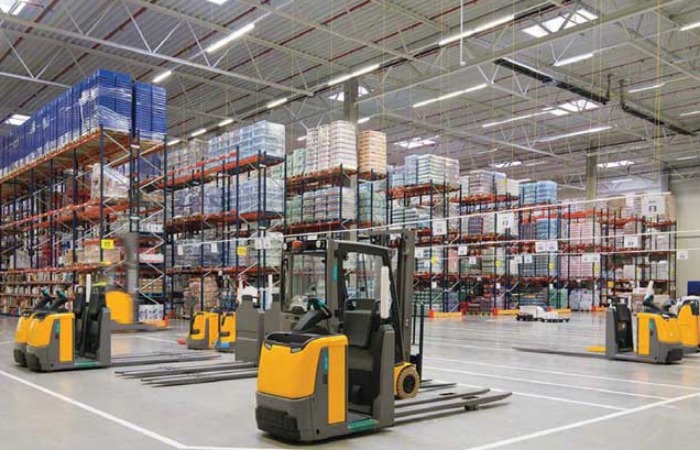 There is high growth potential in material handling industry in India considering the pipeline of opportunities in construction and infrastructures sectors.
The warehousing segment in India is evolving fast, and is moving towards palletised loads, which can be stored at heights. The government's latest move to give infrastructure status to logistics sector has brought in the much-needed support to the sector in setting up infrastructure and buying equipment at cheaper finance. This will give a further push in the sales of warehousing equipment.
The growing organised retail market and the post-GST realignment in logistics operations are propelling the growth of warehousing operations in India for the past few years. This has driven the demand for material handling equipment such as pallet trucks, forklifts, lift trucks, etc with a spurt in the number of warehousing facilities. Larger warehouses and logistics operations will require advanced storage and handling solutions, in turn, boost the demand for material handling equipment.
Cavas Dumasia, Vice President Marketing & Sales, Godrej Material Handling, thinks that warehousing forms a crucial link in the overall logistics value chain. He adds, "The size of the Indian warehousing industry (across commodities and modes) is pegged at about Rs 560 billion (excluding inventory carrying costs, which amount to another Rs 4,340 billion). The industry is growing at over 10 per cent annually (according to EY overview)."
Says Aditya Sikri, President, IndoSpace, "The logistics sector is expected to grow by more than 34 per cent from the current $160 billion to $215 billion by 2022."
Demand drivers
The expansions happening in the warehousing infrastructure across the major logistics hubs in the country has changed the prospects of warehousing and material handling equipment (MHE) in the country. The emergence of organised global retail giants in the country has brought in more handling solutions and advanced automated handling methods into the country. At the same time, in the essential services segments such as pharmaceuticals, more battery-operated and environment-friendly handling equipment are being introduced.
Also, growth in industrial production and setting up of more manufacturing facilities has also lead to the introduction of more handling solutions. According to Sunil K Gupta, President, KION India, "The trend in the MHE industry is towards increasing efficiency, enhancing productivity, maximising safety and minimising downtime. A lot of warehouse and storage solutions have been evolving after the onset of the Covid pandemic. Customers are now looking for complete material handling solutions for their material handling requirements rather than MHE only. All product lines of MHE is showing strong growth in current year."
He adds, "The rate of adoption of MHE is increasing in overall. There are several factors adding to the increase in demand which includes the pandemic driven surge in MHE requirement, customers have been converting manual labour to equipment based MHE. Also, customers are preferring MHE due to health and safety concerns related to manual labour, thus contactless MHE is getting the upward traction. The labour resource crunch due to lockdown also influenced the adoption of MHE in the past months."
"With the warehouses grew larger and taller, there emerged the requirement for bigger equipment such as large capacity reach trucks, order pickers, VNA trucks, etc," says Manojit Acharya, Managing Director, Jungheinrich Lift Truck India.
Technology trends
Development of new warehouses and modernisation of existing warehouses have seen the transformation of products and technologies in handling equipment. Also, handling of products such as pharmaceutical products will require environment-friendly equipment like battery-operated fork lifts and lift trucks.
Gupta says, "With the increase in industrial growth, rise in demand of consumer goods and services augmented by increase in disposable income and focus on efficiency and safety, customers are now looking after automated, safe, robust and reliable products with longer operation time and low maintenance. The material handling market is currently dominated by diesel driven equipment as consumers still rely on robustness of diesel equipment. Our OM brand's diesel forklift with automatic transmission and fluid coupling transmission are the popular products in the Indian MHE industry."
Covid-19 impact
The onset of Covid-19 pandemic has adversely impacted the warehousing sector also as the movement of products almost stopped, especially non-essential goods. The movement of essential goods though was on at a lower scale. According to Acharya, onset of Covid-19 has a severe impact on the market with a sudden drop in sales due to demand crunch and labour shortage in operational level.
"Coming up of more and more warehousing facilities clearly means more market for warehousing and material handling equipment. Apart from the setting up of new facilities, the existing facilities are becoming more organised and consolidated. As the warehousing segment was consolidating for larger warehouses, new avenues of opportunities opened up for material handling equipment. With the warehouses grew larger and taller, there emerged the requirement for bigger equipment such as large capacity reach trucks, order pickers, VNA trucks, etc. Indian market has a large manual labour force and primitive kind of warehousing tools with less automation, which is now gradually changing with the consolidation of warehouse operations," said Acharya.
Gupta says, "In this Covid-19 era, it is crucial to have contactless MHE that are flexible, having longer operational working hour, minimum maintenance and can be installed easily on sites. Also, the pandemic raised a labour availability concern, thus the customers are demanding material handling equipment resulting in growth in MHE. During to the lockdown, our manufacturing facility Factory 2.0 has been in operation following regulations as stated by the local administration. Mostly employees were working remotely. Our sales and service professionals were also working remotely and resolving any concerns online. Service professionals were at the customer end for routine service check-ups. Also, our factory operations followed all health and safety guidelines, maintaining social distance and minimising human to human interaction during operation."
Market to bounce back
Acharya says, "From 2021 onwards, the market will grow with initial growth rate in single digits."
According to Gupta, for traditionally labour-driven industries such as manufacturing and delivery, organisations will have to find ways to deal with the demand without increasing labour and safeguarding their workforce. "This becomes integral to have no-contact material handing equipment which are flexible, maintaining social distancing norms and be installed easily at sites. KION India is ready with the offering to manage labour shortage and no contact material handling," he adds.
The Covid-19 pandemic has brought in new normal in the warehousing segment also in terms of safety precautions. Safe distancing and no-contact operations will be part of life. The government announcement to support farm-based warehousing and cold-storage infrastructure is expected to boost the warehousing equipment segment in future.
Outlook positive
Acharya concludes: "Segments such as e-commerce, food & beverages and pharmaceuticals are likely to grow in future, needing more warehousing operations. From this perspective, I foresee growth in warehousing equipment market, though at a slower rate. However, the growth will be faster in APAC region and India compared with the western market."
The adoption of national logistics policy as promised during Budget 2021 will further have a positive impact on the country's logistics industry. On one hand it will help to increase, upgrade and standardise the warehousing capacity and on the other, it will identify gaps that could be bridged to bring down the cost of logistics for the industry at large.
BOX:
Opportunities in logistics and warehousing market
l Logistics sector to grow by more than 34 per cent from the current $160 billion to $215 billion by 2022.
l Warehouse sector to attracting investments of Rs 35,000 crore in the next three years.
l Warehousing equipment sector to create 9.76 million additional jobs in the next five years.
l Forklift truck industry size is about 11,000-12,000 units.