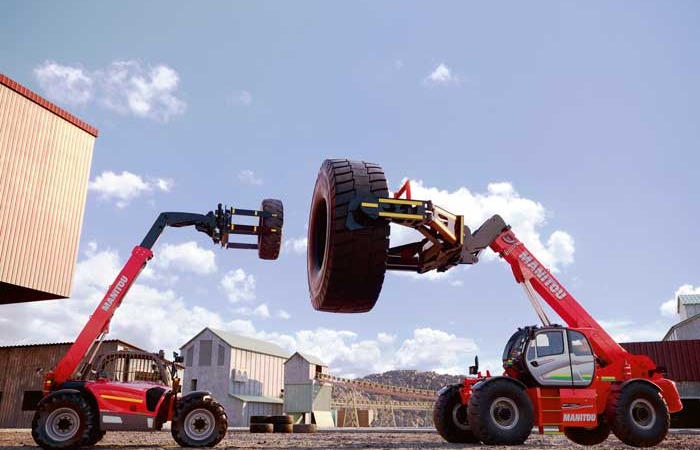 Telehandlers are machines used for efficient handling and shifting of material and also for safe personnel elevation at job sites. The versatility of the telehandler spans across handling regular palletised loads to material of various dimensions, density and weight- made possible with the constantly evolving list of attachments. Telehandlers offer maneuverability and operational efficiencies thereby creating value and optimised operational cost. A telehandler is also characterised as a reach fork truck or a telescopic forklift owing to the extending booms of various outreach.
Teleporter and cherry picker are just some of the other names for this equipment. It's a telescopic forklift that can lift loads and vary its massive exposure and lift altitude by extending or withdrawing its telescopic boom. The initial application of the telehandler was to house palletised loads at heights. Evolution has made it possible to just handle almost anything and everything.
The economies of scope with Manitou telehandlers, their increased deployment in various applications including construction, mining, industries, railways, agriculture, stevedoring and niche applications viz. aeronautical, defence, are just a few of the major contributors to the global telehandler market growth and Manitou is spearheading this growth. Telehandlers' growth is from its flexibility and ease of using different attachments (forks- narrow and wide, buckets, winches, grabs, clamps, struts…).
Manitou's DNA is its robust, reliable, safe and rough terrain machines that offer delight in handling solutions with a core focus on reducing total cost of ownerships (TCO). Manitou is constantly evolving in providing reliable machines and services, which apart from offering efficient material handling solutions, are aligning to the global energy challenges and compliance.
The global telehandler market is growing rapidly, owing to the increasing technological advancements in infrastructure development across the globe. Investments in this machinery with heavy load-bearing capacity and high reach facilities are increasing in emerging economies. The introduction of electric engine technology is expected to drive the market. The global telehandler market report provides a holistic evaluation of the market.
Manitou has a wide range of telehandlers for every segment, for every application and Manitou's offering on telehandlers are broadly classified into the below categories;
Manitou fixed telescopic (MT)
Manitou rotating telescopic (MRT)
Manitou loader telescopic (MLT)
Manitou heavy telescopic (MHT)
Manitou's fixed telescopic range, which is specific to construction and industrial applications, comprises of 13 variants ranging from 2 to 4 tonne operating between 4 m to 18 m height.
The Manitou's loader telescopic range, which is specific to the agriculture and environment segment, is majorly popular in international markets and has 10 variants ranging from 2 to 6 tonne offering lifting heights from 4 to 10 m.
Manitou rotating telehandler range is widely used in construction, maintenance, oil and gas, aeronautical applications where operating conditions face stiff space constraints and/or require quick operational maneuverability. MRTs are widely used in key applications viz. airports, bridge constructions, and glass handling. MRT range has nine models with capacities varying from 4.5 to 7.0 tonne and with lift heights of 16 m to 35 m.
Manitou heavy telehandlers are widely used in the mining industry and Manitou is constantly adding new models with specifications customised specifically for the mining with the safety regulations and specifications of this segment. MHT's most common applications in underground and opencast mining are handling of tyres and cylinders of heavy dump trucks, handling of conveyor belt reels and cylinder replacements and personnel elevations. Manitou offers six models in this range offering capacities of 9 tonne to 33 tonne with lifting heights of 7 m to 12 m.
Safety is paramount in all Manitou machines and all its products are equipped with critical features that guarantee this. About 70 per cent of accidents involving a handling machine could be prevented with the right machine for the right application and adequate safety training and measures. Accordingly, Manitou Group places user safety at the forefront of its priorities through two clearly-identified channels: risk prevention and the bespoke addition of safety systems on its machines.
In parallel, specific safety systems are created in response to the needs and constraints of each client according to their working environment. In Manitou Group, the special solutions entity is dedicated to specific requests from all these users, across all markets and applications. This has led to the introduction of a wide variety of devices to improve machine safety, such as a fire protection system, a reverse camera that can alert the operator of humans behind the machine, a speed limiter, a safe-start device that only functions when the seat belt is fastened, and a three-point seat belt to reduce risks in the event of accidents.
The reach of our distribution network all over the world, drawing on dedicated technical documentation that is specific to the equipment's characteristics and complies with local standards and requirements, is very important to provide after-sales support to users on the ground.
"The health and safety of users is our priority, and most importantly, it's everyone's business."
Manitou South, which is the 100 per cent owned subsidiary of Manitou Group, has been directly handling the introduction of the telescopic concept in India since more than a decade through intense concept and site studies and has now inducted reliable partners in few key zones across India. Though the telehandler concept is still nascent in India, the continuing efforts of the passionate Manitou Team in presenting their technology, is leading to the customers across many segments increasingly witnessing the prowess and productivity of "The Telehandler".
Though the change in mindset still remains largely on conventional and relatively unsafe modes of labour-centric material handling, the telehandler market is poised to grow – especially from the increasing demands of mechanisation, operational and cost efficiency and strict project timelines.