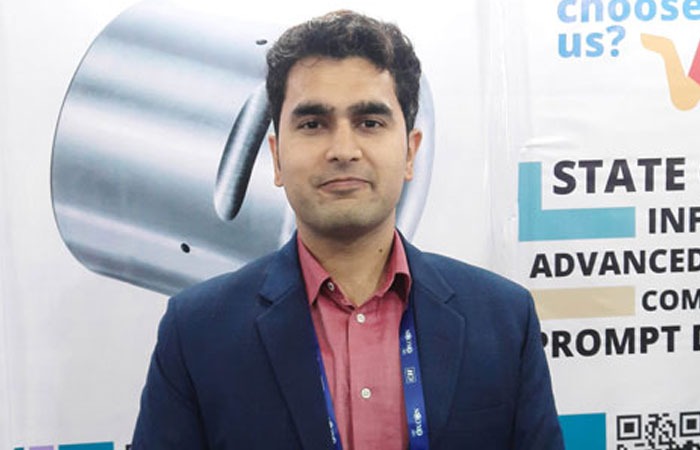 Axle Shaft India is one of the leading manufacturers, suppliers, and exporters of a wide range of industrial products. The vast product line of the company is inclusive of chisel lock pins, excavator pins, rock breaker chisels, through bolts, agricultural shafts, excavator bushes, spline shafts and automotive axle shafts.
Speaking on the products on display during Excon, Vikrant Soni, CEO, Axle Shaft India, said, "We are displaying excavator pins and bushes. They are very high-wearing parts. We are also displaying rock breaker chisels. Our uniqueness is the quality that we offer."
He added, "I am a mechanical guy and my father is a metallurgical person. Together we are able to produce the best quality. Our products have two times better life compared to our competitors. The product, which one of our customers uses, has been live for 2,000 hours and still working fine. So, it is actually the combination of right raw material and heat treatment, which we look after very much."
Challenges
"Raw material prices are increasing for everyone so that's not our challenge. The only challenge I face is the price-conscious market. The market keeps on fluctuating, and earlier there used to be a difference of only Rs 5 to Rs 7. Otherwise, selling our product has never been a challenge. It is just finding the right people," he added.
"South India has always been my focus because people there are more educated, more logical and they know the value of quality. People in North India go after cheaper products. We are not directly exporting, but are planning to. However, we are supplying materials to some of the export members.
"Every single pin and bush displayed at Excon is manufactured in India by us. I hardly believe in trading. The market is very competitive and quality will be an issue if I import."
Road ahead
"Expansion has always been something that we at Axle Shaft look forward to. Recently, we have shifted to the new plant, which has nice infrastructure including a new set of machines," said Soni.
He adds, "I'm focusing on digitisation. We are already working on a new ERP software for our complete system, be it in production management or customer handling."