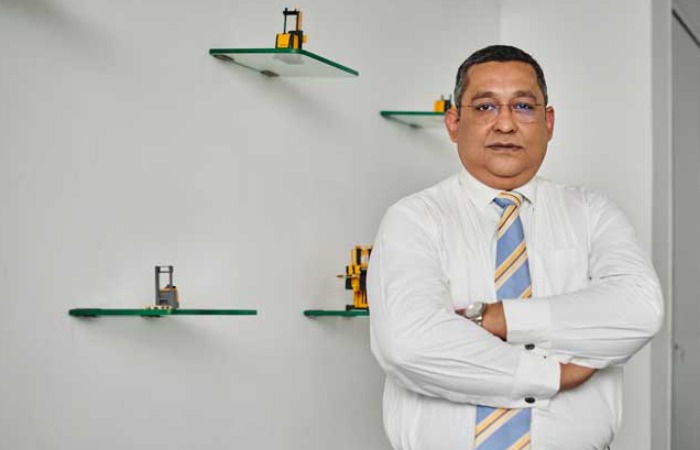 What types of MHE does your company manufacture, and are there any specific industries or applications that your products are designed for?
Jungheinrich is a pioneer in intralogistics solutions for seamless warehouse operations. We are dedicated to providing comprehensive material handling equipment (MHE) solutions that efficiently serve every aspect of a customer's warehouse operations. With a diverse range of cutting-edge products, Jungheinrich caters to various industries such as automotive, engineering, pharma, chemicals, FMCG, retail, paper, and more. From handling palletised and non-palletised loads to facilitating floor-to-floor movement and storing within towering racking systems of up to 18 m high, Jungheinrich offers unrivaled expertise in optimising warehouse productivity.
At Jungheinrich, our commitment to innovation drives us to manufacture MHE that addresses the specific needs of different industries. Whether it's managing incoming materials, ensuring seamless operations within manufacturing areas, facilitating storage applications, or streamlining the journey from storage locations to shipment areas, our products excel in every aspect of the warehouse workflow. From the efficient operation of docking stations to the smooth movement of goods within racking systems, Jungheinrich sets the industry standard for reliability, performance, and precision.
With our broad range of MHE solutions, we empower businesses to overcome logistical challenges and enhance their operations. From powerful forklifts and reach trucks to versatile order pickers and automated guided vehicles, our products are designed to adapt to the unique demands of various industries. By leveraging our state-of-the-art technology and deep industry knowledge, customers can achieve seamless intralogistics processes, increasing efficiency and reducing costs.
Can you describe the different features and capabilities of your MHE products, and how they compare to competing products in the market?
Jungheinrich has a wide range of innovative material handling products to offer to the market. The product range is from manual hand pallet trucks to high rack VNA trucks and even sophisticated automated solutions. Jungheinrich can offer the right product to cater to a variety of applications, our pallet trucks are compact and can operate in minimal space when compared to any competition.
Jungheinrich electric pallet stacker delivers high residual capacity at maximum lift height as compared to products from competitors in the same segment. For over 60 years, our reach trucks have been delivering reliable service and performance in warehouses. Particularly in confined conditions, our electric reach trucks set new benchmarks thanks to their compact construction and outstanding lifting capacity. Reach trucks offer two major advantages: The first is their compact construction, while the second is the amazing lift height of up to 14,000 mm.
With our order pickers, you will not only increase your pick rates at reach heights of up to 11 m but will also benefit from enhanced travel safety and efficiency – even under the toughest conditions.
Our entire range of electric order pickers is characterised by extremely robust construction. This is highlighted by the impressive load capacity whether middle lifting segment or lifting height up to 18 m with our VNA trucks you take your warehouse logistics to a new level. Intelligent lightweight construction and maintenance-free synchronous reluctance motors ensure first-class performance and outstanding efficiency.
Overall product offer consists of a truck, batteries, and charging technology. In this way, we can guarantee two-shift availability on only one charge, thanks to our proven lead-free batteries. By utilising superior and fully maintenance-free Jungheinrich lithium-ion technology, we are raising electro-mobility in warehouses to a whole new level.
When we benchmark our energy efficiency with any competition, our trucks stand far better in terms of energy efficiency, this benefits customers in terms of longer operating hours and also lower operating cost.
How does your company approach environmental sustainability in the design and manufacture of its MHE products?
Jungheinrich offers sustainable solutions that not only increase efficiency but also contribute to reducing the carbon footprint, thereby supporting our customers in achieving their sustainability targets. One significant initiative we undertake in the direction of environmental sustainability is the recycling of all our old equipment. By refurbishing the equipment sourced from our highly successful rental market, we are able to give them a new lease on life and resell them. This approach represents a crucial stride towards minimising our carbon footprint and conserving valuable resources that would otherwise have been discarded as scrap or waste. The environmental benefits of this practice are substantial, as reconditioning used equipment saves approximately 80 per cent of the CO2 emissions that would have been generated through new production.