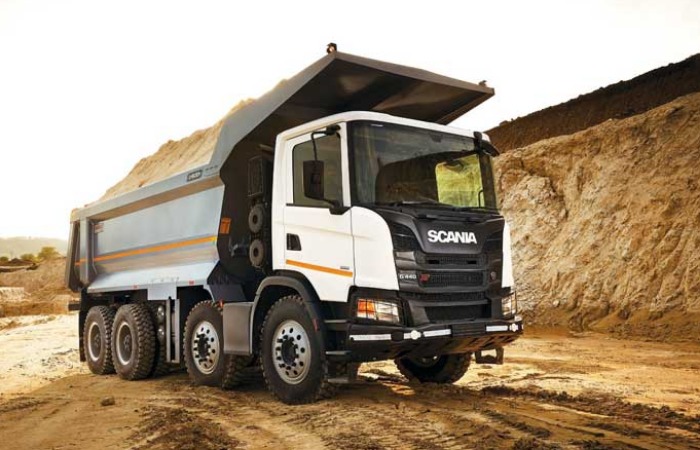 The Indian market for tippers and tip trailers primarily relies on infrastructure construction and the mineral extraction sector. Currently, there are growing opportunities arising from the expanding coal mining industry in the country, the economic recovery following the pandemic's downturn, shifts in GST implementation, and the transition to Bharat Stage (BS) standards.
Presently, the government is emphasising coal mining expansion, creating a direct demand for tipper trucks in the upcoming year. This surge in domestic coal production will reduce import dependence. Furthermore, as coal mining activity escalates, the need for tipper trucks will rise, as they are responsible for transporting coal from mines to nearby destinations. Coal India intends to utilise road transportation, given that many mines are situated in remote areas inaccessible by railways.
The Indian tipper truck market encompasses approximately 60,000 units annually across all segments. In 2022, it reached a market value of $1.85 billion and is anticipated to grow at a CAGR of over 11 per cent by 2024. This growth is attributed to the increasing number of infrastructure projects and the availability of convenient financing options from financial institutions.
Tipper trucks in India are categorized based on tonnage carrying capacity into light (2 tonnes – 16 tonnes), medium (16 tonnes – 31 tonnes), and large (31 tonnes – 55 tonnes) segments. Recent trends show continued high demand for medium tipper trucks due to their versatile applications.
Following the medium segment, the large tipper truck category is prominent. Large tippers and tipper trailers find extensive use in ore mining, particularly for iron ore in Odisha and surrounding areas, as well as in construction and aggregates in Rajasthan and North India. To meet the burgeoning demand in the construction sector, Tata DLT has established state-of-the-art manufacturing facilities in Pune, Jamshedpur, and Ajmer, with a total monthly capacity of around 500 units for rigid tippers and tip trailers. Our product range spans from 10.5 CBM to 29 CBM rigid tippers and 20 CBM to 44 CBM tip trailers, compatible with major OEMs such as Tata Motors, Ashok Leyland, Daimler India, Mahindra Truck & Bus, and VECV.
Tata DLT's tippers and tip trailers are engineered for robust performance in construction and mining environments. We have also introduced various capacity rock bodies tailored for mining applications. Moreover, we offer a lighter range of tippers that can carry 500-800 kg more payload, enhancing operational efficiency. With our tip trailers, customers can enjoy an additional payload of 600 kg to 1,000 kg, depending on the cubic capacity, reducing the need for multiple trips. While Tata DLT was traditionally renowned for its trailer products, we have confidently ventured into the tippers segment (rigid and trailer) under the Tata brand, maintaining our commitment to quality and reliability.
Jalaj Gupta, Business Head – Commercial Vehicles, Mahindra & Mahindra, said, "The India tipper and HD truck market is thriving on the back of increasing opportunities generated by the rising coal and mineral mining in the country due to commodity demand cycle improvement."
Mahindra & Mahindra offers following features in BLAZO X HCV tippers and HD trucks: 7.2L – mPower 6 Cylinder BS6 ready with multimode facility; six separate cylinder heads and wet liners leading to easy repairability and lower maintenance cost; 1050 Nm High torque for optimal performance under various terrain and load conditions; more durable heavyduty Eaton gearbox with increased input torque capacity; Meritor/American higher grade/series of axles used in BS6 leading to better durability/life; high strength steel metal –chassis frame with reinforcement for carrying extra load; high-density polyethylene (HDPE) 260L fuel tank incorporated for better durability and rust free; and heavy-duty inverted bogie suspension for carrying extra load.
Gagandeep Singh Gandhok, Senior Vice President - HD Trucks Business, VECV, said, "The future outlook for the tipper segment appears highly promising due to significant government announcements related to mining, irrigation, infrastructure development, and housing. These sectors heavily rely on tipper machinery and construction equipment, indicating a substantial scope for growth. Building upon the 33 per cent growth witnessed in the previous year, it is expected that robust growth will continue for both tippers and heavy-duty trucks. Furthermore, there is pent-up demand for replacing old trucks, further contributing to the positive prospects for the industry."
Eicher Trucks and Buses have demonstrated impressive performance and market share growth in the heavy-duty truck and tipper segments. With a positive trajectory and ample opportunities arising from government initiatives and the need for truck replacements, the company is well-positioned to seize the forthcoming prospects in the heavy-duty truck industry.
In terms of technology, Eicher's tipper trucks are connected vehicles. They are integrated with the company's uptime centre located in Indore, enabling remote diagnostics in case of any issues or breakdowns. The uptime centre can quickly identify and analyze problems through a diagnostic tool, allowing for prompt corrective actions and minimizing downtime. This ensures that the trucks can return to operations swiftly.
As mentioned previously, Eicher also offers site support services, ensuring that customers receive comprehensive assistance and maximum productive uptime. Additionally, the trucks are connected to "My Eicher," a fleet management service that provides valuable insights into the fleet's performance. It tracks factors such as running hours, fuel efficiency, idle time, driver behaviour, and training needs. The "My Eicher" service also includes uptime alerts, notifying customers about required maintenance or potential issues, thus further enhancing productivity and uptime.
Eicher has equipped their tipper trucks with specialized features and technologies tailored to meet the challenges encountered in mining and road infrastructure sites. From robust engines to improved manoeuvrability, remote diagnostics, and fleet management services, Eicher prioritises productivity and uptime, ensuring their trucks deliver reliable performance in demanding circumstances.
Mandatory AC cabins for trucks
Starting in 2025, all truck cabins will be required to have air conditioning, offering much-needed comfort to drivers who endure sweaty conditions during their 11-12 hour shifts. The challenging work environment and long hours on the road are often cited as major factors contributing to driver fatigue and accidents.
Nitin Gadkari, the Minister for Road Transport & Highways, stated, "In our country, some drivers spend 12 or 14 hours behind the wheel, while in other countries, there are restrictions on the number of hours bus and truck drivers can be on duty. Our drivers operate vehicles in temperatures ranging from 43 to 47 degrees Celsius, and we must consider their conditions. I have been eager to introduce air-conditioned cabins since becoming the minister. However, some people opposed it, citing increased costs. Nevertheless, I have approved the decision that all truck cabins must have air conditioning."
The proposal was initially put forward by the road transport ministry in 2016.
Welcoming the government's decision, Vinod Aggarwal, MD and CEO, Volvo Eicher Commercial Vehicles, said, "This reflects a progressive approach towards enhancing driver ergonomics and comfort thereby facilitating improved road safety and efficient logistics. As a leading manufacturer in the Indian truck industry, Eicher recognises the crucial role that drivers play and have been offering air-conditioned cabins for over a decade. Air-conditioned cabins provide much-needed respite to truck drivers who keep our nation's economy ticking in tough work conditions and extreme temperatures during long hours on the road. Volvo Group, our joint venture partner, has been focused on enhancing truck driver productivity for many decades, with trucks that set the industry standard for ergonomic, air-conditioned and safe cabins."
He added, "Implementing air-conditioned cabins may result in some additional costs, with estimates ranging from Rs 30,000 to Rs 50,000, depending on the size of the vehicle. In some models, particularly light commercial vehicles, OEMs may need to consider drivetrain changes and increased engine power to accommodate AC cabins. Eicher offers one of the most advanced ranges of vehicles in the industry with a strong belief that driver comfort enhances truck productivity and thereby reduces the total cost of operation significantly. Together with improvements in highway infrastructure, improving vehicle emission and safety, this mandate is another positive step towards transforming the trucking industry in India by addressing one of the most important stakeholders in the logistics system - truck drivers. This will also encourage more people to take up truck driving as a profession."
According to estimates, the additional expenses for equipping trucks with air-conditioned cabins would range from Rs 10,000 to Rs 20,000 per truck.
While high-end trucks manufactured by global companies like Volvo and Scania already come equipped with air-conditioned cabins, most Indian manufacturers have yet to adopt this feature. Even Scania and Volvo offer AC cabins only in their higher end trucks.
The cabins of BharatBenz heavy-duty trucks are already in compliance with ECE R29-03 standards. Tata Motors also provides air-conditioned cabins as an optional feature, but they are prepared to establish it as a standard offering for their entire truck lineup once the new mandate is finalised.