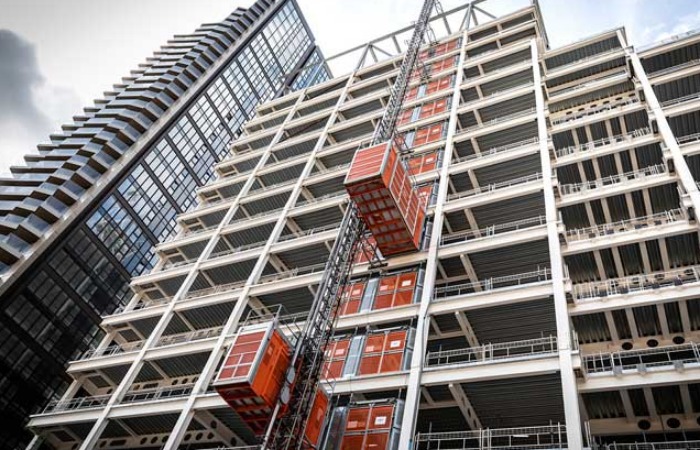 From being simple machines used to carry up and bring down materials, cranes and hoists have today become more sophisticated simplifying processes in manufacturing, mining, infrastructure, automotive and construction industries. A wide range of industries, especially manufacturing, mining and construction require heavy loads to be lifted or lowered in various processes. Machineries like hoist and cranes have greatly refused the human efforts and also brought down the process timing, thereby increasing the output.
With the high-rise construction is catching up momentum in the country, the Indian construction industry is gradually moving towards the next level of technology which has necessitated the use of new and improved construction equipment to meet the demand of safe and quality construction. Construction hoists as a medium to move material and men to heights at high rise construction sites, have seen slow growth in the past few years. However, the growth is going to catch up momentum with more structures growing taller with many high-rise building (residential and commercial) coming up.
Demand on the high
Says Munish Taneja, President, Equipment Hiring Business, Indiabulls Store One, "Indiabulls Store One is a major player in the rental of construction hoist. We are offering rentals of passenger hoist, material hoist and mast climbing platform. We are seeing huge demand for construction hoist from all across India. Earlier demand was restricted to tier I cities, but now tier II and tier III cities are also having demand of construction hoist on rentals. In next 3 to 5 years, we expect construction hoist demand to grow by 20-25 per cent."
He added, "Key growth drivers of construction hoist are faster execution of project, higher productivity of the labour employed, safety of the man and material deployed at site and more high-rise building being constructed. Apart from this rental rates of construction hoist have dropped in last couple of years, which has helped to feel the demand, as it is economical for the contractors. Indiabulls Store One also offers construction hoists on long-term lease, which is even better than short-term rentals."
According to Samket K Dami, Director, Access Platform Equipments, "In India, the demand for construction hoist is gradually increasing year on year. In real estate, it can be estimated that every under construction high rise tower, 70 m or above is equipped with at least a construction hoist."
In India, construction hoists have become very popular in the past decade. They are usually used for high-rise towers of height 70 m or more undergoing construction or renovation. Technology has improved and become affordable according to Dami as he adds, "Thanks to the availability of the technology at affordable prices compared to traditional technology of lifting manpower and material. There is a maximum requirement of hoists with a load carrying capacity of 1.4 tonne to 2 tonne and cage sizes which are 3.2 m in length and 1.5 m wide."
Taneja elaborates on the demand trend, "Growth in new and retrofit infrastructure after the recession has boosted the construction industry heavily. With new development plans and projects, use of construction equipment is also growing. Mining industry has led the hoist market with a substantial growth rate and is expected to drive the hoist market growth during the projected years. Mining hoists are responsible for conveying, manoeuvring and transporting ore materials through mine shaft and among machinery parts."
Safety first
Safety should become an inbuilt system. According to Dami, safety at height is a mandate and no longer a luxury for manpower at site.
Taneja says, "Safety is paramount in construction equipment and their users. Following the international trend of according utmost importance to safety consciousness, Indian companies have also signed the UN mandate of zero reportable fatal accident and publish their safety statistics in their balance sheets."
Dami elaborates on the safety features associated with his product range, "There are multiple layers of safety features installed on a construction hoist. Some of the most basic safety features on our Scanclimber products are emergency manual lowering in case of power cut, cage overload warning in case of excess people in the elevator, exclusive speed-sensing safety brake which engages in case of rack and pinion motor failure and infrared sensors to avoid collision with unforeseen objects or projections."
For economical low rise towers/projects, APEL has been offering transport platforms from Scanclimber. "The demand for the product is slow but we believe it to take pace in the next couple of years," says Dami. He adds, "To increase productivity but retain affordability for customers with project completion deadlines, we have been offering the twin-cage configurations, which cater to a larger team of manpower on the same installation of the single cage construction hoist."
Following the international trend of according utmost importance to safety consciousness lead by DuPont and others many reputed Indian companies like L&T, HCC, etc. have also signed the UN mandate of Zero reportable fatal accident and publish their safety statistics in their balance sheets.
PV Ramdev, Managing Director, Everest Engineering Equipment, said, "Construction hoist, popularly known as Passenger and Material (PM) Hoist, is used for transporting men and materials during high-rise construction vertically to heights up to 821 m - Burz Al Khalifa at Dubai is currently the tallest tower in the world and there are reports that Bechtel has been awarded an ambitious contract by Saudi Arabia to design a still taller tower. PM hoists are also used for other high rise applications like chimneys, shafts, cooling towers, nuclear and thermal power plants, pylons for suspended rope bridges and others. Similarly, India is also on a rapid path to high-rise construction and PM hoists are extensively used in our country."
GJJ Construction hoists are designed for 550 m height as standard with a speed of 46, 63, 96 and 120 m/min. Higher than 550 m height are also supplied according to specific building requirements. Therefore, GJJ adopts the highest safety standards and is proven all over the world.
Promising outlook
With more high-rise structures and special structures on the rise, the market for construction hoists is expected to pick up. However, an unstable outlook of real estate sector is a concern for the pick up of construction hoists market. "Real estate sector is the most important stake holder controlling the demand of construction hoists. Proportionally, the market for construction hoist is slow," Dami observes.
Going forward, construction hoists will have a greater role to play in terms of safe and productive movement of men and materials to newer heights. However, this will be only powered with the help of proper safety regulations and the user market following these norms regularly.