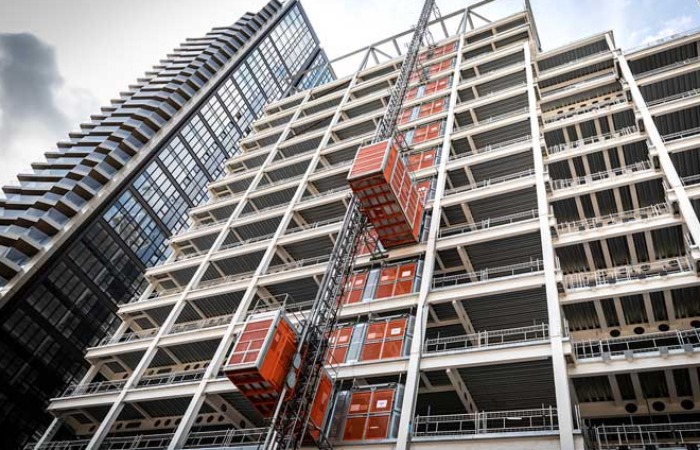 Hoists, which were once basic devices used to raise and lower objects, have evolved into more sophisticated devices that streamline processes in the construction, mining, infrastructure, manufacturing, and automotive industries. Heavy loads must be raised or lowered in numerous processes in a wide range of sectors, particularly manufacturing, mining, and construction. Machines like hoists and cranes have considerably reduced the need for human labour, shortened processing time, and increased productivity.
The construction hoist market in India is steadily increasing due to the growth of construction activity in the country. Construction hoists, also known as building hoists or construction elevators, are used to vertically transport personnel and materials between floors during construction.
India's construction industry is rapidly growing, with a focus on infrastructure, commercial real estate, and residential housing. This growth has led to a rise in demand for construction hoists, which are vital equipment for construction projects of any size.
Rise in demand
With high-rise construction catching up momentum in the country, the Indian construction industry is gradually moving towards the next level of technology which has necessitated the use of new and improved construction equipment to meet the demand for safe and quality construction. Construction hoists as a medium to move material and men to heights at high-rise construction sites have seen slow growth in the past few years. However, the growth is going to catch up momentum with more structures growing taller with many high-rise buildings (residential and commercial) coming up.
Domestic manufacturers dominate the construction hoist market in India, although international companies also operate in the country. Demand for construction hoists in India is expected to continue growing, as the country invests in infrastructure projects and the construction of commercial and residential buildings continues to expand. Furthermore, the emphasis on worker safety and productivity is anticipated to encourage the adoption of construction hoists in India.
The employment of cutting-edge safety equipment, such as laser scanners and cameras, to identify obstructions and avoid collisions is one of the most recent developments in construction hoists. Energy efficiency is also receiving more attention, with hoists made to use less energy and produce fewer emissions. As building sites change, there is also an increasing need for hoists that can be swiftly and simply constructed and disassembled.
PV Ramdev, Managing Director, Everest Engineering Equipment, said, "Construction hoist, popularly known as Passenger and Material (PM) Hoist, is used for transporting men and materials during high-rise construction vertically to heights up to 821 m - Burj Al Khalifa at Dubai is currently the tallest tower in the world and there are reports that Bechtel has been awarded an ambitious contract by Saudi Arabia to design a still taller tower. PM hoists are also used for other high-rise applications like chimneys, shafts, cooling towers, nuclear and thermal power plants, pylons for suspended rope bridges, and others. Similarly, India is also on a rapid path to high-rise construction and PM hoists are extensively used in our country."
During the Excon exhibition in Bengaluru, Everest Engineering Equipment displayed a passenger hoist, which comes with a 3.6 m extra-long cage, wherein customers carry 10ft to 12ft lengths of marbles, granites, plywood, etc. He added, "This hoist can carry 27 people also with a speed of 46 m per minute, which is the lowest speed. With this, about Rs4 to 5 lakh worth of electricity can be saved by a customer every year. This hoist can carry the full load at the same speed giving high power savings. The average life span of this hoist is 25 years. The mast sections are made of ST 52 material so that the wall tie supports are required with the building at an interval of 9 to 10.5 m distance. Rental companies are opting for this particular machine because they need the hoist with reliability and longer life."
"GJJ standard passenger hoists can go up to a height of 500m. Nobody can offer a standard hoist that can go up to 500 m. The market for this product keeps on increasing. This year, we will be able to get at least a 30 per cent increase, and next year, we would like to grow even further. The market is growing," said PV Ramdev.
Indiabulls Store One is one of the major players in the rental of construction hoists. The company offers rentals of passenger hoists, material hoists and mast climbing platforms. The company is seeing huge demand for construction hoists from all across India. "Earlier demand was restricted to tier I cities, but now tier II and tier III cities are also having demand of construction hoist on rentals. In the next 3 to 5 years, we expect construction hoist demand to grow by 20-25 per cent," said a spokesperson from Indiabulls Store One.
Key growth drivers of construction hoist are faster execution of the project, higher productivity of the labour employed, safety of the man and material deployed at site and more high-rise buildings being constructed. Apart from this rental rate of construction hoist have dropped in the last couple of years, which has helped to feel the demand, as it is economical for the contractors. Indiabulls Store One also offers construction hoists on a long-term lease, which is even better than short-term rentals.
Safety and maintenance
Safety is a crucial consideration when using a construction hoist. Some of the key safety features of a construction hoist include emergency stop buttons, overload sensors, interlocks to prevent doors from opening while the car is moving, and safety gates to prevent falls. It is also essential to ensure that the hoist is maintained properly and that all workers using the hoist are trained in its safe operation.
Regular maintenance is essential for ensuring the safe and efficient operation of a construction hoist. Maintenance tasks may include inspecting the hoist components for wear and tear, lubricating moving parts, checking the brakes, and testing safety devices. It is also important to follow the manufacturer's recommended maintenance schedule and to address any issues promptly to prevent accidents.
Following the international trend of according to utmost importance to safety consciousness led by DuPont and others many reputed Indian companies like L&T, HCC, etc. have also signed the UN mandate of Zero reportable fatal accidents and publish their safety statistics in their balance sheets.
Future outlook
Due to increased demand for construction hoists and shorter tenure of projects more and more customers are demanding rental solutions for the construction hoists. They don't want to own these assets, as it is very difficult to store and maintain these hoists when not in demand. Apart from this, we see a huge opportunity for mast climbing platforms. These mast climbing platforms are very efficient for external finishing works and manpower productivity increases many folds.
With more high-rise structures and special structures on the rise, the market for construction hoists is expected to pick up. However, an unstable outlook of the real estate sector is a concern for the pick-up of the construction hoists market. "Real estate sector is the most important stakeholder controlling the demand for construction hoists. Proportionally, the market for construction hoists is slow.
Going forward, construction hoists will have a greater role to play in terms of safe and productive movement of men and materials to newer heights. However, this will be only powered with the help of proper safety regulations and the user market following these norms regularly.
In conclusion, the construction hoist market in India presents significant growth opportunities for both domestic and international manufacturers as the country's construction industry continues to thrive.
Challenges
The major challenge for the construction hoist market is the lack of standardisation of safety norms. As these hoists are used for shifting man and material across the floor in a project, safety should be a high priority. Other challenges include:
Safety concerns: Safety is a significant concern when using construction hoists, especially with workers and heavy materials moving vertically. Operators must adhere to safety protocols and regulations, and the hoist must have safety features such as emergency stop buttons, interlocks, and safety gates.
Maintenance: Construction hoists require regular maintenance to operate safely and efficiently. Maintenance tasks such as inspection, lubrication, brake testing, and safety device testing must be performed regularly to ensure proper functioning.
Site constraints: Construction hoists must be designed to fit the unique constraints of the construction site, including the height of the building, the width of the hoist area, and the load capacity required. The hoist must also be adaptable to changing site conditions.
Environmental conditions: Environmental conditions such as extreme temperatures, high winds, and heavy rain can impact the safe operation of construction hoists. Operators must consider these conditions when planning hoist usage and take necessary precautions.
Cost: Construction hoists can be expensive to purchase or rent, and the cost can be a significant challenge for some construction projects. Operators must consider the costs associated with hoist usage, including maintenance, insurance, and labor costs.
Regulations: Regulations regarding the use of construction hoists can vary by location and can impact the design, installation, and operation of the hoist. Operators must be aware of local regulations and ensure that the hoist meets all requirements.