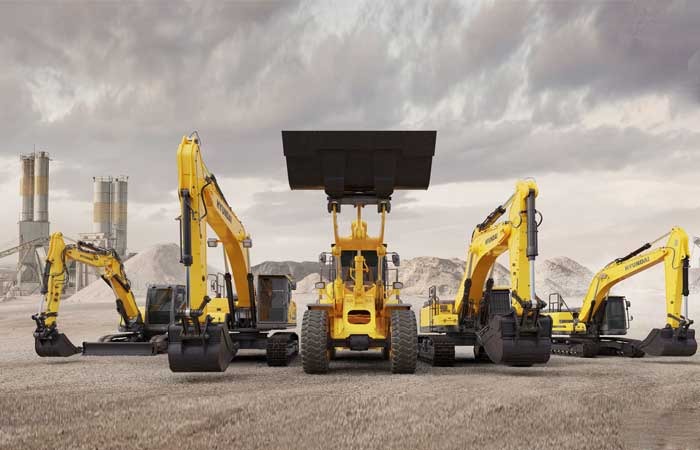 An industry that is quickly expanding in India is the rental of various pieces of machinery and equipment to businesses, construction sites, and people for both short- and long-term use. The market offers a wide variety of equipment, including heavy gear for construction, material handling, and power generation.
Several reasons, including rising infrastructure development demand, expansion of the construction sector, and increased industry awareness of the advantages of renting equipment rather than buying it, are fuelling the growth of the equipment rental market in India. In addition, the rise of new rental businesses and the expanding use of cutting-edge technology in equipment rental services are fostering the market's expansion.
Overall, the equipment rental market in India is expected to continue its growth trajectory in the coming years, driven by factors such as increasing infrastructure development, rising construction activities, and growing demand for advanced equipment and machinery.
According to Mordor Market intelligence report, the construction equipment rental market was valued at $103 billion in 2020, and it is expected to reach $137 billion by 2026 and is anticipated to register a CAGR of 4.78 per cent during the forecast period (2021-2026). It is therefore, that rental companies have started diversifying and modernising themselves into various other categories of equipment like access platforms and many unconventional types of equipment.
On the rise
Satin Sachdeva, Founder & Secretary General, Construction Equipment Rental Association (CERA),
said, "Equipment rental is a cost-effective alternative to purchasing, and it provides an access to a wide range of machinery and equipment needed for their operations."
He adds, "Purchasing heavy machinery and equipment can be extremely costly especially due to recent emission norms and inflation machinery prices have gone up by 20 per cent due to which construction companies need not have to worry about the high upfront costs of ownership. This cost-effectiveness has made equipment rental a popular option for companies in the infrastructure development sector."
"In the recently announced union budget, the capital investment outlay is being increased steeply for the third year in a row by 33 per cent to Rs 10 lakh crore. The government's increased focus on infrastructure projects like metro projects, railways, airports, highways, bullet trains, housing for all, and rural roads is expected to have a positive effect on the construction equipment rental industry. The rental market in the construction equipment segment is very vibrant and with the renewed focus of the government on infrastructure, the future looks bright. We at Ammann India are open to offering our plants and machines with attractive finance schemes through the rental players too," said Anand Sundaresan, Managing Director India & Executive Vice President, Ammann India.
Atlas Copco Group has always been ahead of the curve when it comes to innovations, culture, the vision of the future, and now sustainability. This spirit to remain a market leader has been a key driving factor and has been adopted by the entire organisation – be it divisions, sub-brands, and even its employees. With a momentous milestone of completing 150 glorious years in business, the Swedish megabrand has only not only become stronger over these past decades but also more agile, better focused, and intuitive when it comes to profits, people, and our planet.
Atlas Copco Specialty Rental has taken a page out of its book and is inspired to think big and go beyond, answer crucial questions, and find solutions to complex challenges our industries and societies face, not just today but also in the future.
"Over the last decade, the rental industry landscape has seen many dynamic shifts, both in terms of technology as well as innovation. While the construction and mining industry would use more diesel engine-driven equipment traditionally, electric machines have now started taking the spotlight and we have designed products with sustainability in mind. We have developed solar-powered light towers, E-Air electric mobile compressors, ZenergiZe energy storage range, etc.," said Mukesh Sharma, Country Manager, Atlas Copco Specialty Rental.
Says Jalaj Gupta, Business Head, Commercial Vehicles Business Unit, Mahindra Construction Equipment, "The advantage of machine rentals is that you can adopt an Asset Light Model for your business. You needn't block capital to purchase construction machines, hence you minimise the project cost significantly. You also enjoy a lower maintenance cost, and you help improve uptime. You can focus solely on core construction activities and on completing the project sooner, and not on shelling out huge sums of money. The industry is ever-growing as per the infrastructure growth trend of India. Big contractors are now shifting slowly towards renting equipment from organised sector then actual management of buying and maintaining it."
"The rental market offers several benefits to both contractors and equipment manufacturers. For contractors, renting equipment can be a cost-effective solution, as they do not have to make a large upfront investment in equipment ownership. They can also have access to the latest equipment and technology, which can help to improve productivity and efficiency on the job site. For equipment manufacturers, the rental market provides a stable source of income and helps to keep their equipment in use. This can also lead to increased sales, as contractors may be more likely to purchase equipment from a company that they have rented from in the past," said Nischal Mehrotra, Vice President – Sales & Marketing, Liugong India.
Adds Mehrotra, "The equipment rental market is expected to grow in response to increased government spending on infrastructure projects. This growth can benefit both contractors and equipment manufacturers, providing a cost-effective solution for contractors and a stable source of income for equipment manufacturers."
Piero Guizzetti, CEO, MB Crusher India, thinks that the equipment rental market is growing as contractors seek cost-effective solutions to improve sustainability and reduce their carbon footprint. He adds, "Renting equipment allows contractors to use the latest technologies and innovations without a large upfront investment, making it a more sustainable option for the industry. Growth in the equipment rental market is also being driven by government spending on infrastructure projects."
As the Indian economy is moving towards new heights, more people are entering small to medium-scale businesses. Among these businesses is the rental of construction equipment. The requirement of heavy capital for starting a rental business of construction equipment pushes the owners to look for used construction equipment. However, the sales of new machines will also see a boom thanks to the Government's efforts towards infrastructure development. Speaking about new construction machines, a fleet of diesel machines would require lower initial capital than electric construction machines. The availability of equipment running on alternate fuels will help rental businesses to diversify their fleet and reduce net carbon emissions.
"The construction equipment market is expanding annually and so is the used construction equipment market. At present, for every sale of a new construction machine, a used construction machine is sold depicting the size of the pre-owned market. The pre-owned market is expected to grow steadily in the future because used construction equipment provides far greater value when compared to new equipment. Hence, rental business owners of construction equipment are more likely to buy used diesel machines instead of new ones," said Sameer Malhotra, CEO, Shriram Automall.
Rajesh Nath, Managing Director, VDMA India, thinks that the sector is witnessing a growth boom because of the escalation in the demand for compact construction equipment due to increased demand in housing and the expansion of manufacturing plants! He adds, "As construction activity increases rapidly, the rental equipment market also witnesses a strong demand for the same. Upon looking at the trends during Covid-19, the challenging times have always given way to counter the growth in the equipment rental industry- transformation and reinvention for good. As per market reports (revised during the Covid-19 situation), the construction equipment rental market in India and in the ASEAN, region is expected to see major growth during the forecast period 2020-2025."
"The global construction equipment rental market is expected to register a CAGR of about 4.78 per cent during the forecast period. Although the higher interest rates tend to drive away the investors, and it might affect the overall construction projects- equipment, chips and resource shortages, supply chain difficulties, labour shortage, and so on – it is the consumer demands that have been and would be driving up the demand and hence the economy of the market. The Make in India campaign is expected to prove to be a catalyst for the previously slumped market and set it on a growing trajectory," added Nath.
Demand drivers
Technology is revolutionising every aspect of infrastructure. Worldwide, technology is improving the efficiency of project construction and delivery. Changes and advancements in construction technology around the world have led to demand for newer technologies in construction equipment. The Indian equipment rental industry should enhance its capacity accordingly, as new technologies, especially telematics and artificial intelligence, are going to transform the equipment industry, and maintaining a fleet of such technologically advanced equipment will become necessary. Artificial Intelligence will make tracking and monitoring of equipment quite easy and reduce the cost of operations.
"New technology means lesser breakdowns, faster work, and timely completion of projects. It will help in specialisation and pave the way for the construction equipment rental industry to diversify into unconventional sectors like municipal works, mining, concrete segments, etc. It will also create the need for skilled operators and machine crew to handle the new equipment. New and emerging technologies are facilitating the transition to low-carbon, climate-resilient assets; and creating the need for more sustainable business models," says Sachdeva.
In conclusion, the demand for infrastructure development has been a major driver of the growth of the equipment rental market. Companies in the construction and engineering industries are turning to equipment rental services for their cost-effectiveness, access to the latest equipment, reduced maintenance costs, and increased productivity, it is likely that the demand for equipment rental services will continue to grow in the coming years. In the past five to six years, rental penetration has grown multi-fold and is now close to over 40 per cent which was merely five to ten per cent six years back. The Construction Equipment Rental Association (CERA) played a vital role in increasing penetration with the right awareness and advocacy.