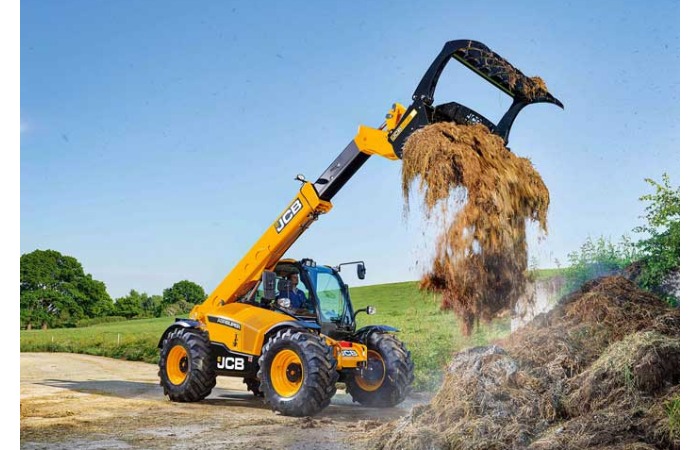 Telehandlers, also known as telescopic handlers or telehoists, are primarily used for lifting, moving, and placing heavy materials and equipment, as well as for accessing hard-to-reach areas. The market for telehandlers in India is growing steadily as various industries, such as construction, agriculture, and mining, are increasingly recognising the benefits of this versatile equipment.
According to a report by ResearchAndMarkets, the Indian telehandler market is expected to grow at a CAGR of around 7 per cent during the period of 2020-2025. The growth is attributed to the increasing demand from the construction sector, rising government investments in infrastructure projects, and the growing adoption of advanced construction equipment.
Market growth
The demand for telehandlers in India is being driven by various sectors such as construction, mining, agriculture, and logistics. Telehandlers are used in these sectors for tasks such as material handling, lifting and positioning heavy objects, and working at heights.
One of the major challenges facing the telehandler market in India is the high cost of these machines. Telehandlers are relatively expensive compared to other types of construction equipment such as backhoes and excavators, which can make them less accessible to small and medium-sized businesses.
To address the issue of high costs, some manufacturers in India have started offering telehandlers on a rental basis, which allows customers to use the machines without having to bear the full cost of ownership.
The government of India has launched several initiatives to support the growth of the construction industry, which is expected to have a positive impact on the telehandler market. For example, the Pradhan Mantri Awas Yojana (PMAY) scheme aims to provide affordable housing to all Indians by 2022, which has led to an increase in construction activity.
Another factor contributing to the growth of the telehandler market in India is the increasing adoption of mechanised construction techniques. As more construction companies shift towards mechanisation to improve efficiency and reduce labour costs, the demand for telehandlers and other construction equipment is likely to increase.
Speaking on the market for telehandlers in India, Deepak Shetty, Chief Executive Officer and Managing Director, JCB India, says, "As the Indian market matures, global best practices are making their way into the Indian material handling industry. There is an increased focus on productivity and safety on worksites, which presents us with the opportunity of introducing solutions with the latest and state-of-the-art technology in India. The demand for safe and reliable material handling products is fast growing across India's wide spectrum of applications."
He adds, "The unique Q-Fit feature in JCB telehandlers enables easy and quick changeover of attachments, thereby increasing the versatility of the machines. An unloading rake attachment enables easy unloading of aggregate material from trucks. Different sizes of standard and grab buckets enable usage in industries like paper, metal scrap rehandling and coal rehandling. The Man Platform attachment has made the JCB telehandler a 'must-have' for construction companies for any rail, road, and hydel tunnel and bridge construction projects. In times to come, with an increased thrust on palletisation, one of the major demand drivers will be discrete material handling and vertical stacking in huge warehouses and at transhipment points. Similarly, mechanisation of agriculture and agri products industries offers opportunities for telehandlers in areas like husk handling in biofuel plants, bagasse handling in sugar mills, compost handling in mushroom farms and silage handling for the timely supply of cattle feed."
JCB India currently offers four variants of the telehandler - the Made in India 530-70 and 530-110, and additionally, we have a 17m machine which is the 540-170 for high lift and reach applications, which is imported from the UK. We recently launched the 4 tonne telescopic handler 540-70. Some notable key features of these machines are as follows:
The 530–70, 540-70 and 530–110 come with the CEV Stage IV compliant JCB ecoMax 444 engine. A robust and narrow chassis along with a standard four-wheel drive for better traction make these machines well suited for material handling requirements. With the engine being on the side, the operator gets greater visibility which enhances safety. Lower NVH levels and an air-conditioned cab ensure operator comfort. JCB was the first to comply with the latest CEV stage IV emission standards.
JCB's made-in-India telehandlers come fitted with a 74hp turbo charged diesel engine. Unmatched stacking and dumping capability of up to 7 m, 11 m and 17 m on 530-70, 540-70, 530-110, 540-170 respectively. The company also launched the 4 t telescopic handler, the 540-70. With a maximum lift height of 7m, and a maximum lift capacity of up to 4 t, it has a Q-fit mechanism for a quick change of attachments that makes the machine multipurpose.
Recently at ConExpo-Con/Agg in March 2023, Bobcat launched its newest telehandler, the TL519. The TL519 features a 74-horsepower engine, a two-speed hydrostatic transmission, and a standard Power Bob-Tach mounting system for swapping attachments without leaving the cab. The Tier 4 Final, turbo-charged engine delivers high torque and achieves emissions compliance without the use of a diesel particulate filter (DPF) or selective catalytic reduction.
Said Hafeez Khan, Managing Director, Manitou South Asia, "The awareness of the telescopic concept and its versatility is still at its nascent stage in India and this is owing to the awareness. The bulk of the competition for telehandlers currently is from forklifts and cranes which have a steady growth. Telehandler is a conceptual product that can handle all kinds of material when used with the right attachment. For the same, the application needs to be studied in depth; the customer should understand the long-term benefit of the equipment. Amongst the various materials handling equipment available in India, telehandlers currently are yet to gain their required space."
He adds, "The present size of telehandlers is around 450-500 units. There is a huge scope for telehandlers in India. These machines are being deployed across various job sites to handle multiple jobs using a wide range of attachments viz. floating fork carriage, tilting fork carriage, general purpose bucket, crane jib, frame-mounted hook, extension jib, 4-in-1 bucket, construction bucket, platform basket, big bag handler, concrete skip, crane skip and many more."
"Telehandlers have developed from conventional landscaping and farming machinery too much more sophisticated construction equipment. Manitou is heavily investing in R&D to develop and incorporate changes in its product line. Areas such as alternative fuels and energy sources as well as automation of controls and operations are some of the key areas where we are working and meeting our customer's expectations. The growing shift of industries towards automation calls for the need to reduce the time taken for the maintenance of industrial equipment such as overhead cranes. The growth of telehandlers is likely to grow at a growth rate of 10 to 15 per cent and with more increase in awareness; the telehandlers will start replacing most of the conventional equipment."
Manitou Group has indigenised two of its Best Seller models of the Asia Pacific region in its manufacturing facility in Greater Noida, India. These models are with the same safety and operational specifications as other models of Manitou manufactured in Europe and are being extensively sold to both Domestic and International markets.
Manitou's endeavour with its indegenised models in India is primarily to offer its technology and the best value to the Indian customer whose application and project requirements are quite challenging. These models are equipped with strong safety systems, and hydraulic cut-offs, which allow effective and safe management of the loads and operation. Whatever the case may be, the inbuilt systems and safety allowances ensure that the machine with load is always within its safety parameters. The handling of the loads within restricted, cramped and narrow areas has been made very simple with the three different steering modes; crab mode, four-wheel steer, and two-wheel steer.
"When it comes to versatility, the advantages of a telehandler are enormous. Manitou has evolved their telehandlers in a big way which can work in any environment whether it is plain areas or rough terrains. These machines are majorly being used across India in various sectors viz infrastructure, construction, industrial, oil and gas, mining, logistics, etc. and applications are shifting and placing of any kind of loads at height and are also used as elevated working platforms for personnel. The list is endless owing to the large scope of applications opened up from their extensive range of attachments," adds Khan.
Souma Ray, Director, Haulotte India, "All Haulotte HTL ranges comply with EC standards and TUV directives and regulations for safety. They are operator-friendly with a single joystick control for all types of operations. Their most distinguishable feature is the quick and easy recalibration of the Load Moment Indicator, which can be done by simply raising and lowering the boom for a few minutes. Haulotte telehandlers are being used across the world in different sectors and are also popular in the SAARC countries."
"HTL 5210 offers the best load rating for the 10 m segment with a lift capacity of 5.2 tons up to a height of 10 m, representing a maximum forward reach at 3.5 tonne to 5.8 m, with the stabilizer. It is most suited for all types of applications in the heavy construction, mining, oil, ports, and recycling sectors. It enables optimal productivity, directly rivaling the 10-12 tonne range with an unbeatable price-to-performance ratio," he adds.
Haulotte has recently introduced the most compact and versatile telescopic handler HTL 3207, which provides maximum efficiency on tight job sites with excellent maneuverability and significant work autonomy with optimum safety and comfort. The telehandler is equipped with the hydrostatic transmission; and delivers optimal torque, power, speed, and driving comfort. The inching pedal enables smooth driving, and due to its proportional movements, maneuvering is intuitive, secure and precise.
Technology trends
JCB India has pioneered the integration of digital technology in its range of machines through advanced Telematics called 'LiveLink'. JCB machines work off-road and often remote locations and LiveLink helps in remote monitoring and fleet management on the key parameters of service, operations and security of equipment.
LiveLink now helps over 2,10,000 JCB machines communicate in real-time on machine location, operations, performance, downtime, service alerts and security. The technology enables better site management and equipment utilisation, thereby improving operational efficiency and cost-saving. Geo-fencing and time-fencing have enhanced the security of these machines.
Technology has been transforming the way machine-to-machine and machine-to-customer business is being done. All vital information about the machine is available to customers on their mobile devices through a web browser or also through the 'LiveLink' mobile application. Additionally, the system also sends out alert SMSs to registered mobile numbers.
LiveLink benefits customers with better fleet and fuel management by enabling remote monitoring and management of their machines. It incorporates GPS, telecommunications, machine electronics, and IoT, enabling the equipment to remain in contact with the owner, dealer, and JCB.
Adds Khan, "Over the past handful of years, trends within the telehandler industry have typically been surrounded with lifting capacity and lifting height. But now with the modern age, there is a turnaround in the technology trend in all material handling equipment. Today the top priority of any telehandler manufacturer is improving the operator's confidence, their safety and in turn increasing productivity. Manitou always thinks in two ways where the machine can help the operators to do more work as well as keep them safe and comfortable to work longer with less fatigue."
Some other features that add value to the product are a load stability mechanism, a backup camera with a screen in the cabin, proximity alarms, remote control mechanism, and telematics. The load stability mechanism helps to minimise human errors and hence avoid accidents. The backup camera allows the operator to have a multi-view facility, increasing his confidence to operate the machine at his job site. The remote-control facility allows the operator to operate the machine with a remote, controlling outside the cabin, while sitting in a man basket or standing on the ground.
"The use of alternative fuels and electrification of vehicles is still in very nascent stages, especially for the construction equipment segment in India. On a global level, there is an observation that the next big thing definitely is electric for mobility and productivity of construction equipment and that is precisely the reason, Manitou has already started the launch of the fully electric telehandlers and access equipment in Europe and in other parts of the world. The same shift is expected to be seen in the country for electric as an alternate fuel. However, this will have a huge impact and need for infrastructure. Apart from the needed change in mindset, there will need to be provisions for charging points, their cost implications, government policies, frameworks, etc. These will happen in course of time and electric will be a reliable alternate fuel," opined Khan.
Overall, the telehandler market in India is expected to continue growing in the coming years as the country continues to invest in infrastructure development and modernisation.
Shetty concludes, "Products such as telehandlers are best suited for these projects due to their versatility and safety. They deliver a combination of value, new digital technology and world-class quality. At a national level, an impetus for roads and highways, railways, irrigation and large projects like Sagarmala and Bharatmala would drive demand for construction equipment. Additionally, the focus on creating 100 new airports, smart cities and metro projects will certainly open newer opportunities ultimately resulting in improved demand for construction equipment. Additionally, PMGSY and rural roads will boost demand."