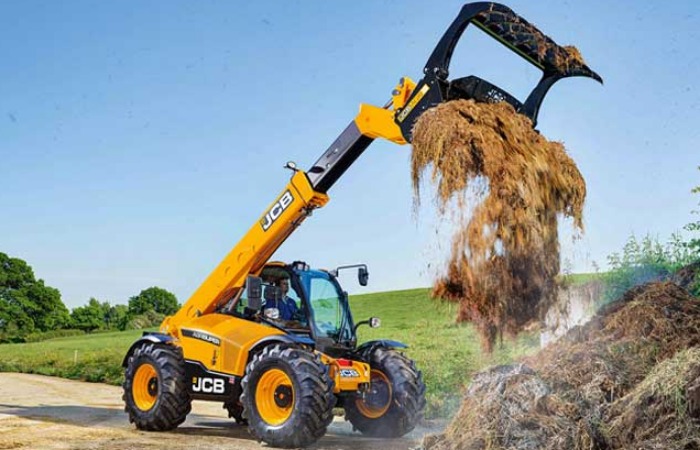 Telehandlers are versatile and multifarious equipment that can cater to various applications using the same machine. These machines are available with various attachments like forks (standard fitment), bucket, crane jib, winch, manlift platform, bale clamp, tyre handler, rib catcher, etc. Merely by changing the relevant attachment, the same machine can be used for different applications.
According to estimates, the size of the telehandler market in India is around 200 to 250 units. They are pre-dominantly used in various industries. In mining, telehandlers are used for handling tyres of large dump trucks, large cylinders, and cable reels. Given the low awareness, manufacturers of telehandler are taking steps to disseminate information on the various functionalities of the machine to potential users.
Telehandlers are best suited for these projects due to their versatility and safety. They deliver a combination of value, new digital technology and world-class quality.
The Indian market for telehandlers is still at a very nascent stage as awareness across sectors is limited. On the upside, demand has been increasing steadily, especially from the infrastructure, construction and mining segments. Today, India is the third biggest market for telehandlers in the Asia Pacific region after Australia and the Middle East. India accounts for 11.4 per cent of the APAC market as of June 2019. On a YoY basis, the market in India has grown by 36 per cent. The growth of the Indian market is specifically being propelled in the 3-tonne 7 m and 11 m range. Companies like us who offer machines manufactured in Europe, the volume of imported machines remains limited and is in the 4-tonne and above capacities.
Speaking on the current market for telehandlers in India, Deepak Shetty, CEO and MD, JCB India, said, "Given the versatility of these machines, their popularity has increased over the last few years. One of the major demand drivers is the growing popularity of vertical stacking and an increased thrust on palletisation. Additionally due to their safe design, they are used in tunnel applications." (Read full interview later in the issue)
JCB India currently offers three variants of the telehandler – the Made in India 530-70 and 530-110, and additionally, we have a 17 m machine, which is the 540-170 for high lift and reach applications, which is imported from the UK.
A plausible reason for the telehandler's slow acceptance in the Indian market could be its high cost as opposed to other mobile machines in the market with more rudimentary technologies.
JCB is promoting its telehandlers by offering numerous attachments as options for performing multiple jobs. These include forks for lifting and placing palletized loads like tiles or machinery at heights of 7-17 m depending upon the model. These forks can be removed, and the hooks attached to lift loads up to 3 tonne.
Haulotte India, a 100 per cent subsidiary of the Haulotte Group of France and a leading global manufacturer of Aerial Work Platforms, is regularly expanding its reach and range of telehandlers, adapting them to meet the specific needs of the end-users. All Haulotte HTL ranges comply with EC standards and TUV directives and regulations for safety. They are operator-friendly with a single joystick control for all types of operations.
Compact and versatile, Haulotte's new telescopic handler HTL 3207 provides maximum efficiency on tight job sites. It offers excellent manoeuvrability and significant work autonomy under optimal conditions of safety and comfort. HTL 3207 is equipped with hydrostatic transmission. It delivers optimal torque, power and speed for an unequal led driving comfort. The inching pedal is ideal for smooth and progressive driving to easily approach a structure.
Haulotte telehandlers are being used across the world in different sectors and are also popular in the SAARC countries.
Genie has redesigned its GTH-1056 telehandler with greater lift capacity at max height. The company gave the 10,000-pound capacity telehandler a stronger boom and chassis design. The telehandler now has a capacity of 5,000 pounds at its 56-foot 7-inch max height. That's a 1,000-pound boost over the previous model. It can lift 3,000 pounds at its max reach of 42 feet.
The boom's mid-pivot point uses a single lift cylinder, and the horsehead is wider and stiffer. The design "efficiently transfers loads in applications imposing high stress on the boom, such as pipe handling or suspended loads," says Genie Product Manager Josh Taylor.
Genie also offers a 74-horsepower Deutz engine option that does not require diesel exhaust fluid to meet Tier 4 Final emissions requirements. The continuously variable transmission option gives the 74-horsepower engine similar drawbar pull and drive speed as the 120-horsepower Deutz but at a lower price and with improved fuel efficiency, the company says.
The SkyTrak 3013 telehandler is designed to meet the needs of landscapers, do-it-yourself homeowners, small industrial work and agricultural applications. The machine weighs approximately 5,300 lb with a load capacity of 2,700 lb and a 13-ft lift height. Its light weight allows for transport on small tow-behind trailers.
Additionally, the new model features four-wheel drive, two-wheel rear steer, a hydrostatic drive system and two coupler options, all supported by a Kubota V-1505 diesel engine with 30.8 hp.