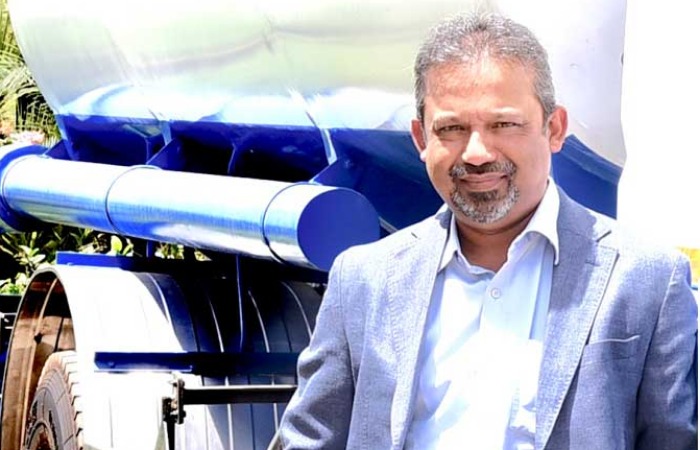 - Sandip Chakroborty, Managing Director, JCBL
Tell us more about the company.
We have a total of five manufacturing plants in India, of which four are located in North India and one in South India. Through our four plants located in northern India, we manufacture products majorly in the category of mobility applications, defence solutions, agri implements, measurement and control instruments, and railway and bus components. The southern plant manufactures tippers, petroleum tankers, fuel bowsers, trailers and tip trailers.
In north India, we majorly do bodybuilding of the bus and passive passenger side of the commercial vehicle. We also make special application vehicles like ambulances, armored vehicles, and bullet-proofing of defense vehicles. We are into manufacturing and shaping up a lot of vehicles for defense applications like the ones that carry radar systems, etc.
In south India, we have more than one lakh square feet of production area. We are expanding it by another 50,000 square feet. We have the capability to do 90 per cent of our processes in-house. We also have a state-of-the-art machine shop with all the machines that are CNC operated and a well-equipped weld shop, short blasting and painting workshops. Going forward, we are also working on how to introduce robotics into our welding system.
In north India, we majorly cater to the passenger side of the commercial vehicle applications, whereas in down South, we deal with the commercial side of application of vehicles.
Our manufacturing interests are mobility applications (JCBL), defence solutions (ADSL), railway and bus components (MSL), agricultural solutions (JCBL Agri Solutions), measurement and control instruments (MSL AURA MAC).
Our customers consist of OEMs, government undertakings like ISRO, DRDO, Ministry of Health, NACO, Ministry of Defense, Ministry of Transportation, STUs, prime fleet operators, and private business owners.
Can you take us through the company's progress over the years?
Our south plant came up in 2008 and we started as an OEM supplier to Volvo India commercials. We were specialising in mining tippers, and then over time, we became suppliers to Ashok Leyland for their tippers. We also started supplying other applications like trailers, tip trailers and petroleum tankers. Eventually, in 2017, we started working with Daimler India Commercials for tipper applications.
With around just 50-60 tipper bodies a month, we have come to manufacturing 450-500 tipper bodies. We probably have the largest business share as far as Daimler and Ashok Leyland businesses are concerned.
How much is that business percentage wise?
The size of the M&HCV segment that we cater for Daimler is around 35 to 40 per cent and for Ashok Leyland, it is around 25 to 30 per cent in our applications. There are other bodybuilding suppliers who are doing the smaller tipper bodies which we don't produce. For example, somebody else produces small vehicle applications like ecomet for Ashok Leyland. We majorly do tipper bodies in bigger sizes, anything over 10.5 and 16 cubic meters. We specialise in bigger size tippers and are the largest manufacturer for Ashok Leyland in terms of their 29 cubic meter tipper application.
How is the market for the tipper bodies in India?
Market has been very conducive for our business but the only hitch is that these products are very cyclical in nature. From 2019, the market plummeted because of the shift from BS4 to BS6 fuel but at the time, the entire industry suffered because of the ambiguity in terms of policies that were being applied. Not only the tipper but any segment, whether it was commercial vehicles or personal vehicles, including automobiles, was affected because of that policy. From 2019, the overall business had come down and immediately after that, COVID struck. The years—2019 and 2020—were challenging for our industry. Since 2021, there has been quite a lot of improvement, and the 2022 numbers are quite close to the 2018 numbers.
According to our estimates, the TIV for trucks in the first quarter of 2023 is around 76,000 units in M&HCV segment. Tippers alone contribute close to 20 per cent in these numbers, followed by haulage and tractors.
It is forecasted that the M&HCV segment will grow by 17 per cent in the financial year of 2023, led by tippers. The tipper contribution with the 2023 growth is going to be around 23 per cent. We are seeing a lot of growth possibilities going forward. The next two to three years are looking very positive, especially in the construction segment related applications and tipper bodies.
What are the latest key technology trends in the tipper segment?
The main trend right now is that the market is shifting towards bigger vehicles in the tipper segment. There is a shift from 6 by 4 to 8 by 4.
With a lot of government regulations coming up in that segment, customers are looking for lightweight tipper bodies so that they can carry more capacity. The customers are asking for the GVW to be minimised. So, we use a lot of special materials, which have more yield strength and more wear-and-tear resistance. We are substituting a material with normal steel to optimise the weight without sacrificing the necessary strength and quality of the product.
Also, we are working on some new body design shapes, what we call a new body- a U-shaped body for a segment of our customers. Improving our ability to manufacture and reduce the overall weight of the tipper to make it more cost effective for customers. We are working towards U-shaped new designs and working on shapes by using special materials.
Can you elaborate on the R&D at your company?
We have a strong in-house R&D team. All the designs that we are talking about are developed in-house. That is our core strength -- design based on the specific requirements and applications for customers, which could be anything from boulders to coal to aggregates to soil or whatever their application and terrain is. The body design can be customised based on the chassis requirements of the customer. Normally, the customers will have some preference in terms of the chassis, so they suggest a particular chassis based on their applications and we can accordingly design the vehicle for them.
What are the opportunities emerging in the tipper segment?
The market is growing, and the numbers are going to grow as well. As I said, the overall TIV for M&HCV is going to increase by more than 17 to 18 per cent by next year and out of that, the major contribution is forecasted to be tippers. So, our numbers are going to definitely increase. With our current product capacity of 500, we are expanding it to 700-750. We already have the commitments from the OEMs; we are already working on it to increase our numbers. By next calendar year, we should be in a position to produce more than 700 units.
What are the major challenges faced by your company, and how did you overcome those?
The biggest challenges that we faced were the continuity and retention of skilled labour. In our industry, most of the skilled workforce comprises of people from Bihar, Uttar Pradesh, Odisha, and Madhya Pradesh. During the COVID time, retaining them was a challenge. There was a lot of reverse migration happening at that time. At an organisational level, we provided them with necessary food, money, medical support, and anything else they needed. We had a monitoring team that was constantly in touch with them to ensure their wellbeing and security. As a result, we could retain a lot of manpower.
When the markets opened up, we could immediately kickstart rather than waiting for our manpower to come back. This was one way we managed to bounce back in terms of productions.
What about the impact of moving from BS4 to BS6 engines on the tipper industry?
The major impact it had was during the conversion by chassis manufacturers. As far as the tipper design is concerned, there wasn't much of a change from BS4 to BS6 except for subframe design or some other basic changes. But our sales are totally dependent on the chassis sales and the OEM sales. So, their transition from BS4 to BS6 was affected and that's how we were also affected by the change.
So, which are your stronger markets for tippers in India region-wise?
It is difficult to tell you what the numbers are region wise because the tippers are majorly going into road construction. The road infrastructure work is going on in almost every part of the country and there are certain contractors and players involved. To tell you about box tippers is difficult for me to categorise in terms of region. Secondly, we also don't follow that number because that is something that is taken care of by the OEM.
In terms of mining tippers, I would say that the eastern region of India is very strong. We call them the rock bodies. They are majorly sold in the eastern part, which is the coal belt, and some parts of Andhra Pradesh.
Apart from Daimler and Ashok Leyland, which are your other top customers?
We have started working with Tata Motors as well. We are currently on many special projects with Tata Motors on their new vertical that is called Tata Advanced Systems. They majorly cater to the defence requirement as well as exports. We are currently working on an export project with them, for which we are manufacturing specialised fuel bowsers.
What about the quality parameters followed by JCBL?
Our company is IATF16949 certified. We follow stringent quality systems and norms. We have ISO 9001:2015 and IATF 16949:2016 and certifications like ISO/IEC 27001:2013, PESO and CMMI Level 3 to name a few and we follow these in all aspects of our production. We are working closely with major OEMs like Daimler and they have very stringent quality norms of their own. Our quality systems have to be very high and strong in order to be able to supply to Daimler and other such companies.
How do you envisage your company's future in the next five years?
Apart from the tippers or trailers, the other focus area for us is going to be the defence projects. We are already developing special category trailers for defence for tank transportation, etc. That is one focus area where we see a lot of potential. With India focusing on Atmanirbhar Bharat, a lot of defence projects are coming up. A lot of RFQs are there that are in sync with our kind of setup and production.
Defence is going to be one focus area; the other focus area is going to be railways. We are planning to supply products for railways as there are a lot of new trends and upgradations coming up. They are much better in terms of quality than what they do to produce earlier.
What kind of products are these?
For railways, it is going to be fabricated components such as the undercarriage or the roof panel of the train or the end walls. Those are the kind of products that are going to be provided by our kind of setup, mainly with mild steel or stainless-steel fabrication.
We have started development of these in our North plant. We are trying to bring in the major production to South as well because in South we have one Indian coach factory (ICF) based out of Chennai. There's a lot of potential going into fabrication for the railways.