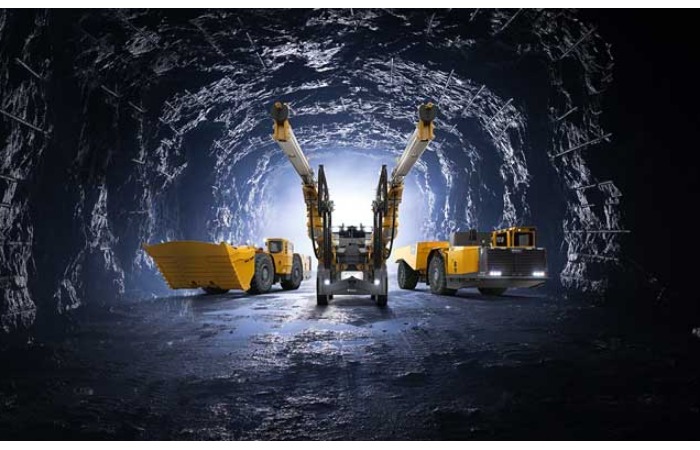 Underground mining is traditionally a major segment where a lot of tunnelling jobs are happening. The basic tunnelling activity in underground metal mining involves development of ramp, development of levels and sub-levels, stock phases, crosscuts and other structures. In underground mining operation, tunnels are built to gain access to ore body; movement of equipment and manpower for production activities; and carry ventilation, electric cables and other necessary infrastructure underground. The tunnels vary in length, size, quantity, dip and are either permanent or temporary in nature based upon their application and geo-mining conditions.
Equipment used for underground tunnelling activities in mining and civil construction include boomers, drill jumbos, load haul dump, low profile dump truck, roof bolters and cable bolters. Says Anirban Sen, Underground Business Manager, Asia Pacific & India – Underground Division, Epiroc Mining India, "Epiroc has been a proven underground mining supplier. For more than 140 years, Epiroc has been a leading supplier of mining and rock excavation equipment. Today, in addition to offering a comprehensive range of products, we also help clients optimise underground mining projects. We can help with operator training, equipment optimisation, service plans, financing and more. Our portfolio includes machines for underground drilling, loaders and trucks, ventilation systems, rock reinforcements, raise boring and mechanical rock excavation equipment, tools for such excavations and other excavator attachments."
Komatsu offers a range of drill jumbos – single and double boom, bolters, LHD – 4 tonne to 22 tonne and LPDT for underground hard rock mining. In underground soft rock coal mines, bolter miners or road headers are commonly used for high-speed drivage, depending on required speed and length of trunk roadways and longwall gate roadways.
"For underground coal mining, continuous miner technology has proved to be flexible, productive and more suitable for Indian conditions. Longwall mining can give high production, but this has proved challenging in Indian conditions due to geological and other operative reasons. Typically for CM technology – continuous miner, shuttle cars/battery haulers, roof bolters and feeder breaker are used. Joy (Komatsu Mining Corp Group) is the global leader in supplying these equipment and also lifecycle management of these equipment," said Shib Bhowmik, Managing Director, Komatsu Mining Corp.
SANY mining machines are equipped with the latest technologies, which meet all the customer requirements. The company's hi-tech modern engine has fast digging speed with low energy loss. And its maximum operator comfort makes the SY500C-10HD efficient, economical and the perfect match for mining activities. The company has also developed EVI App to monitor the real time performance of the machine and fleet management by the customer. Along with this, we have also developed an internal service app which helps us to increase the uptime of machine when and where required.
Caterpillar Underground Mining delivers equipment, technologies and collaborative support to help underground mining operations work productively and safely while minimising costs. With a worldwide team dedicated to underground mining, Caterpillar works with mining companies and Cat® dealers to adapt equipment and services to help meet the challenges at each mine.
For underground hard rock mining, Caterpillar designs, manufactures and supports a range of underground loaders and trucks. The core design and engineering team is dedicated solely to hard rock mining vehicles, and the machines are manufactured in a state-of-the-art factory constructed, especially for building these trucks and loaders.
New innovations in underground mining
Arun Misra, CEO, Hindustan Zinc, says, "Hindustan Zinc has always been at the forefront of adopting innovative solutions and smart technologies for responsible mining. We recently adopted battery electric vehicles (BEVs) in underground mining. This is a first-of-its-kind initiative that has been taken up in India in the mining sector and we are proud to be the leaders in bringing sustainable solutions across operations. This technology will help us to drastically reduce carbon emissions, enabling the mine operations to become more environmentally friendly."
"6th Sense is our answer to our customers need for digitalisation to make their operations safer and more productive. Under this umbrella we have gathered a suite of solutions and a holistic step-by-step approach to make change happen. Implementing new technology can be challenging. That is why our 6th Sense approach is based on close OEM – customer collaboration and continuously addresses people and process changes. The steps to success are called insight, control and optimise. This model has proven many benefits for our customers and for ourselves such as speed and quality on deployment," said Sen of Epiroc.
Misra said, "Digital twins (digitised geological, engineering, and asset data) is another emerging technology that enables the creation of digital models of the physical environment, constructed using geological, engineering, and asset information. This can be continuously updated with data from sensors and location-aware mobile devices enabling robust real-time data-driven decision making. Additionally, for data collection, inspection, stock control, condition, and safety monitoring, new improved un-manned drones are also being used. LHD, LPDTs, jumbo, exploration drills, and production drills are some of the major HEMMs deployed in underground mining applications."
With new innovative technology, Mobilaris Mining & Civil Engineering and Epiroc take digitalisation of mining operations to the next level. So far, the result has been double-digit productivity increases, higher efficiency, and increased safety for the mining industry. The latest product in the Mobilaris Mining Intellince™ portfolio is Mobilaris Onboard, a unique product that runs on a standard tablet mounted in a vehicle. Just like with a GPS car navigator, Mobilaris Onboard makes it easy for anyone underground to navigate to a location or to a moving asset without any specific knowledge about the mine, without any dedicated infrastructure for positioning needed.
"We are confident that Mobilaris Onboard will cause a paradigm shift in the underground mining industry. It makes every miner aware of the whole real-time situation in the mine and enables a set of unique tools that will increase productivity by less traffic congestions and a safer work environment," says Hans Wahlquist, VP Business Development and Strategic Product Management at Mobilaris Mining & Civil Engineering.
Hindustan Zinc (HZL) has partnered up with Mobilaris Mining & Civil Engineering and Epiroc to digitalise the Rampura Agucha mine, their flagship of mining operations.
Trident has developed a complete range of TRAXTER branded solid tyres specially designed for underground mining. Generally, not much attention is paid to tyres although the entire weight of the vehicle including payload is carried by the tyres and tyres are the only link between the machine and the terrain. It is therefore critical to ensure that they are safe, reliable and performance-worthy anytime and every time. This is of even greater importance for tyres fitted on underground mining equipment such shuttle cars, battery haulers, load haul dumpers (LHDs), roof bolters, jumbo drills, etc. Furthermore, tyre-related costs are usually among the top five operating costs for most industrial equipment.
Challenges
In underground tunnelling jobs, the major operational challenges are related to safety, productivity and operations costs.
Said Bhowmick, "Underground mining involves different and increased geological risks, mining risks, working in constrained area, challenges in ventilation, adequate light, transportation of men and materials, etc."
Major tunnelling method used by L&T is the drill and blast method. "The goal of modern tunnelling technologies is to convert the unpredictable to predictable," said Prabhukumar LT, Assistant General Manager of L&T ECC.
On the challenges faced in tunnelling, he said "Many projects are coming up near the Himalayan Mountains. The Himalayan range are young mountains with highly varying geology, coupled with diversified problems such as difficult terrain conditions, thrust zones, shear zones, folded rock sequence, in-situ stresses, rock cover, ingress of water, geothermal gradient, etc., which makes them highly unpredictable. Major challenges faced by us are the geology and predicting things ahead. Due to unpredictable geology, safety is compromised during project work, which leads to extended project completion and cost overrun."
Market outlook
In the emerging market scenario, there is an increased use of these equipment at Indian projects and with the new policy revival in mining and construction segments, this trend is going to gather momentum in future. According to Sen, projects like the Zojila tunnel, Char Dham railway line project and some hydro power projects planned will drive demand for tunnelling equipment in future.
With many civil construction projects coming up in hilly terrains, demand is going to prevail in the coming years as well. However, the importance lies in keeping the projects really going without major delays and other bottlenecks.