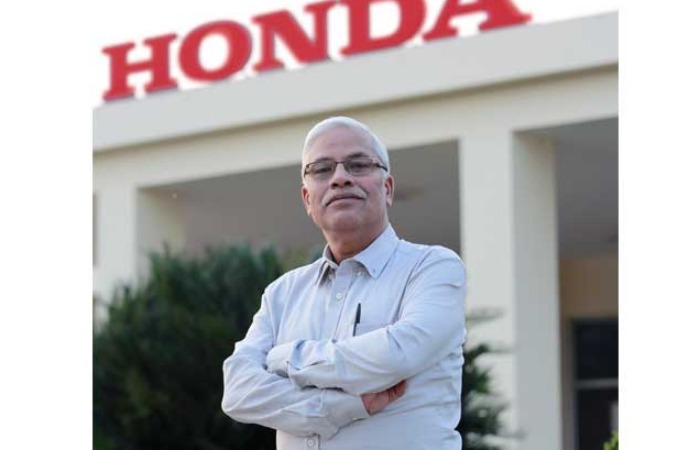 For more than three decades, Honda India Power Products (HIPP) has been a leader in the power products industry, engaged in the manufacturing and marketing of portable generators, water pumps, tillers and general purpose engines in India and abroad. HIPP's Sr. Vice President for Sales & Marketing, Vijay Upreti speaks on the key offerings of the company for the Indian market, especially for the construction industry.
Please share the success story of HIPP with our readers.
HIPP—India's No. 1 power products company—is a subsidiary of Honda Motor Co., Japan. For the last 35 years, HIPP has been the preferred choice of customers worldwide and has powered the dreams of over five million happy users by "Empowering People, To Do Better!". Since its inception, HIPP has been the leader in the power products industry, manufacturing and marketing a diverse portfolio of power products at its state-of-the-art manufacturing facility at Greater Noida.
HIPP has consciously made efforts to facilitate mechanisation in construction and agriculture domains by introducing Honda's legendary four-stroke technology-based products like overhead valves (OHV), engine-powered concrete mixers, vibrators, cutters, surface levellers, soil compactors, stone breakers, and portable water pumps, power tillers, brush cutters for optimal work efficiency.
The trust reposed in us by our valued customers inspires us to deliver products and services of the highest quality that are compact, fuel efficient and environment friendly.
What are the key offerings for the Indian market, especially for the construction industry?
We have a diverse product portfolio for the construction equipment segment. This includes:
Advanced four-stroke GX engines (1 ~ 22 hp) powering a range of construction equipment like concrete mixers, needle and plate vibrators, concrete cutters, surface levellers, soil compactors and stone breakers, to name a few.

Portable generators (0.75 ~ 5.5 kVA) find usage at construction sites providing portable power for various electric power tools used in construction work besides lighting requirement in remote location or for emergency power back-up.

Portable water pumps (1.5-inch ~ 3-inch diameter outlet) are often used at various construction sites for various usages ranging from curing of freshly laid concrete structures to de-watering of basements and submerged areas.

lPower tiller (2 and 5 hp) and brush cutters (1 ~ 2 hp) are finding increasing acceptance for site clearance and de-weeding applications at construction sites.

Honda lawn mower offers an ideal solution for landscape maintenance in and around construction sites.
Honda four-stroke engines offer clean, durable and portable power ideally suited for construction activities in various terrains, and are accepted globally for the efficiency and convenience they offer for heavy-duty and continuous work requirements of the construction industry.
How your products are different from other manufacturers, what are your USPs?
Honda has been a market leader in successfully introducing its four-stroke technology-powered GX engines for construction equipment across the world. The USP's of Honda GX Engines are its portability, lightweight construction, durability, and unmatched fuel efficiency so important for continuous and heavy-duty work requirements at any construction site.
Honda GX engine-powered construction equipment like concrete mixers, concrete cutters, vibrators, soil compactors, surface levellers, etc. bring about a remarkable improvement in productivity as compared to the prevailing conventional machinery.
How HIPP is expanding the sales and service network in the Indian market?
HIPP has carefully nurtured its sales and service network in the Indian market over last 35 years of its successful business operations in the country. Today, with over 600 sales and service outlets in the country monitored by 16 area sales offices, HIPP is very well positioned to offer its products and services to its valued customers across the country. HIPP has also actively created a network of over 120 Honda authorised service points and about 2,000 rural mechanics with an objective of providing after sales support even in rural areas of the country.
After sales service is an important aspect for every market, how HIPP is tackling this aspect of market?
HIPP is highly committed to provide outstanding service at an affordable price to its valued customers across markets that it operates in. Today HIPP has the best-in-class retail network in the country, which has been carefully nurtured over last 35 years. Regular training workshops with upgradation of workshop infrastructure to keep up with the evolving technology, mobile service van's offering doorstep service convenience and free service camps have helped HIPP to offer unmatched service support to our valued customers.
India is a cost sensitive market, how HIPP is facing this aspect of market?
HIPP has always strived to offer technologically-advanced products at an affordable price for its customers and has been able to demonstrate this through the last 35 years of its successful growth in the Indian market. HIPP Products are competitively priced and offer value for money in terms of long trouble-free service life and work efficiency.
Please enlighten us about your recent innovations and research & development (R&D).
HIPP as industry leader has always been at the forefront in introducing latest technology in the Indian market and is ably supported by HRID (Honda Research & Industrial development) in identifying customer requirements and potential applications by regular market research to catch emerging trends and change in customer needs with rapidly changing business and work requirements. HIPP has led the shift towards petrol run advance four-stroke GX engines for construction equipment, thereby offering unmatched portability, durability and fuel efficiency in daily operations. Our advanced OHV technology based GX engine series powered construction equipment like needle vibrators, concrete cutters and mixers are a result of dedicated R&D efforts over the years and we strive to add to this growing portfolio in the years to come.
What are views on the Budget 2021? What are your future expansion plans for Indian market?
Budget for 2021 gives a lot of fillip to agriculture and construction industries and will help to boost primary demand in the market. We are already witnessing a growth in the economy primarily driven by the agrarian economy. HIPP is has been part of the Indian growth story for last 35 years and is very optimistic about the future as well. We have planned to introduce new models to strengthen are current product portfolio and also diversify into other business categories in the near future in line with our company vision to "Empower People, To Do Better.!"