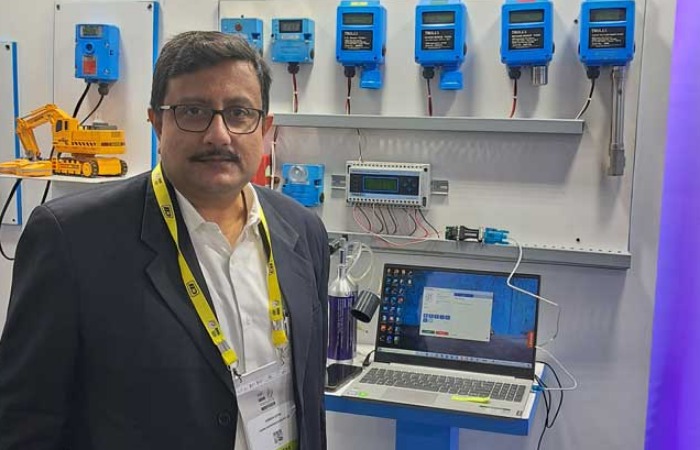 Give us a brief introduction to the company and how did it evolve over the years. Which are the major products of the company for the mining industry?
The Vishwa Group began modestly in the early 1960s as a small manufacturing unit, and over the course of the previous 60 years, it has steadily increased its operations to keep up with the industrialization of the nation.
Through Vishwa Industrial, we have offered Coal India and all its subsidiaries, Singereni Collieries, Indian Railway, Tata Steel, HPCL and other businesses a large number of projects. Conveyors, Pulleys and idlers in a range of sizes have been delivered by us. Through Vishwa Industrial, we are involved in the mechanical industry.
Then there is Vishwa Microprocessors, the major manufacturer and supplier of the environmental monitoring system that has DGMS approval. which is used in underground mines. This technology detects toxic and inflammable gases underground. The Environmental Monitoring System is an intrinsically safe online telemetry system for continuously monitoring underground coal mine environmental parameters like CO, CH4, oxygen, air velocity and temperature. We are the only main manufacturer of this product in India and caters more than 80 per cent of market share.
At IMME, we are also promoting the dust and silica monitoring system through our UK-based OEM. The Dust Monitor utilises a next-generation optical Particle Counter (OPC) to deliver dramatically improved accuracy and repeatability of measurement over a diverse range of Particulate Matter (PM) sizes. With its advanced design, patented algorithm, dynamic flow, and multiple scatter angles, it delivers more valuable information than any other unit of its kind and now comes with a full on-device configuration to give maximum flexibility and accuracy of results.
We also provide a rock monitoring system, which aids the mines in securely holding the roof in place. We have partnered with Australian and British business associates for this. The Rock Monitoring System continuously collects data to enable the optimisation of roof support planning while also monitoring the integrity of rock structures in underground mining and tunnelling and maintaining the highest levels of worker safety. The people at the surface may watch the movement of the strata underground in real-time from their PC and are not need to physically go underneath in order to inspect the strata because the underground data is relayed to the surface. As a result, the system is very safe and effective.
We are also the exclusive authorised partner of real-time instruments, a Queensland-based company. We are supplying On line Analysers to the power and mining sector. These real-time analysers, moisture and all other elements of coal and provide GCV.
Vishwa Group is the hub of mechanical, electrical, Instrumentations and automation. We have tie ups with a German business for which the company has many installations in Indian washeries.
The German company has also supplied vibrating grinders to Nalco in India. These products are the forte of the group.
What are the major challenges faced by the company and how did you overcome those challenges?
Price becomes an issue if there is a perfectly competitive market. India is a price-sensitive market, as you are already aware. Selling products in the Australian or European markets is simpler than in India. We must work extremely hard to lower the pricing in the Indian market keeping the quality intact. As we value quality, we might have to let go of a lot of customers.
Performance-wise, how was the year 2022 for the company? What are your plans for 2023?
We've had a good 2022. This year, several sectors, particularly the core industries, began to emerge again after COVID. We are expanding as well, and the industry has started doing well.
We also have another business, Trolex India, which is unrelated to the mining industry but has generated more than Rs 100 crore annual revenue for the past few years. For many products, including sensors, resistors, driver display units, control consoles, switchboard cabinets, smart panels, electronic cubicles, power panels, cable harnessing, battery chargers, on-board conditioning monitoring systems, and surveillance systems, among others, Trolex is one of the top suppliers to Indian Railways. The products are utilised in passenger coaches and 3-phase electric locomotives.
We are looking for new products and new markets. We are hopeful to maintain a steady growth of around 15 to 20 per cent.