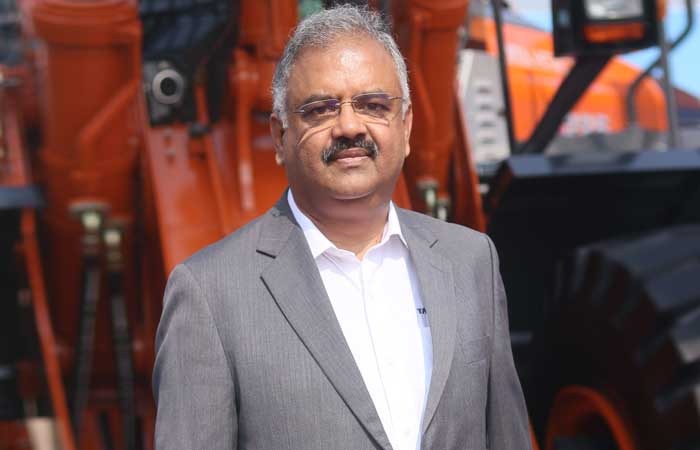 bauma CONEXPO is returning after a gap of almost four years. What has been the past experience at the event?
Indeed, the most popular tradeshow especially in North India is returning after the hiatus caused by the pandemic. We are all geared up and look forward to participating in it. In the past, bauma CONEXPO has given us and the construction equipment industry a good opportunity to meet, discuss, and exchange ideas with all the industry stakeholders and policymakers. Also, physical events like this give us the ability to give customers, policymakers, and other attendees a first-hand touch and feel of our machines, which is important in an industry like ours. It has also been an excellent platform to launch new products apart from demonstrating our technologically advanced and future-ready solutions.
What are the key products on display during bauma CONEXPO?
This year, bauma CONEXPO is happening with the theme 'The future of nation building' and we are very keen to showcase our readiness in building the India of tomorrow. We will be displaying our versatile, CEV IV-compliant backhoe loader model Shinrai Prime, our newly-launched, indigenously-developed, NextGen 3-tonne mini excavator model NX30 along with some of our mid-range construction excavators. Also, on display will be parts, attachments, and solutions offered by us.
How do you look at the market in India for your products?
The construction equipment industry rapidly recovered through FY2021-22 despite the Covid-19 second wave-induced lockdowns in Q1 of the year. However, the backhoe loader segment witnessed significant de-growth due to the impact of emission norm change last year.
This year the government has embarked on a massive Capex programme with a growth of 35 per cent. The Road and Highway Ministry is targeting the construction of nearly 18,000 km of highways. Allocation to Jal Jeevan mission for Har Ghar Jal has been increased to Rs 60,000 crore. Similarly, there is increased spending on railways, ports, and airports. The focus on rural infrastructure continues with increased allocation to PMGSY. Rural housing – PMAY – is another focus area.
Further, the proportion of greenfield multilane highways is increasing and the PM Gatishakti master plan for the expressway is being formulated. The huge backlog in construction has led to extending the target to complete Bharatmala by FY27, which will enable execution in the coming months and years. An announcement of the start of the Ken-Betwa River linking project has also been made.
Railways will need an investment of nearly $740 billion by 2030, where more than half of the investment is to be used in the construction or upgradation of lines.
Among the opportunities, National Infrastructure Pipeline, roads, and water supply have the highest intensity of use of construction equipment among major demand drivers. All this should enable good growth in construction equipment used in these applications.
What are the various challenges faced in the sector you are in?
Currently, one of the biggest issues is an unabated increase in input costs driven by commodities like steel, aluminium, plastic, fuel, etc. Further domestic transportation costs have increased by ~20 per cent just in the last year. International container shipping costs and air freight have more than doubled over the last year although they have moderated of late.
The other challenges that the industry is facing from a demand perspective are:

Substantial increase in the cost of steel, cement, fuel, logistics, etc.
Erratic execution of highway construction. Last year saw a drop from 37 km/day to 29 km/day.
Land acquisition and clearances from local authorities, state governments, environment, and forest departments.
Covid-19 impacted state government revenues forcing them to borrow more.
Payment delays from state governments.
Regulatory changes - bringing NBFCs NPA classification norms like that of banks- has led to tightening of funding norms and access to finance by customers from NBFCs.
Attracting skilled manpower to the industry.
To handle the ever-evolving customer expectations, we, at Tata Hitachi lay emphasis on product life cycle support as a key differentiator. Our products and attachment solutions, backed by the exhaustive support network are unmatched and bear testimony to our market leadership, despite growing competitive challenges.
How was the year 2022 in terms of performance? What is your company's plan for 2023?
This year, the first half has seen a robust growth of nearly 20 per cent YoY, mainly due to the base effect of Covid and we expect the industry to recover and post double-digit growth for the full year, given the Capex focus of the central and state governments.
Next year is the penultimate year before elections in H12024 and therefore we expect the government to continue its focus on growing the economy through Capex and focus on execution. However, this will be balanced with fiscal responsibility and limited borrowing. Also, advanced economies are expected to enter a recession in an era of increasing interest rates. This is going to hamper the high growth rates, unlike the pattern observed in the past with the years preceding the election year.
Further, the national highway construction, a major driver for construction equipment, is facing headwinds in accelerating execution and is projected at best to touch 31 km/day this fiscal as against a reduced target of 33 km/day. Even highway construction awards which are a lead indicator of works in the future are also trending almost flat on a YoY basis.
Keeping this in mind, we expect moderate growth in the coming year for the construction equipment industry.
Tata Hitachi is a pioneer in introducing the latest technologically-advanced equipment in the Indian market. We will continue to introduce next-generation machines for our customer basis the emerging requirements and developments to offer the most cost-effective high performance and reliable products and solutions