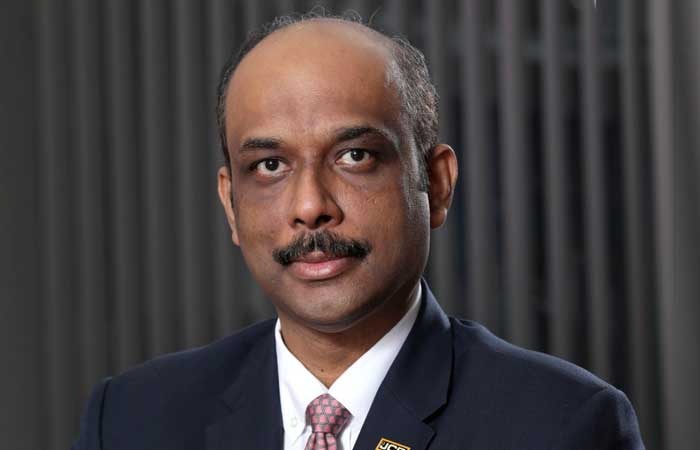 - Deepak Shetty, CEO and MD, JCB India
What is the current market for telehandlers in India?
As the Indian market matures, global best practices are making their way into the Indian material handling industry. There is an increased focus on safety and productivity on work sites which presents us with the opportunity of introducing products with the latest and state-of-the-art technology in India. The demand for safe and reliable material handling products is fast growing across a wide spectrum of applications in India.
Telehandlers are gaining popularity and are today being used in industries like agro logistics, RMC plants and ceramics where these are used in hopper loading. They are also used in construction and infrastructure. Given the versatility of these machines, their popularity has increased over the last few years. One of the major demand drivers is the growing popularity of vertical stacking and an increased thrust on palletisation. Additionally due to their safe design, they are used in tunnel applications.
What are the various product offerings from your company in this segment? What are its USPs?
JCB has been manufacturing telehandlers globally since 1977. It is today, the world's leading manufacturer of these machines. In India, JCB offers a range from 7 m to 20 m lift height. With a wide range of attachments customised for specific applications in various industries, they come with an all-new global side engine design to enhance all-around higher visibility, reliability, safety and comfort while delivering high productivity at the worksite.
JCB India currently offers three variants of the telehandler – the Made in India 530-70 and 530-110, and additionally, we have a 17 m machine, which is the 540-170 for high lift and reach applications, which is imported from the UK.
Some notable key features of these machines are as follows:

Unmatched stacking and dumping capability of up to 7 m, 11 m, and 17 m on 530-70, 530-110, and 540-170 respectively.
Forward reach of 3.83 m, 7.52 m, and 12.75 m on 530-70, 530-110, and 540-170 respectively
Four-wheeled drive for unmatched operations over uneven terrain.
A few of the key benefits offered by JCB telehandler are as follows:
Global side engine design: JCB telehandler comes with global side engine design with Hi-Viz low boom mounting ensuring high visibility all around, thus enhancing site safety. Engine installation makes it easy for ground-level service and safe access. Its robust chassis offers high structural life and Single Lifting Ram provides uniform lifting force on the boom.
Safety and comfort: The machine provides customers unmatched safety and comfort. The Cabin of the machine has an air-conditioner available as a standard feature for operator comfort and helps in increasing productivity. The cabin is also fitted with rolling over protection system and falling over protection system that enhances the operator safety. It has an integral lateral load moment indicator to warn the operator in case the load exceeds the limits and has a stabiliser cut-off for safe working operation. Smooth and Ergonomically installed control levers provide low effort and are responsive for total control and precise load placement at required reach or height.
Superior design: The machine comes with a legendary 'U' shaped boom and a single closing plate welds to reduce joints and stress points. It has boom overlapping for the structural rigidity of the boom. Hydraulic extension rams with no chains are suited for heavy-duty bucket arduous bucket applications. These world-class aggregates help JCB telehandlers deliver inherent reliability of the equipment.
These machines come with a variety of attachments which makes them versatile. The widely used attachments are a shovel, heavy duty forks, grabs, unloading rake, crane hook - fork mounted, jib crane, grain bucket, cotton bucket, power grab, man platform and drum handlers, etc.
Every machine incorporates the traditional JCB strengths of ruggedness, reliability, structural integrity, performance, visibility and safety. With the use of JCB's purpose-designed attachment range further enhancing the tasks possible, the world-class range of Made in India JCB Telehandler offer exceptional versatility, productivity and reliability for all material handling applications.
Along with quality and durability, another key factor in maximising machine uptime is easy serviceability. With a side engine design, all checks are quick, simple and safe to carry out from ground level and most service intervals, including boom lubrication.
The lifting capacity (3,000-6,000 kg), long reach and impressive lift height (7 m to 20 m) in JCB telehandler are complemented by a wide range of attachments (over 40), which makes these machines the first choice of machines in the construction and infrastructure domain.
What has been the impact of Covid-19 on your business?
As we all know, Covid has had an unprecedented impact on lives and livelihoods. Due to an increase in the infection rate around us, the health and safety of our colleagues and their families being important, we decided to pause manufacturing operations for 10 days, starting 1st of May 2021. This was a precautionary measure and applied to all our manufacturing locations at Ballabgarh, Pune and Jaipur. We had built sufficient inventory levels to support the demand for our products during this period.
Despite this, all our customer and dealer facing functions have been operating under COVID protocols. We have ensured that there will be no disruption in product support for equipment being used by our customers to the extent possible.
JCB has a wide dealership network with over 700 outlets across India. We have invested significantly in digital technology across our operations. Today, our customers can get door delivery for their Parts requirement if they place an order online or through our mobile application.
We are hopeful of recovery of the business once the effect of the pandemic tapers down. The infrastructure development requirements of the country are immense. We saw a similar situation last year as well when the business sentiment improved significantly toward the end of the year. We remain committed to the India Growth Story, however, at the moment all our efforts are towards the safety and wellbeing of our stakeholders.
What are the major changes taking place in terms of technology?
JCB India has pioneered the integration of digital technology in its range of machines through advanced telematics called 'LiveLink'. JCB machines work in off-road and often remote locations and LiveLink helps in remote monitoring and fleet management on the key parameters of Service, Operations and Security of equipment.
LiveLink now helps over 1,80,000 JCB machines communicate in real-time on machine location, operations, performance, downtime, service alerts and security. The technology enables better site management and equipment utilisation, thereby improving operational efficiency and cost-saving. Geo-fencing and Time-fencing have enhanced the security of these machines.
Technology has been transforming the way Machine-to-Machine and Machine-to- Customer business is being done. All vital information about the machine is available to customers on their mobile devices through a web browser or also through the 'LiveLink' mobile application. Additionally, the system also sends out alert SMSs to registered mobile numbers.
LiveLink benefits customers in better fleet and fuel management by enabling remote monitoring and management of their machines. It incorporates GPS, telecommunications, machine electronics and IoT, enabling the equipment to remain in contact with the owner, dealer and JCB.
Accurate monitoring of machine hours and service alerts improve maintenance. Technical alerts and maintenance history data helps customers manage the machine health to keep your machines running or maximum uptime and return on investment. Early warnings with detailed machine history enable users to plan work effectively.
This cutting-edge technology can help lower servicing and running costs by ensuring machines are operated to their optimum performance, reducing fuel consumption and unnecessary machine wear. By monitoring idle-time and real-time fuel consumption, LiveLink helps manage the whole life cost of ownership, driving down costs, driving up productivity. It also helps keep machines safe and improves control over machine misuse. Alerts can be set up for when a machine is moved out of or into a predetermined zone, these geofences are customisable to the space required.
How do you look at the future market for telehandlers in India?
Infrastructure development and the economy are interlinked and directly impact one another. We feel that the opportunities for our industry will significantly open as the pandemic subsides and lives start to return to normal.
Two key sectors are set to emerge in the coming years – the first being Infrastructure development in rural India and the other will be the creation of world-class healthcare infrastructure across the country. Schools, colleges, industries will need to be created and segments like municipal waste, village roads, rural infra are set to grow.
A significant capital allocation, of up to Rs 5.54 lakh crore, in roads and highways, railways, ports, airports, waterways, rural and urban infrastructure, and most importantly, healthcare infrastructure has been announced. These projects not only demand the best quality output but will also require work to be done on tight timelines thus, creating a need for specialised, intelligent and technologically advanced construction equipment.
From a healthcare infrastructure perspective, we need to revolutionise the sector with world-class on ground healthcare facilities built across the country. Hospitals, Institutes, research facilities etc. will need to be scaled up, all of which would again require the use of smart construction equipment.
Products such as telehandlers are best suited for these projects due to their versatility and Safety. They deliver a combination of value, new digital technology and world-class quality.
At a national level, an impetus to roads and highways, railways, irrigation and large projects like Sagarmala and Bharatmala would drive demand for construction equipment. Additionally, the focus on creating 100 new airports, smart cities and metro projects will certainly open up newer opportunities ultimately resulting in the improved demand for construction equipment. Additionally, PMGSY and rural roads will boost demand.