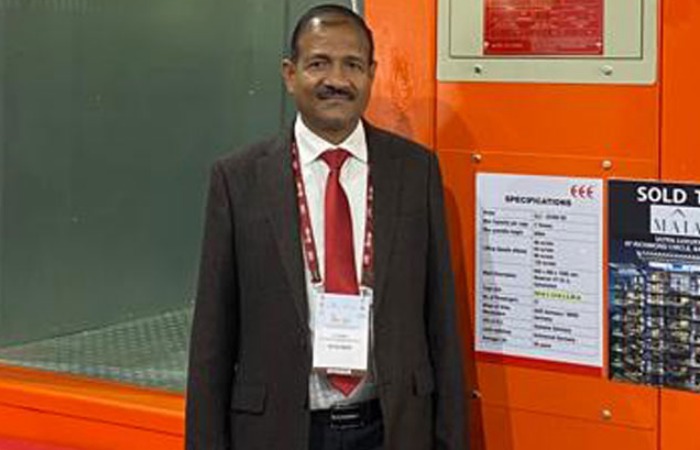 Everest Engineering Equipment Pvt Ltd. (EEE) was founded with the sole aim of providing high-quality machinery that can boost the country's growth in the construction sector. "During Excon, we have launched two new products – the passenger hoist and the CNC highspeed Rebar processing machine," said PV Ramdev, Managing Director of Everest Engineering Equipment.
Products at Excon
The passenger hoist comes with a 3.6 m extra-long cage, wherein customers carry 10ft to 12ft length of marbles, granites, plywood, etc. This hoist can carry 27 people also with a speed of 46 m per minute, which is the lowest speed. With this, about Rs four to five lakh worth of electricity can be saved by a customer every year. This hoist can carry at the same speed with full load power savings. The average life span of this hoist is 25 years. The mast sections are made of SD 52 material so that the voltage supports are required with the building at an interval of 9 to 10.5 m distance. Rental companies are opting for this particular machine because they are looking machine with longer life.
"On the first day itself, the hoist that's been displayed here has been sold to Manipal Group. They have ordered three units, which they will be using at ultra-luxury apartments at Richmond Circle, Bengaluru," he added.
The second product displayed during Excon is the CNC highspeed rebar processing machine, which is one of the latest trends in the industry to increase the speed of the project. Mainly CNC stirrup benders, double benders, shear lines, and pile cage-making machines are being used. The stirrup bender's production speed is 110 ~ 130 m/min with a single rod and if used with double rods then the speed will be 220 ~ 260 m/min. For the production, through the stirrup benders, coiled rebars are available up to 12 mm in diameter in India, whereas many countries have 16 mm diameter rods. Now the civil contractors in infrastructure as well as in the construction industry are setting up a small workshop to process the rebars through this high-speed machine within the site or near the site.
"We are the only company in Excon to give a live demo of the stirrup bender. With the bender, more than 500 shapes can be programmed and can select one at a time to produce. Stirrups can bend up or down according to the requirement, like square, triangle, round, rectangle, U Type, and more than 140 different shapes widely used in RCC. This machine has been designed according to the Indian conditions like the hardness of the road and the diameter variations," he said.
Opportunities
These stirrup benders are used in any construction industry for multi-storey real estate projects or even for infrastructure projects like bridges, civil construction, etc. "Currently, we have an opportunity to sell up to 300 units a year. These are standard hoists and can go up to a height of 500. Nobody can offer a standard hoist that can go up to 500 m. The market for this product keeps on increasing. This year, we will be able to get at least 30 per cent more, and next year, we would like to grow even further. The market is growing," said PV Ramdev.
Growth plan
He added, "We are planning to come with a manufacturing plant near Mumbai. This should be ready in a year's time. We are planning to produce the waste with some technology transfer from the Chinese company. We are planning to do various modifications that are not only for the Indian market but also with an aim to sell the product in the global market. So, we are not going to compromise on any QC or any parameter."