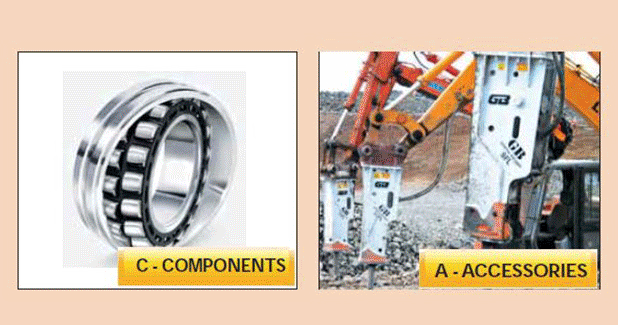 Hydraulic motor is a major component that brings in the desired productivity in a heavy construction equipment. So it is imperative for the equipment OEMs to source these motors with improved design and features. Hydraulic motors make use of fluid pressure for driving mechanical loads. These are important components of hydraulically powered equipment. Hydraulic motors are commonly seen in earthmoving equipment like excavators, backhoe loaders, skid-steer loaders, forklifts, heavy dump trucks, bulldozers etc where hydraulic cylinders extend and retract as vital operational parts while the machine performs various work.
The importance of hydraulic motors relies on the types of applications and accordingly the manufacturers are bringing innovative designs and new features in their products. To be more productive and cost-effective at the same time is what customers are looking for, when they choose a product. For this, new technological innovations mostly focus on making components more and more efficient. The manufacturers are focused on continued innovation to offer the best solution. Now the technology is improving further in the direction of weight and size reduction. Special materials are being used to reduce total weight of the motor which improves fuel efficiency of the machine. Proper sizing is a major factor in motor selection. Under-sized motor will not be able to control the load, leading to overshoot and ringing. In the case of an oversized motor, it may control the load, but it will also be larger and heavier, as well as more expensive in terms of price and cost of operations.
All over the world, more and more electro hydraulic machines are under development or already launched. Today, electro hydraulic machines are seen as advanced machines, made for the future or to show what is possible. But with time moving fast, these advanced machines will become sooner state-of-the-art as some of us may think. The long term market outlook remains positive with forward looking measures from the government on infrastructure creation offering new opportunities for equipment players.