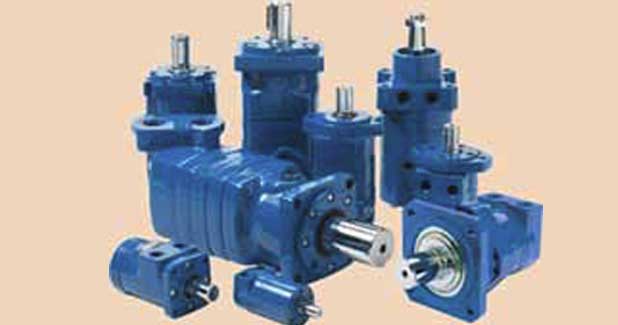 The long term market outlook of hydraulic motors remains positive with forward looking measures from the government on infrastructure creation offering new opportunities for equipment players.
Hydraulic motors are the state-of-the-art technology of drivetrains and for most of the construction equipment functions. Hydraulic motors make use of fluid pressure for driving mechanical loads. These are important components of hydraulically powered equipment. Hydraulic motors are commonly seen in earthmoving equipment like excavators, backhoe loaders, skid-steer loaders, forklifts, heavy dump trucks, bulldozers etc where hydraulic cylinders extend and retract as vital operational parts while the machine performs various work. A hydraulic motor with the right specifications needs to be fitted to enable the machine to function properly.
Application and selection
Normally, hydraulic motors are used for machines requiring high torque and working in difficult environment. Hydraulic motors are also fitted on other applications where it is required a significant torque. In one machine with hydrostatic transmission, you have typically a diesel engine connected with a hydraulic pump which creates the oil flow that reaches the hydraulic motors that normally are located in the machine's wheels. The motors will then generate a torque to allow the machine to move in all planned conditions.
The motor selection comes first in the hydraulic system because application design best practices require that one starts with the load requirement, and then work back to the pump that will put the fluid power into the motor selected to deliver the performance goal.
Each motor type has a specific performance profile. So, knowing the application performance requirement and which motor type best meets the objective is the first step. Then it's necessary to evaluate the cost of your motor options along with the degree of complexity you want for the overall system.
Types of motors
There are different types of hydraulic motors, such as hydraulic gear motors, piston motors and hydraulic vane motors. The type of motors varies according to the applications in different equipment. For example, if you want to equip a wheel drive function, the performance data most people have in mind are speed, gradeability and traction effort. To calculate it, the engineers need various information to give the customer an impression like, dimensions of the wheel, friction coefficients, weight distribution, available input power, etc. By taking into account the complete technical specification, the application engineers will calculate, for example, the weight transfers and the friction limits to gain a clear picture of speed and gradeability. Based on the duty cycle, the provider will calculate the expected lifetime. All these are criteria to choose the suitable motor as well as the best suitable pump.
Technology trends
Owing to a major emphasis to be more productive and cost-effective at the same time, new technological innovation mostly focus on making components more and more efficient. Major OEMs consistently work on improving the efficiency and reliability of their products.
Market outlook
All over the world, more and more electro hydraulic machines are under development or already launched. Today, electro hydraulic machines are seen as advanced machines, made for the future or to show what is possible. But with time moving fast, these advanced machines will become sooner state-of-the-art as some of us may think. The long term market outlook remains positive with forward looking measures from the government on infrastructure creation offering new opportunities for equipment players. Hydraulic motors will have a great future.
Intelligent Drive Systems
The compact and unventilated smooth surfaced motor achieves its high efficiency, which at times is significantly above efficiency class IE5 over a wide torque range.
NORD Drivesystems will be presenting intelligent drive systems and innovative solutions for intralogistics at LogiMAT. The latest energy efficient IE5+ synchronous motors, condition monitoring concepts and a mobile service tool for NORD drive systems are the most important topics.
The standardised geared motor variants of the LogiDrive systems from NORD are specially designed for intralogistics, parcel logistics and airport technology and are particularly suitable for reducing the number of versions. The compact design saves space and the lightweight aluminium housing enables weight savings of up to 25 per cent. LogiDrive drive units comprise an IE4 synchronous motor with rated powers of up to 5.5 kW, a 2-stage helical bevel gear unit and a NORDAC LINK frequency inverter to be installed close to the motor. With class IE4 motor efficiency and system efficiency to class IES2, the drive units achieve excellent overall efficiencies - especially in the partial load and speed range. At the LogiMAT, NORD will be presenting the LogiDrive concept, also in combination with an energy-efficient latest generation IE5+ permanent magnet synchronous motor that has considerably lower losses than the current IE4 series. The compact and unventilated smooth surfaced motor achieves its high efficiency, which at times is significantly above efficiency class IE5 over a wide torque range, making it optimally suitable for intralogistics applications and operation in the partial load range.
Condition monitoring for predictive maintenance
The frequency inverters from NORD Drivesystems regularly or permanently record drive and status data in order to optimise the operational safety and efficiency of machines and plants. Based on this information, concepts for predictive maintenance can also be developed. Fast, efficient and comprehensive evaluation of analogue and digital data (measurements, signals and operating parameters) by the intelligent PLC in the drive electronics forms the basis. The objective of predictive maintenance is to maintain machines and plants proactively and to detect changes at an early stage, to reduce downtimes and to increase the efficiency of the entire plant. NORD Drivesystems uses a drive-based approach where intelligent algorithms and virtual sensors transfer information from condition monitoring to predictive maintenance. An example is the sensorless determination of the optimum oil change time based on the oil temperature.
A solution for mobile use
With the NORDCON APP and the mobile Bluetooth connection device NORDAC ACCESS BT, NORD has created a mobile commissioning and service solution for all NORD electronic components. It is used for analysing, monitoring and parameterisation of NORD drive systems. The dashboard-based visualisation can be used for drive monitoring and fault diagnosis. With a help function and rapid access to parameters, parameterisation of drive units is simple and easy.