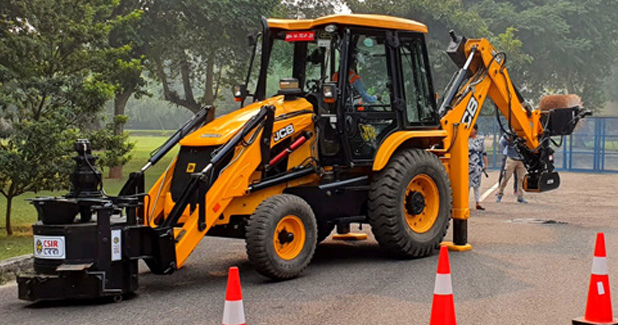 JCB India showcased its all new pothole repair machine at the Central Road Research Institute (CRRI) team in New Delhi in presence of officials from DDA, MCD, NDMC, SDMC, EDMC, NRIDA, NHAI etc.
Developed jointly with inputs from the CSIR-CRRI, the JCB pothole repair machine is a one-stop solution for roads and highway maintenance.
Based on the JCB 3DX backhoe loader, the machine, along with its set of multifunctional attachments, has been developed indigenously over a period of one year.
It is a solution that has been driven by the sector, offering industry-first features designed to transform traditional roads and highway maintenance operations in the areas of safety and productivity.
This new model has been designed to specifically meet the needs of roads and highway contractors, the local administration and rental companies. The machine has a set of JCB attachments and controls, integrated on a 3DX backhoe loader to carry out pothole repairs.
This innovation was conceptualised one year ago with CSIR-CRRI at JCB India. CRRI has provided its emulsionbased recipe for the filling mix and this solution is an integrated offering by JCB with its attachment and control solutions on a JCB backhoe loader. It does not alter the standard hydraulics, engine power, circuits and electrics of the basic 3DX machine. The electrical circuits for the compressed air and the compactor attachment are fully integrated.
The machine will also be fitted with JCB's advanced telematics technology called Livelink. This will help in exact monitoring of progress of repair projects as it will enable real time updates of the machine movement, location and its operations.