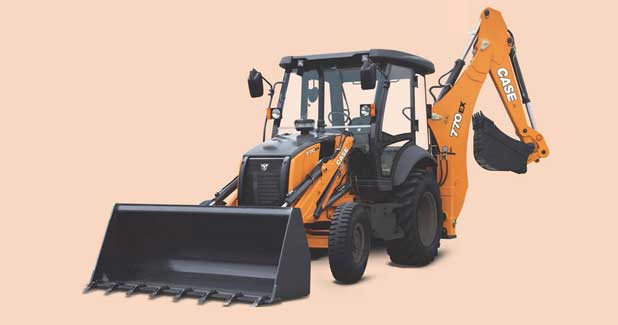 The CASE PRO Series loader backhoe is powered by FPT Industrial S8000 engine which delivers powerful performance and fast response time. The Series is re-engineered from the ground-up to deliver industry-leading backhoe breakout force, higher loader lift capacity/reach and best-in-class cab visibility.
The new PRO Series loader backhoe has a robust, robotically welded two-piece structural frame design which results in great stability, performance and serviceability. For versatility in different Indian operating conditions, the machine is designed with heavy duty structures, tanks, fenders and rims. To give the series a muscular look, there is a dual-colour tone, with a mix of grey on the lower parts of the machine and power tan colour on the upper parts.
Bigger buckets allow greater load lifting and increase productivity. The series is equipped with a superior working range and will reach deeper than any other loader backhoes. There is a choice of two configurations: a standard dipper dig depth of 4.5 and 4.7 m, or an extendable dig depth of 5.9 m.
The power shuttle transmission provides four forward and reverse speeds. The hydraulically shifted clutches allow the operator to change direction and travel speed on the go, while the control valves deliver smooth speed and direction shifts, resulting in smooth and accurate operation. The new single-piece engine hood provides excellent access for maintenance. The machine layout has been designed to ensure all daily service points are easily accessible at ground level, for quick and efficient servicing.
In the spacious cabin, the operator seat and ergonomics have been redesigned to offer better comfort and smooth lever operations. The PRO Series will be equipped with CASE's advanced EAGLE EYE telematics solution equipped with geofencing for enhancing the performance and efficiency of the machine. This Asset Monitoring System gives the freedom of machine monitoring and remote diagnostics alerts at the click of a button on a mobile or desktop computer.
Technology & engine efficiency Eagle Eye Telematics for enhancing the performance and efficiency of your machine: This is an Asset Monitoring System that combines Internet, cellular and GPS technologies. This system helps you keep an eye on every significant detail of your machine such as:
Real time location of the machine
Operating hours
Warning text Alerts for critical parameters
Power shuttle transmission with torque converter for smooth riding: The power shuttle transmissions provides four speeds, forward and reverse. Hydraulically shifted clutches allow on-the-go direction and travel speed shifts. Modulation valves deliver smooth speed and directional shifts. 4WD improves performance, especially with the loader or when job site conditions are muddy and extra traction is mandatory. The new 2-cylinder steering front axle is mounted above the centre pivot and can oscillate to ¦8 degrees that all tour wheels stay on the ground ensuring great stability even in the toughest of conditions and with highest front loads.
High efficiency - A legacy of high performance: The new generation engine, developed by FPT Industrial, provides outstanding performance like faster response time and up to 10 per cent better fuel economy thanks to its InternalEGR technology. The S8000 FPT engine with high-power and torque density provides the best-in-class performances in any application either with backhoe or front loader.
OPERATOR COMFORT AND PRODUCTIVITY
Straight loader arm - Lowest operating cost ever: CASE engineers used an innovative system integration approach to design and improve loader arm to meet customer needs in loading applications. The straight loader arm design with optimised line routings provides excellent visibility and best-in-class tipping height.
Excellent visibility - Get the complete picture: Best-in-class spacious cabin with large glazed windows provide outstanding all-round visibility and superior on-site safety.
Easy access - A place for everything and everything at its place: The ergonomic layout of controls, storage space and buddy seat enhance operator comfort and productivity. Easy access to the cab is guaranteed with conveniently placed grab rails, walk-up steps and large platform.
Extend hoe - Extend your business: The Extend hoe allows the operator to increase the overall loader backhoe capacity, keeping the same strength of the standard dipper. The CASE loader backhoe with Extend hoe can reach the capacity of a mid-class excavator, but with higher flexibility and better transportability. The inner sliding makes the periodical free play setting easy to apply without any special tool or rotating requirement.
Highest productivity - Longest heritage in backhoe design: The new CASE backhoe's "S"tyled boom will boost your productivity. The boom delivers excellent breakout force. The heavy duty front axle further boosts productivity, especially when working in rough terrains. The robust structures have enhanced the reliability and durability of CASE machines.
Easy maintenance - Check points easily reachable: CASE knows that the easier it is to perform routine maintenance, the more likely it will get done. The easy serviceability due to the large access area available when opening the new tiltable front engine hood is a hallmark of CASE loader backhoe machine design. To improve serviceability, the machine layout has been optimised to provide an easy access to all main components.
Technical Specifications of key components
ENGINE
Engine model code: FPT S8000
Type: Turbocharged
Bore x stroke: 104*115mm
Displacement: 3.9L
Compression ratio: 18.3:1
Horsepower at 2,200 rpm: 76 hp
Maximum torque at 1,300 rpm: 332 Nm
Rated speed, full load: 2,200 rpm
Low idle speed (at no load): 950 rpm.
ELECTRICAL SYSTEM
Battery: 12 Volts,130 Ah
Alternator output: 65A
HYDRAULIC SYSTEM
Type: Gear pump
Flow rate: 123 lpm @2,200 rpm
Pressure: 190 bar
BUCKETS
Loader buckets
Type: Standard
Heaped capacity
(SAE capacity): 1.1 cu m
Width: 2.3 m
Weight: 470 kg
Backhoe buckets
Heaped capacity
(SAE capacity): 0.26 cu m
Width: 0.7 m
Weight: 217 kg
STEERING
Type: Power steering
System pressure: 140 bar
Displacement: 125 cc
Turning radius (outside of the bucket)
With brake: 4.6 m
Without brake: 5.6 m
Tread width
Front: 1.9 m
Rear: 1.7 m