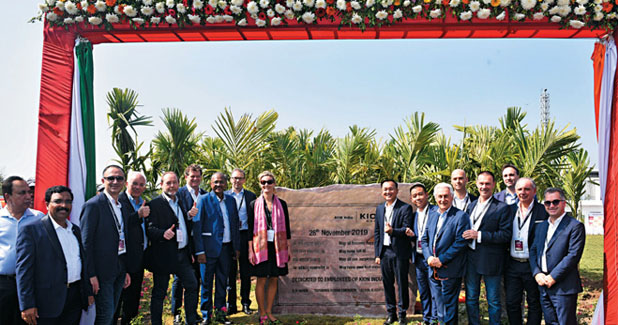 Supporting the government's Make in India initiative, KION opened India's largest material handling equipment facility in Pune.
KION India has officially inaugurated its Factory 2.0, a new production site, which is India's largest material handling equipment manufacturing facility. The new factory is located 27 km from Pune Central at Koregaon Bhima. KION India's previous manufacturing site operated from Chandan Nagar in Pune.
Addressing the launch ceremony, CP Quek, Chief Asia Pacific Officer and Member, KION Executive Board, stated, "KION Group continues to invest in India, looking at the growth opportunity available here. We have seen the Indian market is growing rapidly and the demand for high-performance products is increasing as well, which is the domain of KION Group."
With an investment of over Rs 1.25 billion (around EUR 15 million) in real estate and equipment, the new state-of-the-art facility is spread across an area of 25 acres with an annual production capacity of 10,000 units in Phase 1. The factory is integrated with three assembly lines, machine shop, paint shop, parts warehouse and R&D, all under one roof. The factory manufactures diesel and electric forklifts as well as warehousing equipment such as battery-operated pallet trucks, reach trucks and electric stackers. The manufacturing site is also home to a research and design engineering centre, which focuses on understanding the ever-changing requirements and trends of the Indian market and develop products to match them. With this facility in place, KION Group has made a total investment in India of nearly Rs 3.5 billion.
"This new factory represents the next step in the material handling equipment industry by India's market leader and we are confident that KION India will continue to drive growth in the domain through technology transfer and indigenisation. The factory represents our long-term commitment to the market here in India, its customers, employees, vendors and our channel partners," explained Sunil K Gupta, President, KION India.
The entire production site is home to more than 400 employees. KION India also deploys more than 425 employees in the sales and service areas overseeing the needs of its customers. KION India is a multi-brand entity of the Group, handling fellow brands such as Linde, OM, Baoli, OM Voltas and Dematic. The new factory has a 700 kVA solar power facility and also includes water conservation and waste management processes which are aligned with KION Group's sustainability initiatives. KION India looks forward to localising high-performance products, many of which are new to the Indian market and it is also on track to provide the best in terms of productivity, technology, quality and after-sales support.