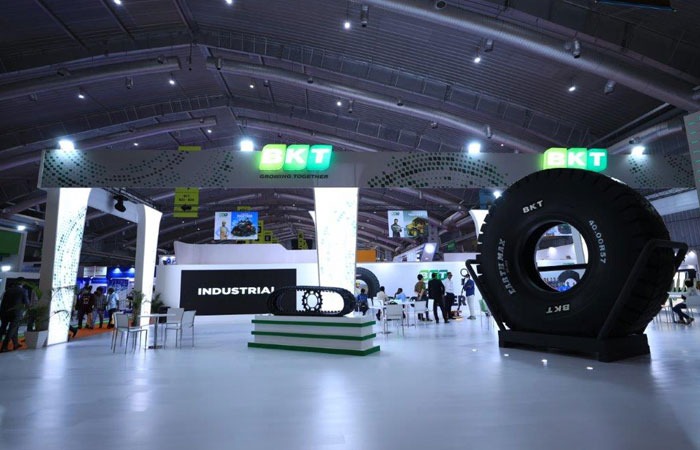 BKT showcased its finest tyres for construction and earthmoving equipment namely the E4 EARTHMAX SR468 TL and L5 EARTHMAX SR53 TL. Along with the newly introduced rubber tracks for the compact track loaders.
The star highlight of the event was the Giant EARTHMAX SR 468 TL, the latest addition to the EARTHMAX family. It is a 57-inch tyre (40.00R57) equipped with an all-steel structure, providing greater casing resistance. A winning feature of the EARTHMAX SR 468 is the special tread design and the compound, created to limit heat generation and resistance to cuts. BKT EARTHMAX SR 468 is thus ready to confront the most challenging mining conditions.
Another tyre from the EARTHMAX family was on the display, the 45/65R45 EARTMAX SR 53 TL, an All Steel radial tyre specially designed for ultra-large loaders, operating in severe rocky conditions. The classified deep L-5 tread consists of a cut-resistant compound. In addition, the tire is designed to offer extraordinary abrasion-resistant properties while in loading operation.
Additionally, the newly introduced rubber tracks, which are designed for compact track loaders are showcased in the exhibition. BKT is the only tyre company in India to produce rubber tracks for Agricultural and Industrial Machines, and recently started the production of rubber tracks for harvesting machines for paddy fields.