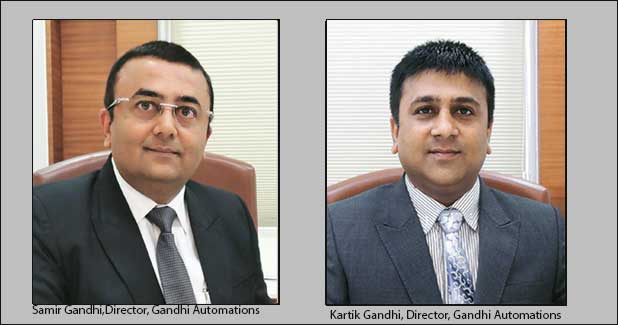 Incorporated in 1996, Gandhi Automations has excelled in manufacturing, exporting, distributing and installing entrance automation systems and loading bay equipment that are hassle-free and easy to operate.
Samir Gandhi and Kartik Gandhi, Directors, Gandhi Automations, share more....
Market outlook: Entrance automations and loading bay equipment are closely related to the construction industry. Construction accounts for nearly 65 per cent of the total investment in infrastructure and is expected to be the biggest beneficiary of the surge in infrastructure investment over the next five years. Government policies, expenditure in infrastructure and regeneration projects will provide the growth impetus. The industry is seeing a change in the way industrial and commercial buildings and warehouses are constructed by using automations. Companies are also keen to keep up with the new trends and are welcoming the proposal of automation wherever necessary.
Demand drivers for the company's offerings: Emerging trends include remote operated high-speed doors and rolling shutters; the challenges here are sustainability and access. The opportunities to the Indian industry with automation are the ability to maintain an efficient production cycle, safe inventory, cutting-edge technology, speed of movement, functionality and safety, which this line of Gandhi Automations products provide. If we add the high quality of personalisation and design, they become unique elements necessary for daily logistics operations and the visibility of customer identity.
Business opportunities at Excon: This is our first association with Excon and we are expecting a great show. Excon is the right platform to meet prospective clients and existing customers, attend conferences by industry experts, and interact with the who's who of the construction equipment sector. It has emerged as the most sought-after platform where manufacturers, suppliers, customers, government bodies and other stakeholders gather to understand current business needs and view world-class machinery, solutions and strategies that will drive the infrastructure growth of the country.
Key products at the expo: Our new range includes the following:


Forklift roll-off barrier lip dock leveller designed and built to provide the benefits of the hydraulic dock leveller with the additional benefit of providing a formidable barrier

-High-speed doors - prime reset, a unique high-speed, self-repairing door with the latest technology that prevents downtime of the door system -High speed doors - prime internal doors, fast, durable, energy savers engineered for industrial application

-Industrial sectional overhead doors, for clients who need well-insulated and space-saving doors with security and astonishing benefits -Dock levellers, which are the crucial part of the loading bay area

-Isotherm rolling shutters, which are designed to reduce operational costs by improving energy-efficiency for a variety of uses.
Meeting buyer requirements: Gandhi Automations is an effective service provider able to tailor services to minimise the impact of market dynamics on a client's supply value chain. We are also able to proactively ensure compliance at all junctions of business operations. Emerging technology and the proliferation of digital technologies have opened up avenues for new business models and service delivery frameworks.
Stall No: Hall 2, Stall A6