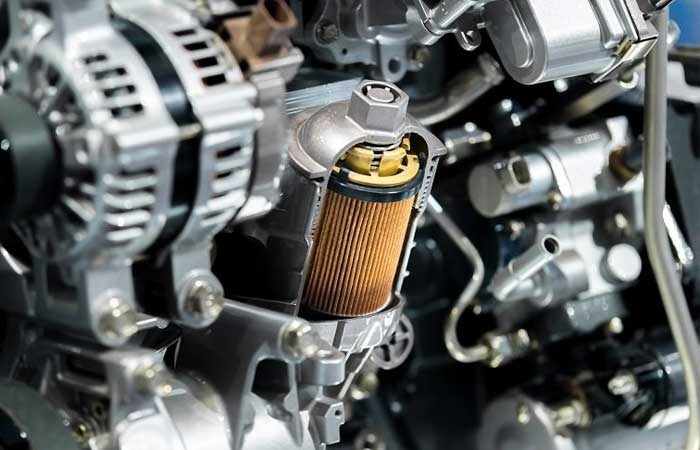 Construction machinery filters protect the system components from the damage caused due to contamination. The work of each type of filter used in construction machinery is to enable flows and catch impurities such as dust (contaminants in the air), and impurities in the fuel. Expanding construction activities in various parts of the world coupled with increasing investment in infrastructure is expected to drive the growth of the market during the forecast period.
The market's growth is attributed to the increasing road and paving construction, which uses heavy machinery. The use of construction machinery filter reduces the maintenance costs, therefore a significant increase in the efficiency of construction machinery for road construction across the various developing economies because heavy investments are being done in countries such as China, India, and Indonesia for the construction of highly advanced and durable road transport networks. In addition, the development of rural areas in India has led to the construction of new roads and highways networks for the connection of rural and urban communities.
Growing infrastructure investment across countries is expected to boost the demand for Structural Health Monitoring (SHM) systems due to the benefits they add to the sustainability of structures and the low cost of maintenance and inspection after being built. Emphasis on superior infrastructure is a key policy factor in both the developing and the developed world as a robust infrastructure forms the base for overall economic growth and high productivity in public as well as private sectors. Be it the building of bridges, dams, buildings, stadiums, flyovers, railway stations, and shopping malls, or be it applications such as diagnosing vessels and platforms in marine industries, aircraft frames in aerospace and defense, and inspection of large machines, heavy investments are being made in all the above, hence, likely to give a push to the adoption of premium quality construction machines filters at an even larger scale.
Says Vishwas Gawade, Director – Engineering Filter Elements, Mann and Hummel India, "The filter market is expected to witness exponential growth owing to the increasing purchasing power of consumers in the country, fuelled by growing vehicle, equipment and machinery sales and expanding vehicle fleet size. In addition, demand for filters is expected to be driven by rising concerns regarding environmental pollution. As per industry expert opinion, the market is projected to grow at a CAGR of more than 10 per cent by 2023. The government has also taken up numerous initiatives such as National Automotive Testing and R&D Infrastructure Project (NATRiP), Focus Market Scheme (FMS), Automotive Mission Plan 2016-2026, National Electric Mobility Mission Plan (NEMMP) 2020 and "Make in India" programme. These are anticipated to positively impact the country's filter market during the forecast period."
Surinder Kaul, Assistant General Manager, Donaldson India Filter Systems, said, "The potential is huge. As per our estimates, I am talking purely in terms of niche markets – off and on-road applications – it comes close to about Rs 700-800 crore. If you add aftermarket and industrial applications, the market will be immense."
Technology in filters
Changing filters before the service life expires causes higher costs and additional maintenance time. Smart filter monitoring Senzit from Mann and Hummel India provides more uptime to its customers and manages fleet maintenance. It uses sensors to monitor the air filter status of agricultural, construction, or mining machinery and stationary generators.
In addition to the filter load status and remaining filter lifetime, Senzit also registers the number of machine-hours worked. Senzit increases machine uptime protects the vehicle engine, and prevents unnecessary filter changes. e result: highest utilisation of the filter capacity and longer service life of the machines.
Customers benefit from valuable machine insights and improved total cost of ownership. Predictive maintenance instead of fixed service intervals avoids unexpected machine downtime and extended end-customer loyalty. Senzit immediately transfers the result to the user's mobile device.
Senzit - Intelligent fleet management and air filter monitoring data logger and sensors - Online monitoring of filters to know filter parameters like temperature, pressure, humidity, etc. RFID-based solutions to ensure the right type/quality of the filter used.
IQORON VP range offers a flexible filtration concept, which shows its strengths, especially in extremely dusty environments. The two-stage air cleaners make the most of installation space complement conventional round air cleaners and provide the necessary flexibility for numerous applications. The core element of the compact air cleaner series is the innovative filter element concept called VarioPleat.
It provides a particularly high-power density with filter systems, with an axial airflow. The ENTARON XD series sets new standards for two-stage air cleaners. This series combines the best characteristics of the successful and proven Europiclon and NLG air cleaners with several innovative new ideas. is makes the ENTARON XD the new benchmark for two-stage tangential air cleaners.
Says Kaul, "Our latest technology is power core, which is a newgeneration, air filter technology for off-road and on-road applications. These are metal-free air cleaners, lightweight, very compact in design, and competitively priced."
Another growth driver for filters will be the implementation of the next level of emission regulations in 2021 for on-road and off-road vehicles. Efficient filtration systems can help manufacturers meet stringent emission regulations requirements, be it fuel filters, engine oil filters, or air filters. The latest emission standards in India will require the sulphur content in diesel fuel to drop to 10 ppm from the existing 50 ppm. To maintain the lubricity of the fuel, additives are combined with the fuel, which does not allow the water content in diesel to be separated easily. This poses a key challenge in the separation of small water particles that are up to 10 microns in size.