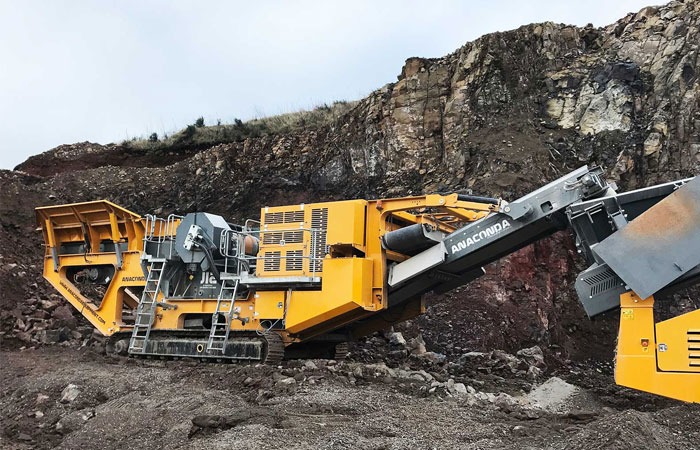 According to industry estimates, the demand for crushers and screen equipment is projected to grow to the tune of 15 to 20 per cent during current and coming fiscals. This great demand would be led by the firm's requirement for wheeled and stationary product lines. However, tracked plants are perceived to pass through a shrinking demand phase at least for some time now. The manufacturers are working on marketing strategies, backed by product offerings, to meet the growing requirement amidst tough competition for wheeled and stationary units, whereas the business plan is being reworked to offset declining sales of tracked units.
As per the prediction, the demand for tracked plants started declining in 2010 with the retrogression of the economy set in. There is also a temporary drop in demand this year due to a slowdown in off take of iron ore from China. The situation is being compounded with a ban on illegal mining in Orissa resulting in a slowdown. The Bellary-Hospet iron ore mining region of Karnataka has been one of the prime demand markets for tracked units. Jharkhand, Bhilai-Jagdalpur, Barbil regions fared no better due to disturbed conditions. This slowdown in demand for the tracked units had multiple impacts on drilling, blasting, and transportation equipment consisting of tippers and allied equipment. Demand fall of tracked units has been reported to be at -50 per cent. The growth of the mining sector has been 1.8 percent as compared to 7.8 per cent last year as per the Ministry of Mines' recent figure.
Carrying the positive sentiment further, demand from cement units and captive power utilities running on coal may neutralise the demand-pull of tracked units. However, tracked manufacturers see new demand scope from the replacement market for the tracked units. As per industry sources, there is an existence of a replacement market in many parts of India. Crushing is undertaken in the small quarry sites, through the conventional crushing system. Manufacturers feel that tapping the replacement market over a period of time can make up at least 60 per cent of the losses, in turn adding up to the top and bottom line. The size of the replacement market is expected to be to the tune of 150 tph-200 tph unit capacity.
Rising demand
Said Kamlesh Pal, Director, Vindhya Engineering, which is one of the leading manufacturers of crusher machines in Madhya Pradesh, "The demand for crushers and screens is rising consistently due to the construction and infrastructure development projects such as roads, dams, and railways which are lined up. The retail market for construction also plays a vital part. The ban on usage of river sand is also promoting the demand. Rapid urbanisation due to increase in population and better living standards are expected to propel the demand further. The aggregates industry in India is one of the biggest in the world because there is huge investment happening here. India is one the largest global consumers of aggregates and is touted as the epicentre of the world construction industry market. The COVID 19 pandemic has applied brakes but the aggregate sector is already showing signs of a strong recovery and the demand is steadily increasing."
He added, "We can see a huge surge in demand for mobile crushers and screeners because, unlike the traditional crushers, mobile crushers can be deployed on-site for crushing the minerals. This eliminates the need for transportation of minerals, thereby abolishing the transportation costs. Moreover, the crusher equipment is a complete setup that involves minimum human resources in its operation, which, in turn, reduces the labour cost. Moreover, with a longer operational life, the mobile crushers are considered a one-time investment. The maintenance of materials, spare parts, and fuel lubricants is known to cost less compared to the traditional crushers. Hence, the low cost of operating mobile crushers drives their demand among various end-users."
"The construction and infrastructure development projects such as roads, dams and railways which are lined up play a major role in escalating the demand for crushers and screens. The usage of river sand has been banned in many states and this is also a major factor. I firmly believe that rapid urbanisation also plays a role in this. We are in unprecedented times and so, we have to be open to challenges. In spite of all these driving factors, it is going to a rough path of recovery, and Propel is geared up for that," said V Senthilkumar, Managing Director, Propel Industries.
"The production of aggregates and M-sand is in an upward direction due to investments in infrastructure projects and we expect this to continue in the coming years this, in turn, is driving demand for capital equipment like crushers and screeners. There is a shift in demand towards modular crushing solutions to augment capacity, customisation to improve plant efficiency. We are also serving the rising demand for mobile crushing and screening equipment, including electric hybrid track crushers," avers Amol Sinha, General Manager, Terex India.
He added, "Terex is proud to be offering a wide range of equipment from Modular Autosand cone crushers for sand manufacturing to Terex washing equipment for sand classification to Mobile crushers and more, thus fulfilling customer needs. Additionally, there is a need for more rugged and smaller plants for use in the hilly regions, and in view of this, we will be soon launching our smaller range of crushing machines such as jaw crushers and impact crushers this year. These machines will be of 60, 70 and 80 tonne/hour capacity, and can be transported on a small truck or trailer. They are being developed to cater to projects in the Northeast and Himalayan regions as well for C&D crushing close to cities."
Aggregate market scenario
Construction aggregates can be classified as crushed stone, quarry dust, boulder, and gravel, and manufactured sand (M-sand). Aggregates are used for multiple applications like raw materials for site mix and ready-mix concrete, sub-base for road projects, railway ballast etc, and are available in various sizes from 6 mm to 60 mm. The crushed stone aggregates used for concrete preparation vary from 1,000-1,200 million tonnes. The rest is used directly for infrastructure, road and railway projects as aggregate.
"Overall construction aggregates demand in the country is estimated to be around 4,500-5,000 million tonnes. The share of crushed stone aggregates is estimated at 40-45 per cent of the overall construction aggregates used," says Mahesh Madhavan, Head - Construction & Infra Practice, Feedback Advisory.
The average usage of aggregates varies from project to project since the specification of each project is different. Madhavan elaborates, "Typically for a two-lane national highway (asphalt) 6,800-7,500 cu m of crushed aggregates are used. Similarly, for bridges, canals, irrigation, concrete roads, buildings, etc., aggregates are used in the concrete prepared and the quantity of crushed stone varies from 3,000-8,000 kg per cu m of concrete manufacturing. The supply is largely region-specific and the approximate distance of quarry to supply crushed aggregates to the project site varies from 15 km to 120 km."
M-sand, which has been growing in popularity, is a very region-specific market. According to Madhavan, the market is highly unorganised and there are a few large players who are region-specific. He adds, "Tamil Nadu, which has granite quarries in districts like Madurai and Krishnagiri, has more than 1,000 M-sand manufacturers who cater to markets like Bengaluru, Chennai and tier 2 cities."
Market scenario and demand drivers
Said V Senthilkumar, "The crushers and screens market in India consists of both organised and unorganised sectors. It is estimated to be close to Rs 30 billion per year. This is especially for aggregates, which are 100 TPH and above. Out of this total figure, the track-mounted plant is estimated at Rs 6 billion, tyre mounted plant at Rs 10 billion and Rs 14 billion for skid-mounted and unit equipment."
He added, "The construction and infrastructure development projects such as roads, dams and railways which are lined up play a major role in escalating the demand for crushers and screens. The usage of river sand has been banned in many states and this is also a major factor. I firmly believe that rapid urbanisation also plays a role in this. We are in unprecedented times and so, we have to be open to challenges. In spite of all these driving factors, it is going to a rough path of recovery and Propel is geared up for that."
Giving a global perspective, Piero Guizzetti, CEO, MB Crusher India, said, "I would enlarge the window to a global perspective. This difficult scenario is a global issue and not a regional issue. So, albeit it is very tough, countries and regions are working pari passu to try and pass this difficult moment. Because it is a common problem, we believe that economic parameters will be reset and India will still be in a very advantageous position in terms of growth prospects, as it was prior to COVID-19. The Indian Government is more aware than any of us of the benefits and downstream impact that the industry has on the overall economy. It is the second-largest employer after the agriculture sector and is expected to lead the recovery phase. There will be a growing requirement for aggregates in the coming years to meet the demand from the construction and infrastructure sector. After the recent policy reforms in India, the mining sector is expected to gain momentum. All these developments will surely drive the demand for crushing and screening solutions in construction and mining activities."
He added, "We believe that adequate connectivity across the country still has a long way to go, so opportunities will be there in some of the remotest areas of India for a long time to come. As manual operations start to fade, automation on the execution side will be a good impetus for adopting the latest technologies. We also see a lot of opportunities in upgrading and modernisation of existing infrastructure, whereas in greenfield projects factors such as land acquisition at times delay the project significantly."
According to Ranjit Ravindran, Director-Mining, Voltas, the availability of good quality aggregate is still a problem, mainly due to the strict environmental laws that restrict mining.
Product and tech trends
Wirtgen has successfully introduced its Kleemann range of crushers in India years back. The product portfolio of Kleemann comprises a varied range - MOBICAT range of track-mounted jaw crushers, MOBIREX range of track-mounted impact crushers, MOBISCREEN series track-mounted screening plants, and the MOBIFOX/MOBICONE range of secondary screening units. Each of these variants comes with further different models and the complete range of track-mounted crushers from 150 TPH to 1,500 TPH in jaw, cone, impactor, and screens. With the MOBISCREEN EVO screening plants, Kleemann also places an emphasis on the subject of safety. The operation of the screening plant is via a mobile control panel that can be attached at three different points on the plant. This guarantees the best viewing positions of the executed plant functions. All plant functions are started automatically – without each side discharge conveyor having to be activated individually. Data on machine operation can also be read off at the control panel. Plant movement is without jolts thanks to proportionally activated hydraulic valves. The plants operate particularly efficiently and produce a high output when interlinked with crushing plants of the EVO series, whose size and output are tuned to the EVO screening plants. A further bonus for safe plant operation is the emergency off function, which, in the case of an interlinked combination of plants, works across all screening and crushing stages.
The Kleemann crushers of the EVO series have several advanced features like the CFS - continuous flow system - where all the plants in line are interconnected. Ramesh Palagiri, Managing Director & CEO, Wirtgen India, elaborates, "Recently we have introduced the SPECTIVE control system for all EVO series machines, which is a simple and reliable intuitive control technology without lengthy instruction and familiarisation periods." In this, the operator is guided step by step through the starting process. The start screen provides a graphical view of the complete plant with all adjustable functions at a glance. When the desired function is selected, clear instructions guide users through all operating steps. If a fault occurs, a fault diagnosis appears on the display. Fault localisation, description, and the remedy tips appear which result in reduced downtime.
The impressive hardware includes the new user interface with a 12" touch panel. The panel is not sensitive to dust, is splash-proof and can be operated at the touch of a finger, pen, tool, or even gloves. It is also very easy to read in direct sunlight with its brightness and contrast settings. Due to the simple operating concept, the user can also operate the crushing plant without any prior knowledge and extensive explanations.
Voltas M&CE division is the distributor for Terex Power Screen crushers and screens in India. One of the highlights of the Terex Power Screen range is the Horizon range of horizontal screens (H Screen) ideal for handling high volumes of sticky materials and for the exact, fine sizing demanded in many construction contracts. This H range is ideally suited to applications such as natural and crushed aggregate, coal, iron ore, recycled concrete and asphalt. Power Screen crushers and screens range from Warrior 600 mobile screen to some of the largest mobile crushing plants – the Premiertrak 600 jaw crusher, 1500 Maxtrak cone crusher, and Trakpactor 550SR, which operate in diverse applications.
From a demand perspective, the infrastructure segment, primarily roads, continue to drive the industry. This constitutes more than 40-45 per cent of the demand for aggregates in the country, according to Madhavan. He further adds, "This segment is also driving the tracked crushers and screens demand. One of the key reasons for this is the quick commissioning and de-commissioning of the plant, which otherwise could take over a three to four-month time period.
Terex products are designed to be highly productive, efficient, reliable, and easily transported from one place to another. The fine aggregates produced from Terex machines are of superior quality, helping customers to reduce the overall cost of their infrastructure projects. "We have added new products to our portfolio and developed new variants even during these challenging times. Terex products are designed to be highly productive, efficient, reliable, and easily transported from one place to another. The fine aggregates produced from Terex machines are of superior quality, helping customers to reduce the overall cost of their infrastructure projects. We have added new products to our portfolio and developed new variants even during these challenging times," added Sinha.
He added, "We are also excited to work with the Indian Government and various municipal corporations on waste management projects and we strongly believe we can offer our expertise and know-how in recycling processes to make a real and lasting impact. Additionally, we are already using Stage IV emission-compliant engines and are prepared to take up any upcoming emission compliance requirements."
Application trends
The quarrying of natural stone types is associated with the use of machines that crush material with high compressive strengths systematically and effectively. Jaw crushers are ideally suited for tough applications in quarries and are mainly used as primary crushers.
Cone crushers are the choice for use in medium-hard to hard and abrasive natural stone as well as for raw material preparation in mining applications. The cone crushers deliver cubic final grain sizes in the second and third crushing stage that meet the standards. The cone crushers are available in different sizes, versions and for various applications. Whether in a quarry or on a construction site, impact crushers crush stone so efficiently that the grain shape, grain size distribution and cleanness comply with the strict standards for concrete and asphalt aggregates.
The mobile screening plants are used for screening almost all natural stone and in recycling. A large number of suitable screen surfaces are available for achieving the different final grain sizes and for different feed material.
Road ahead
With the Government's increased focus on infrastructure projects, especially expressways, we are very bullish on the long-term demand for crushers and screeners. Though the market dynamics keep on changing, the demand for quality aggregates and Manufactured Sand is multi-fold increase. Customers are looking for high-capacity customised solutions and Terex offers a wide range of crushing, screening, washing, and conveying equipment. "Recently, we have started seeing an increased demand for mobile crushers and electric hybrid track crushers from the mining sector, especially for iron ore and coal. We, therefore, see a positive outcome of the mining policy which is driving the demand for these crushers," said Sinha.
Said Pal, "We are planning to expand our product line beyond stationary crusher plant to mobile crushing units, mobile jaw crushing units, mobile VSI crushing units. Presently, there is a huge surge in demand for mobile crushing equipment in the Indian market."
"The pandemic has certainly made life tough for all industries. The initiatives announced in the Budget 2021 are welcome but we will have to see how much of them will see the light of the day given the uncertain nature of the virus. The budget focussed on construction and capex-led economic recovery and so, I wish for the best, in terms of business. There are huge untapped opportunities in the crushers and screens market. Recently, the government extended it's Rs 111 lakh crore ($1.5 trillion) National Infrastructure Pipeline (NIP) to cover more projects by 2025. NIP has now been expanded to 7,400 projects, which means there will be more demand for crushers and screens. The huge investment plan of the Government of India in the infrastructure sector is reason enough to cheer up," concludes V Senthilkumar.